The World's Best Marinara Sauce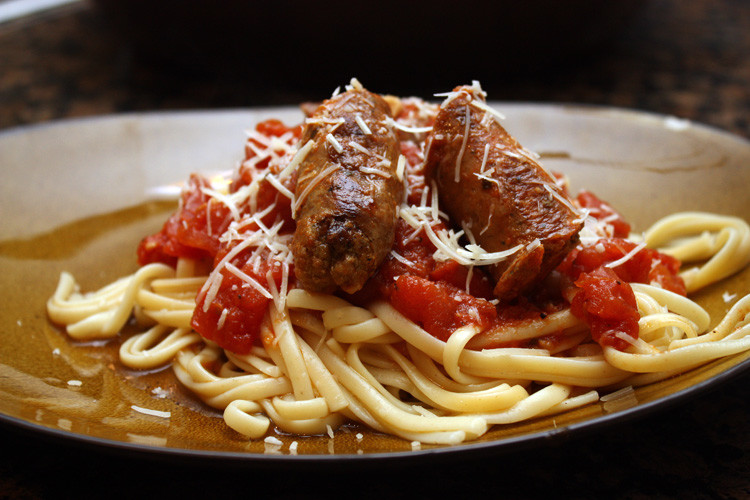 I originally found this best Marinara Sauce recipe on a blog called Texana's Kitchen. It called for meatballs in the sauce and I immediately fell in love with "spaghetti and meatballs" all over again. It's also great with Italian sausage, as shown in this post – or just all by itself over pasta.
The best part is the easiness of putting it all together in your dutch oven, popping it the oven and walking away while it develops it's flavors. No stirring and fussing over the stove for this marinara sauce.
The original best Marinara Sauce recipe called for 3 hours in the oven to caramelize the tomatoes, sugar and garlic but I took it to 5 hours and think it's even better the longer it stays in the oven. Something happens to this sauce when it cooks long and slow that is truly magical.
I use the leftovers to make Italian sausage sandwiches on hoagie rolls with melted cheese on top…yum! Or, use the leftovers for calzones, they are delicious! And don't ever hesitate to freeze this sauce in an air tight container. There is nothing so wonderful as coming home after a busy day, reaching into the freezer and pulling out a container of homemade marinara – boil some pasta and you have dinner.
This serves a big crowd, at least 8 people with leftovers!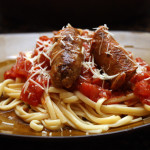 The World's Best Marinara Sauce
2015-03-08 09:16:14
Ingredients
3 cans whole tomatoes (28 oz)
6 garlic cloves chopped
1/2 cup fresh basil chopped
1/2 cup sugar
2 tsp. salt
1 tsp. pepper
2 lbs. Italian sausage
Instructions
Sear the Italian sausage in a skillet, slice in half or into thirds.
Add all ingredients including the sausage in a large, heavy dutch oven. Mix well crushing the tomatoes with your hands and place covered in a 250 degree oven for 5 hours.
Remove and bring to a simmer over medium heat, let it cook down until it reaches the desired consistency that you like. I usually let it cook for about 20 minutes to get a thicker sauce.
Serve over pasta, top with shredded parmesan cheese.
Adapted from Texana's Kitchen
My Mother's Daughter http://mymothersdaughter.net/
Comments