The Whole Enchilada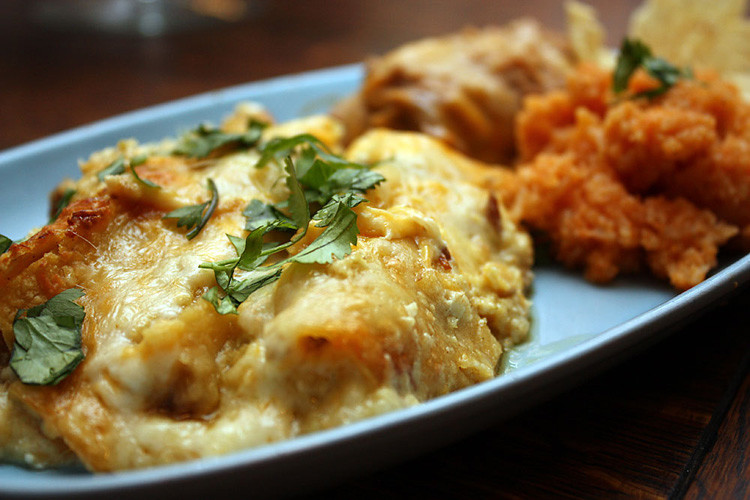 I came up with this recipe for The Whole Enchilada out of leftovers from a pulled pork recipe. If you read my blog, you've most likely heard that the Dr. Pepper Pulled Pork from The Pioneer Woman is one of my favorites. It's such an awesome recipe and is good all by itself with a potato side dish. Later on it makes incredible sandwiches, crispy taco's and my Whole Enchilada's!
Since there's only two of us in the house most of the time, we never finish off an entire Dr. Pepper Pulled Pork unless it's holiday time and the kids are home. I was cruising the internet one day looking at enchilada recipes and stumbled across a recipe for pork enchilada's by Pat and Gina Neely and the rest is history!
I didn't use their exact recipe so the seasonings were a bit different since mine is flavored with chipotles from Pioneer Woman's Dr. Pepper Pulled Pork. I also added a little cheddar cheese with the monterey jack. The results were off the charts.
The sauce is a sour cream salsa verde and the hot and spicy pork is the perfect compliment to the corn tortilla's. It's also a snap to put together if you're lucky enough to have left over pulled pork.
Serve with mexican rice and some refried beans and you'll think you're in heaven.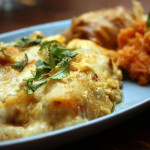 The Whole Enchilada
2015-03-08 22:57:27
Ingredients
2-3 cups left over pulled pork diced and chopped (PW's Dr. Pepper Pork)
2 cups salsa verde
1 cup sour cream
8 oz. monterey jack cheese shredded
8 oz. sharp cheddar cheese shredded
12 corn tortilla's
Instructions
Thaw the pulled pork and chop it into small bite size pieces. Set aside and in a bowl blend the salsa verde and sour cream until smooth.
Spray a 9 x 11 baking dish with Pam and pour enough of the sour cream sauce to coat the bottom of the pan.
Warm the tortilla's in the microwave for a few minutes to soften. Shred the monterey jack cheese and start making the enchilada's by filling each tortilla with pork and cheese, placingn them seam side down in the baking dish. You should have just enough room for 12 enchilada's. Finish by pouring the rest of the sour cream sauce over the top. Put the rest of the shredded monterey jack on top of the enchilada. Shred the cheddar and cover the entiire casserole with all of the cheese.
Cover tightly with foil and bake at 375 degrees for 20 minutes. Remove foil and bake for another 20 minutes unttil bubbly and lightly browned on top.
Adapted from Patrick and Gina Neely
My Mother's Daughter http://mymothersdaughter.net/
Comments