Taco Soup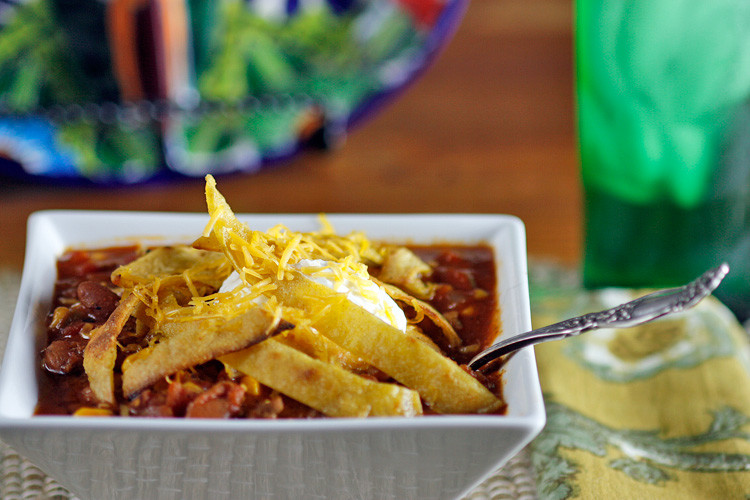 Taco Soup is definitely a favorite around our house year round and it always seems to follow a holiday get together for some reason. It's simple, takes no time to throw together and a bowl of soup sounds good after one of those big traditional meals with a ham or turkey. And I don't know about anyone else but I always crave a little spice too!
My recipe for taco soup is pretty standard, nothing too crazy or original except perhaps the package of Hidden Valley Ranch salad dressing mix. I've been using this recipe for 25 years and it's the best I've ever tried so it may sound strange but it works!
I also use chili seasoned tomatoes because I like the extra kick but if you want a milder taco soup you can use a plain diced tomato or the cans of Mexican tomatoes – they're even less spicy than the chili variety.
You can serve this soup with corn bread or a side of guacamole and chips…yum!
I also love fried corn tortilla strips on top, it just isn't taco soup without them. They're so simple, just put a couple of tablespoons of vegetable or canola oil in a nonstick skillet, cut a stack of corn tortilla into strips and fry them over medium heat until toasty brown. They will only take a couple of minutes so keep a close eye on them!
A dollop of sour cream, a little shredded cheese and it's soup!
Taco Soup
2015-04-07 18:33:21
Ingredients
1 lb. ground beef lean
1 medium onion chopped
2 cans diced tomatoes chili seasoned
1 can diced tomatoes plain (I use 1/2 can)
1 can Ranch Style beans
1 can Pinto beans
1 can whole kernel corn
2 cans water
1 pkg. taco seasoning mix
1 pkg. Hidden Valley Ranch dressing mix
Instructions
In large dutch oven cook the beef until brown, add the chopped onion and cook until soft. Drain the corn, add to the beef and onion. Add the beans (no draining), tomatoes, ranch, taco mix and water. Stir and reduce heat to low. Simmer uncovered for one hour.
Serve with tortilla strips, sour cream and cheese.
My Mother's Daughter http://mymothersdaughter.net/
Comments