Super Easy No Bake Cheesecake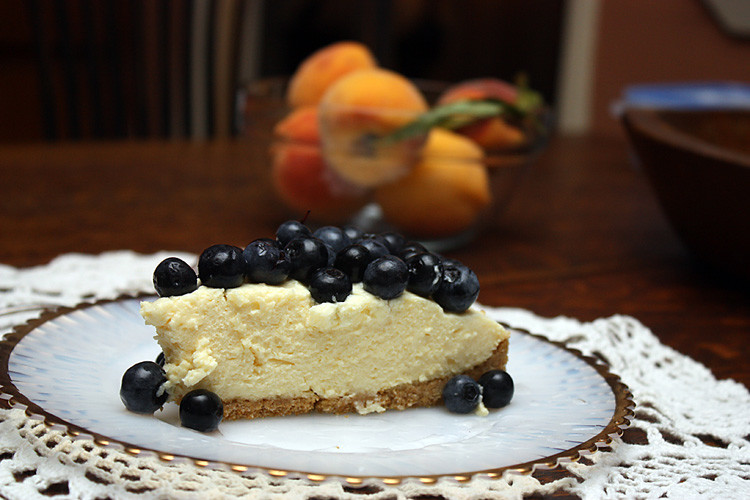 I honestly like this no bake cheesecake better than the traditional baked version, and you won't believe how simple it is to throw together.
With that said, like any cheesecake, this is an indulgence! It is not figure friendly folks! It's rich and decadent and everything that cheesecake is supposed to be, right? And I would venture to say that the traditional baked version of cheesecake is probably far worse. It's cheesecake for goodness sake!
But take heart and remember that a small slice is all that you need of this deliciousness and try to go heavy on the fruit topping. I load up on the berries and keep the cheesecake servings small to lower the fat and calories as much as possible. It's just so good and a wonderful treat for a holiday or birthday celebration…your special someone will thank you for it!
Top with anything you like, I just happened to have a boat load of blueberries in the house this weekend but, any kind of fruit will work… or it's just fine all by it's self!
Enjoy being naughty…just a little! There's always tomorrow to cut back and redeem yourself for a day of decadence and debauchery!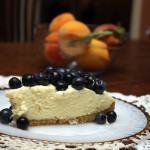 Super Easy No Bake Cheesecake
2015-03-08 12:17:17
Ingredients
1 1/2 cups graham crackers crushed
1/3 cup butter melted
4 8 oz. packages cream cheese (don't use the non fat version!)
1 tsp. lemon juice
1 pint heavy whipping cream
3/4 cup white sugar
1 tsp. vanilla
Instructions
Crush the graham crackers and add melted butter, press into the bottom of a spring form pan and slightly up the sides.
In a mixing bowl beat the whipping cream until stiff, add the vanilla and set aside. In another mixing bowl beat the cream cheese (at room temperature), sugar and lemon juice until smooth.
Fold everything together and mix thoroughly. Pour into the spring form pan and chill for at least 8 hours, preferably overnight.
My Mother's Daughter http://mymothersdaughter.net/
Comments