Penne with Pepperoni & Basil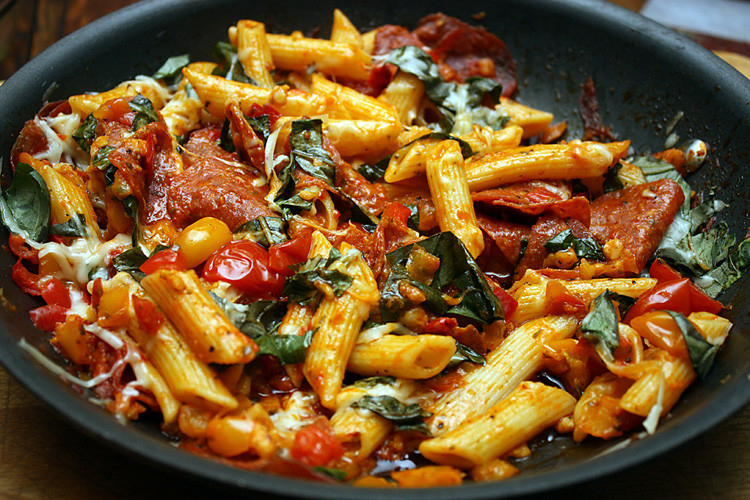 I kind of threw this Penne with Pepperoni & Basil together at the last minute on a Monday night and, we loved it. This is a perfect example of what you can do on the fly if you keep those basic staples of all the things that you love in your pantry. For me, that means always keeping a big basket of pasta – all different varieties. This means penne, linguine, spaghetti, fettucini, elbow macaroni and egg noodles. I also keep a package of pepperoni in the freezer all the time because I use it on pizza, in my baked ziti and in calzones. Lastly, having kept an herb garden for several years, I finally discovered that when that first freeze hits, I can freeze my herbs and have them at arms reach throughout the years. This means that even if my garden is bare, I still have basil virtually 365 days a year and you can't beat that!
So you only need a few very basic ingredients for this recipe, it's very inexpensive when you break it down and it's definitely on the table in less than 30 minutes start to finish.
The best part is that it's really, really tasty!
Kids would love this, it's like pizza in a bowl!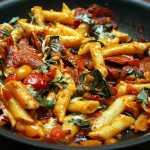 Penne with Pepperoni & Basil
2015-03-07 21:20:46
Ingredients
3.5 oz. sliced pepperoni (the packages I buy at my grocery store are 7 oz. and I used half)
8 oz. penne pasta cooked and drained
1/2 diced onion
3 cloves garlic minced
1 pint cherry tomatoes
olive oil
1 14 oz. can Fire Roasted Tomatoes Crushed
1 tsp. kosher salt
1/4 tsp. red pepper flakes
1/2 tsp. black pepper
1 cup fresh basil sliced (about 10 good sized leaves)
1/2 cup shredded parmesan cheese
Instructions
Boil the pasta until tender, drain and set asid
In a non stick skillet heat the olive oil, lightly brown the pepperoni and then remove and set aside for later.
Add the onion to the skillet and cook until tender. Add the cherry tomatoes, cook until they start to burst and tenderize - about 5 minutes or so. Add the garlic and cook until it becomes fragrant but doesn't start to brown, then add the tomatoes and stir. Add seasonings, cover and simmer for 15 minutes.
Add the penne, toss in the pepperoni and basil and stir to combine. Top with parmesan cheese!
My Mother's Daughter http://mymothersdaughter.net/
Comments