Kahlua Pecan Brie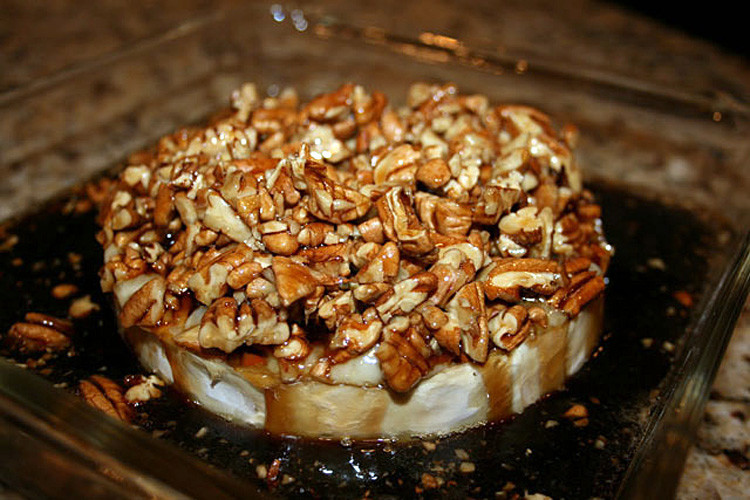 It would be absolutely impossible to even guestimate how many times I've made Kahlua Pecan Brie. This is my "go to" appetizer for any time of the year and the number one request when someone asks me to bring an appetizer to a party or an event.
Nothing could be quicker or easier than throwing together a Kahlua brie. Keep a big bottle of Kahlua in your liquor cabinet at all times and all you have to do is whip into the store, grab a wheel of brie and a package of pecans. We all have brown sugar in the pantry, right? That's it. The complete list of ingredients for this simple, timeless appetizer that everyone always loves. And if you happen to have any leftover, which hardly ever happens, a nice chunk of this stuff makes the BEST omelette the next day. I've been tempted to make a recipe of Kahlue Pecan Brie just to have for a Sunday brunch.
Be sure to leave a 1/4″ border of rind around the top of the brie so that when you warm the cheese it doesn't melt and slip away. Also, the microwave isn't a good idea for this recipe, the cheese will go way to fast and you will miss out on the delicious carmelization that you get from baking it the oven!
Enjoy!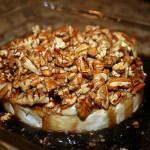 Kahlua Pecan Brie
2015-03-09 12:59:25
Ingredients
1 small rind of brie cheese
1/2 cup chopped pecans
2 TBSP. Kahlua
1 1/2 TBSP. brown sugar
Instructions
Remove the rind from the top of the cheese leaving a 1/2 inch border around the edges.
Mix the brown sugar, pecans and Kahlua together and spread over the top of the cheese.
Put on an oven safe plate and bake at 350F until it's soft and just starting to melt.
Serve with crackers and/or sliced fruit.
My Mother's Daughter http://mymothersdaughter.net/
Comments