Easy Cheesy Chicken Spaghetti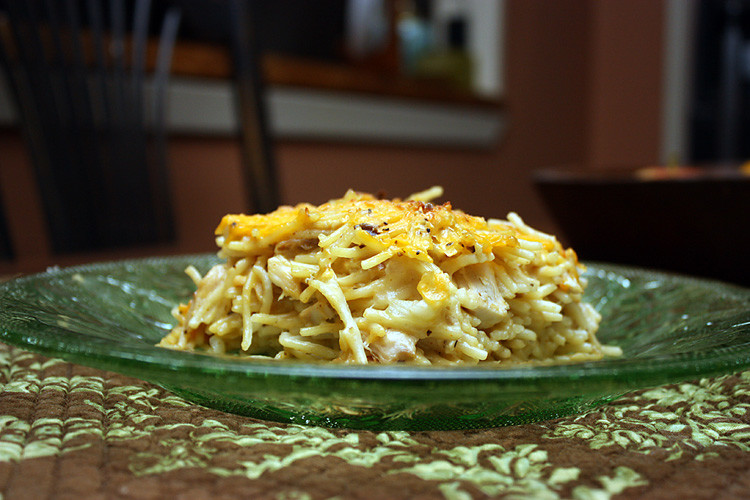 I don't know about you but, I'm about over summer cuisine at this point. It's just what happens to me towards the end of every season and this August is no exception.
I'm already dreaming of what I really love best…the foods that say FALL IS HERE! I know that I have a ways to go but I can get a head start by transitioning over to menu's that lend themselves a little more to autumn than they do to summer.
This past Saturday was the season premiere of Pioneer Woman's new fall lineup. She featured her Chicken Spaghetti and it looked fantastic. It was, however, simply too hot to stew a chicken so I changed the recipe up a bit and went with a rotisserie chicken. I also eliminated the green pepper because we're just not into the green variety.
My final change was a switch from cheddar to shredded Velveeta. I'm sorry but I just love this stuff in a casserole. It is so creamy and gooey and DELICIOUS and if you're going with a casserole you might as well go all the way, right?
This was super easy, a great one dish meal with a ceasar salad on the side and kids would love it. It does have a bit of a kick with the cayenne so you might want to hold off on that ingredient if you're serving little ones.
Give it a shot and let's all pretend it is NOT 105 degrees outside!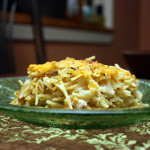 Easy Cheesy Chicken Spaghetti
2015-03-08 11:37:00
Ingredients
1 family size rotisserie chicken skin removed and chopped into bite size pieces
6 cups of water
2 tsp. chicken bouillon
1 lb. spaghetti broken into 2 inch pieces
2 cans cream of mushroom soup
2 cups shredded Velveeta cheese
1/4 cup diced red pepper
1 medium onion diced
1 1/2 cup chicken broth
1 tsp. seasoned salt
1/4 tsp. cayenne pepper
freshly cracked pepper
4 tbsp. butter
Instructions
Preheat the oven to 350 degrees. Spray a lasagna pan with cooking spray.
Bring the water to a boil, add the bouillon and broken spaghetti. Cook until al dente, drain the spaghetti but DO NOT DISCARD THE BROTH. Put the spaghetti into a large bowl.
Add the rest of the ingredients except the chicken broth, reserving 1/2 cup of the cheese for later. Mix thoroughly.
Add the 1 1/2 cup broth from the pasta pot to the bowl and blend. If it seems dry you can add more broth but 1 1/2 cups seemed perfect to me.
Scoop into the casserole. Top with cheese and dot with butter. Bake for 45 minutes.
Adapted from The Pioneer Woman
My Mother's Daughter http://mymothersdaughter.net/
Comments