Dr. Pepper Beef Tostadas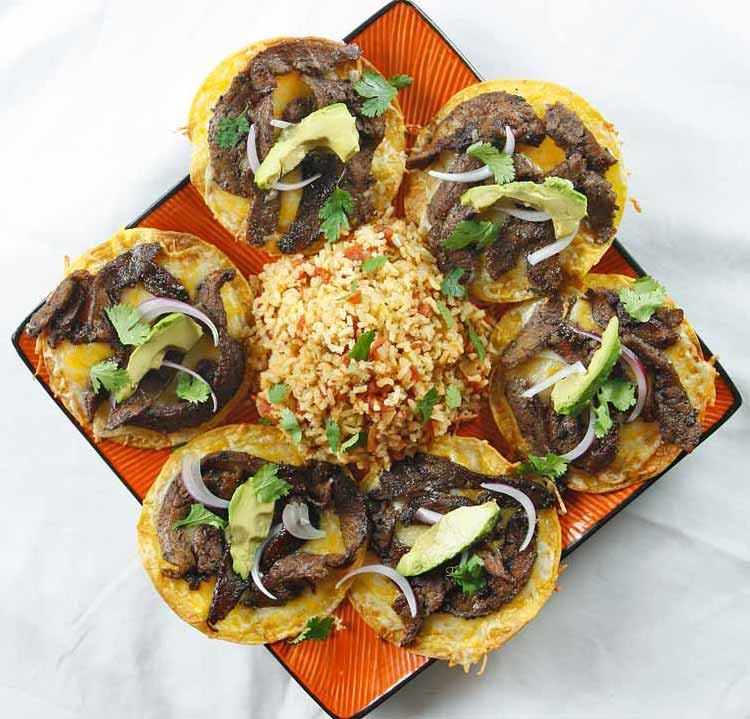 I think just about everyone has tried Dr. Pepper pork shoulder by now and it is one of my favorite recipes – I've made it over and over again. I finally decided to give flank steak a try using the same marinade and Dr. Pepper Beef Tostadas were born.
I can't even begin to describe this…the flank steak almost falls apart it is so tender and the brown sugar gives these tostadas a perfect sweetness to contrast whatever and however much heat you choose to pile on with the sides.
Here are your basic ingredients for seasoning the beef, could it get any easier?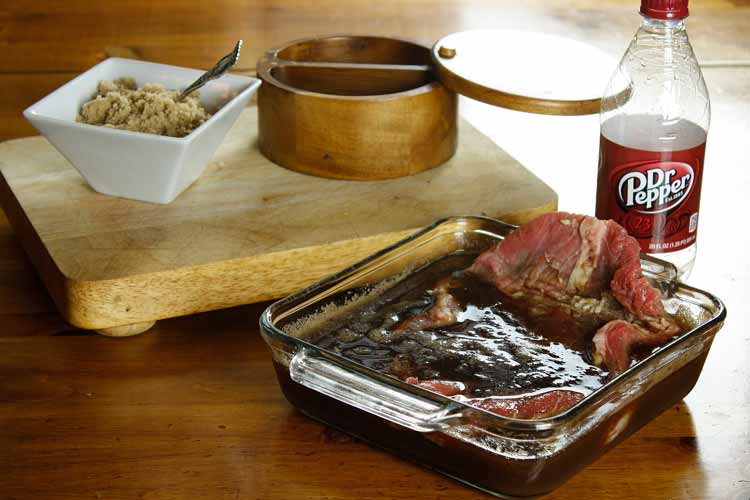 I let my flank steak marinate overnight but 4-6 hours will do the trick. When you're finished with the marinating process, drain and pat the meat dry and then rub brown sugar, kosher salt and cracked pepper into the beef on both sides. Really rub it in, give that steak a nice massage and then wrap it up tightly, pop it in the freezer for 20 to 30 minutes until it's firm but not frozen. This will make it much easier to cut the steak into nice, thin slices – important!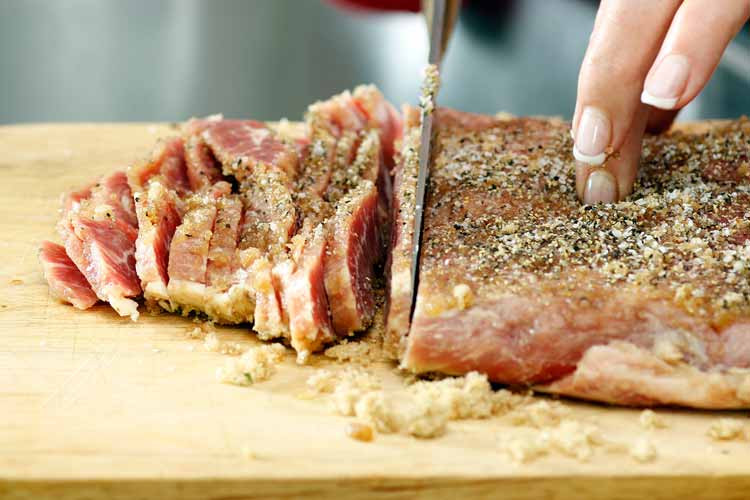 I also did a quick fry on some fresh corn tortilla's in a non stick skillet, it takes no more than a couple of minutes total and I think it's totally worth the effot but you can always purchase tostada shells.
Top the tortilla's with cheese and the flank steak before baking, then go to town with your favorite toppings. Avocados, sour cream, jalapenos, a little cilantro and serve with Mexican rice…and here you go!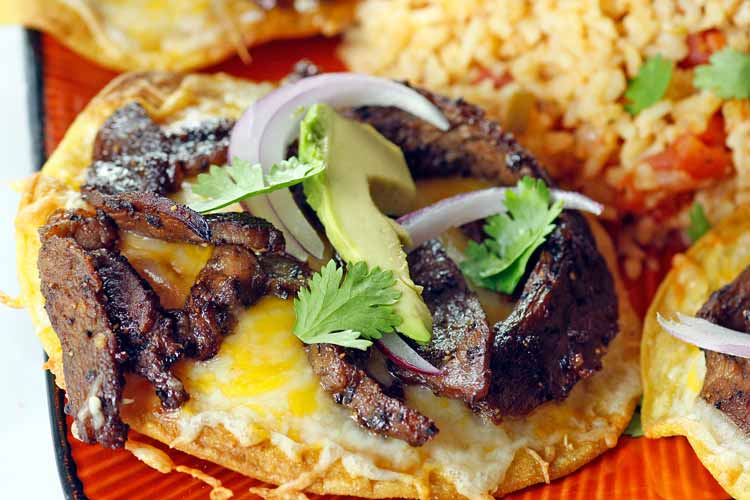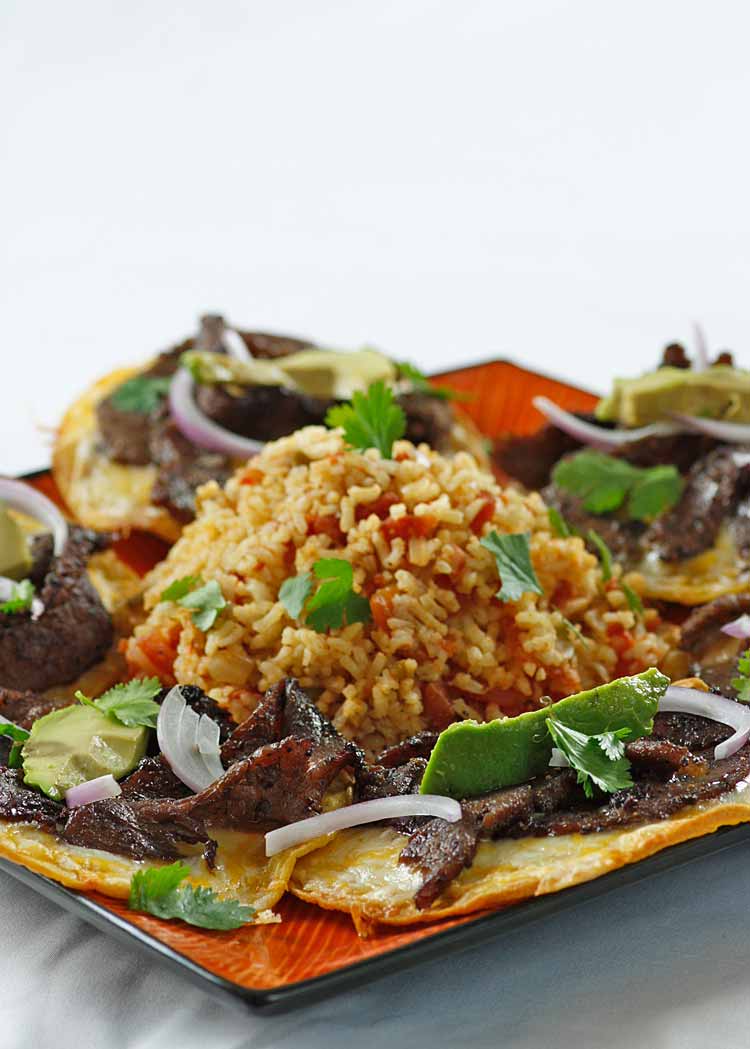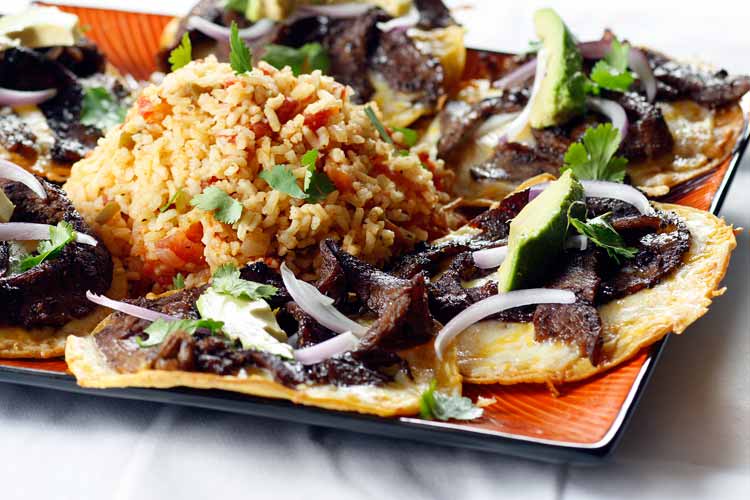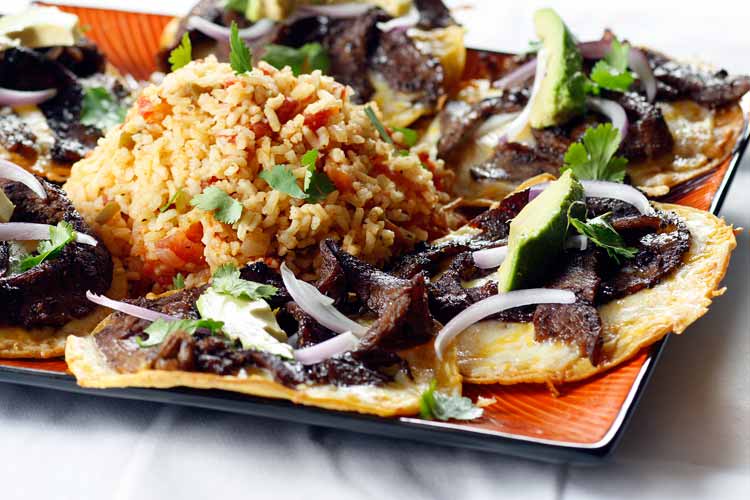 Dr. Pepper Beef Tostadas
2015-05-30 08:31:28
Ingredients
1 flank steak (about 1 lb)
1 12 oz. bottle Dr. Pepper
brown sugar
kosher salt
cracked pepper
1 tbsp. olive oil
1 tbsp. vegetable oil
8 corn tortillas
2 cups monterey jack & cheddar cheese
avocado
cilantro
sour cream
Instructions
Place the flank steak in a shallow dish that will hold the meat tightly, pour the soda over the beef and cover with plastic wrap. Refrigerate overnight or for at least 4-6 hours.
Remove the meat, pat dry and rub brown sugar, kosher salt and pepper over both sides. Massage the seasonings into the beef. Cover tightly with plastic wrap and place in the freezer for 20 to 30 minutes until firm. Slice the steak and fry in a very hot skillet with a tablespoon of olive oil - I prefer a large cast iron skillet to get a nice sear but any skillet will work fine. This will only take 5 to 10 minutes, stirring as you cook the meat.
If you are cooking your own corn tortillas get one tablespoon of oil hot in a non stick skillet, cook the tortillas on each side no more than a minute or 2 until brown over medium high heat. Watch them closely - these cook quick! Drain on paper towels.
Line a baking sheet with parchment paper. Place tortilla's on the baking sheet, top with grated cheese then the flank steak. Bake at 350 5 to 6 minutes.
Top with sliced avocado, sour cream, chopped cilantro and jalapeno's.
My Mother's Daughter http://mymothersdaughter.net/
Comments