Delicious Pulled Chicken
I love a delicious pulled chicken, it's perfect with fries and the leftovers make great tacos or quesadillas on round two night! I have found that trying to use chicken breasts for shredding or "pulling" results in a dried out mess. The obvious answer was to use chicken thighs as there is almost no way to dry out a chicken thigh. The meat is always tender, juicy and flavorful – and these thighs cook low and slow so the spices can really develop.
I remove all of the skin to eliminate having issues with a fatty sauce and take a few extra minutes with my kitchen shears to trim around the chicken thighs leaving just nice, fat free pieces of meat to cover in the spicy rub. You could cook these in a crock pot on low for 5-6 hours but I prefer a dutch oven method. I've never been happy with chicken in a crock pot, it just doesn't seem to finish to the right texture for some reason. But that's just me. Use your crock pot if it makes you happy!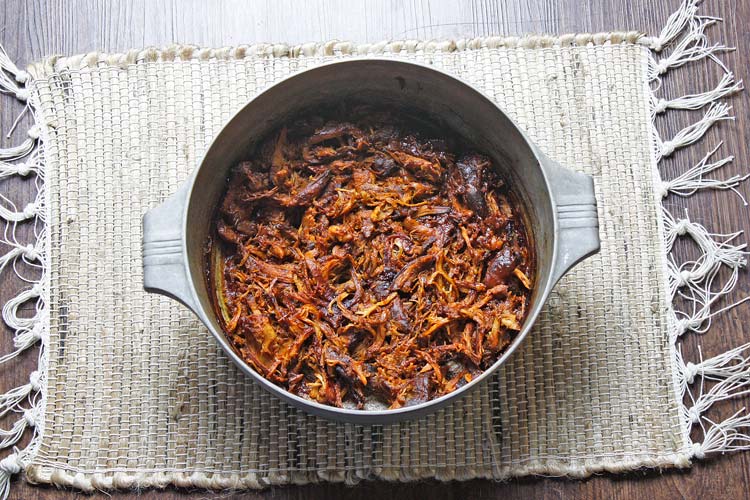 After the thighs are done, let them cool for a few minutes and they will EASILY fall off the bone. Discard the bones, throw the thigh meat back into the pot and shred the chicken…yum!
Spread some toasted buns lightly with your favorite BBQ sauce and serve with my parmesan fries and spicy bread & butter pickles. These sandwiches are absolutely delicious…I promise!
Delicious Pulled Chicken
2015-04-18 09:06:19
Ingredients
6 chicken thighs skin removed
1 tbsp. chili powder
1 tsp. kosher salt
1 tsp. paprika
1 tsp. cayenne
1 cup BBQ sauce
1/2 cup chicken broth
Instructions
Remove skin from chicken thighs, spray the bottom of a heavy dutch oven with cooking spray. In a bowl mix all of the seasonings. Rub the chicken breasts with the spices.
Pour the chicken broth in the bottom of the dutch oven, place thighs in the pan. Pour BBQ sauce over the top. Cover and cook at 275 degrees for 4 to 5 hours.
Remove from oven, let cool for a few minutes and then pull the bones out of thighs. Using two forks pull the chicken into shreds. Mix well in all of the rendered juices.
Butter and toast buns, spread a little BBQ sauce on one side of the bun and top with the shredded chicken.
My Mother's Daughter http://mymothersdaughter.net/
Comments