Brussel Sprouts in Sriracha & Honey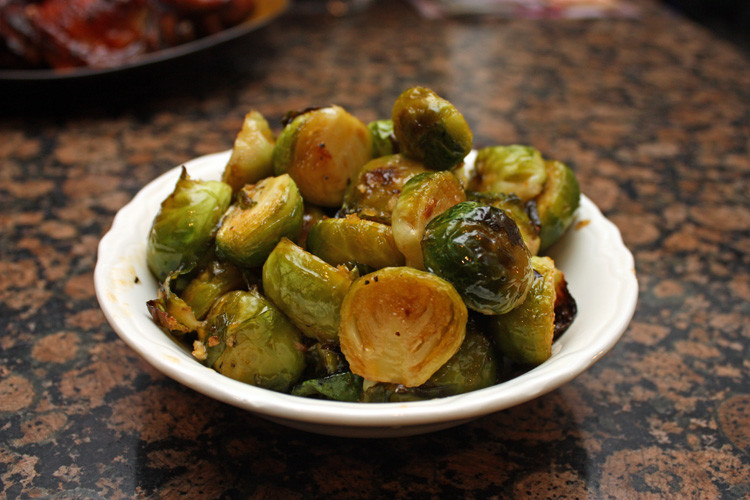 Last fall I picked up these delicious, roasted brussel sprouts in sriracha and honey from the prepared veggie aisle at my local Whole Foods. It was instant addiction. I kept going back for more and found myself actually making a special trip just to pick up these darned brussel sprouts, ha!
I couldn't keep them in my fridge longer than the time it took to put my groceries away. They are delicious warm but just as wonderful (maybe even more, ha!) with a glass of wine, a slice of cheese and a couple of these sprouts as an appetizer before dinner.
I knew I had to figure out how to make these myself and apparently I was late to the game because I found several recipes when I did an internet search.
After trying several I settled on one that was posted by Jessica Webster, a columnist at the Ann Arbor News.
I didn't use lime juice because I'm just not crazy about it in food – I love it in a cocktail and in my guacamole but not so much in savory dishes. Ms. Webster was also a little bashful with her use of the sriracha, in my opinion, so my version is definitely more spicy but you can adjust depending on taste.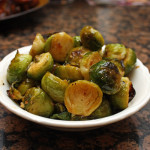 Brussel Sprouts in Sriracha & Honey
2015-03-07 22:55:06
Ingredients
1 lb. brussel sprouts
2 1/2 tablespoons olive oil
3 cloves garlic minced
kosher salt
black pepper
2 tablespoons honey
1 tablespoons sriracha
Instructions
Start by cutting off the stems of the brussel sprouts and cutting them in half. Put them in a bowl, drizzle 2 tablespoons of olive oil and a couple of shakes of kosher salt, a pinch of pepper and the minced garlic in and gently sti
Line a baking sheet with parchment paper. Place the brussel sprouts on the baking sheet and bake at 425 degrees for 10 minutes. Remove, turn them over and return to the oven for another 10 minutes. Remove from the oven.
Make the glaze in the original bowl by whisking the honey, sriracha and another 1/2 tsp. of olive oil. Return the brussel sprouts to the bowl and gently stir until they are coated. Place them on the baking sheet again and put them back in the oven again for another 10 minutes or until they are lightly brown and starting to get crispy around the edges.
Watch them carefully on the last step..they will brown quickly with the honey and sriracha glaze and you don't want them to burn!
Adapted from Jessica Webster
My Mother's Daughter http://mymothersdaughter.net/
Comments