Blissful Bean Soup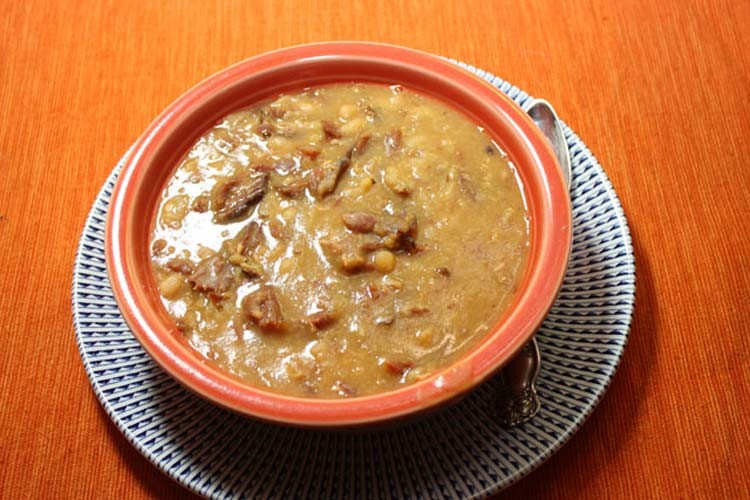 Today's blog is about nothing other than how amazing my White Bean Soup was last night. This was one of those times when I pulled a recipe out of my archives and it seemed too simple to be true. I kept thinking "is this ALL there is to it"? And the answer is "yes". The ingredient list is almost embarrassing in length, I think there are a grand total of 3 items other than salt & pepper.
This one is all about the way that you cook the beans folks. A pressure cooker is the only way to go so if you haven't taken my advice and picked one up already please proceed to your nearest Target Store and make haste to the cookware aisle. They only sell one brand and it's by T-fal and you'll find it where they keep the pots and pans rather than with appliances (which was the first place I looked when I bought mine). The box is rather discreet and you really have to be persistent on this one so don't give up! If you can't find it just pick up the red phone and call for help. Then cool your heels and pray for patience. It works for me every time. Except when it doesn't and I lose it in the middle of the store and storm out as if anyone really cares. Anyway, I love this particular model because of it's simplicity and that's why we gave both my sister and my little brother one for Christmas this year. The T-fal is just the ticket for a pressure cooker novice and the magic that this little gem will work on a simple white bean makes it worth the $40 price tag so GO FOR IT.
The only other advice I have for you on the issue of bean soup is the critical component of a leftover spiral sliced ham. These babies always tend to have a lot of luscious, tender meat tightly wrapped around the bone and the seasonings used to cure the ham will be infused into the beans. A few years ago I discovered that my Honeybaked Ham Store produces a lot of sandwich trays over the holiday's and so they end up with scads of ham bones. They package them up and throw them in the freezer so that they can sell them to foodies like me who love nothing more than scoring a nice bone for a hot pot of soup in January. So if you didn't end up with a leftover ham in your freezer and you don't feel like cooking one now call your local HH Store and asked them if they can help. You can use a grocery store ham hock but it just won't render the same results.
Also, please note that you can now subscribe to my blog by signing up on my home page – I know you don't want to miss a single word of my brilliant commentary. And don't forget to send me a message or leave a comment if you have a question about a recipe or advice on how I might make my website even better. I received some wonderful input on our new design and made some changes based on the feedback I received from my readers. Thank you!
So bundle up and snuggle in, the cold weather is here and we all could use a little hibernation with some comforting food to make things nice and cozy.
Happy cooking,
MMD
Comments