Bill's Beef Tenderloin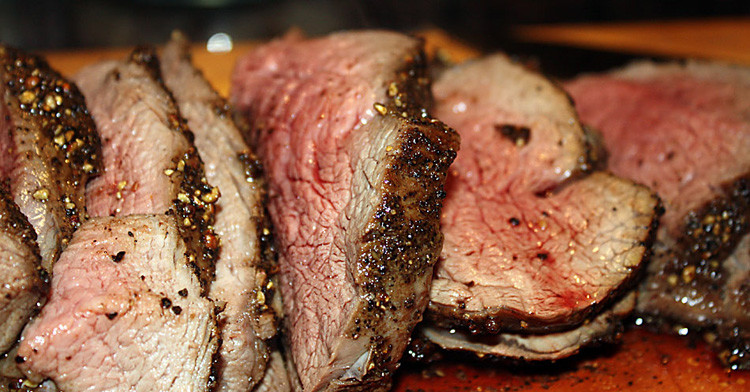 This Beef Tenderloin recipe is very special to my heart…and it's delicious too!
Many moons ago when the girls were growing up, I formed a dinner club in my neighborhood with a F.U.N. group of couples so that we could all get together once a month for a great meal. It was a huge deal to host dinner club at your house as it meant pulling out all the stops, blowing the dust of your cookbooks and really showing what you could do in the kitchen. Two of my favorite people in our group were Lisa and Bill Hannah and this is Bill's recipe for Beef Tenderloin. Bill loved many things in his life which included Lisa, his two boys, good music and awesome food. He put his heart and soul into everything he did and his beef tenderloin became a tradition in the Hannah family. I believe he may have even been challenged by a family member as to his ownership of this recipe but that's neither here nor there…it will always be "Bill's Beef Tenderloin" to me.
Unfortunately we lost Bill Hannah not too long ago, he will be greatly missed by all who were lucky enough to know him.
Rock on Bill…thanks for the recipe!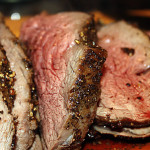 Bill's Beef Tenderloin
2015-03-09 07:56:13
Ingredients for sauce
1 Head of garlic (1/4 pound; about 2 1/2 inches in diameter), left intact
1 teaspoon olive oil
3/4 teaspoon salt
2 cups heavy cream
1/4 cup drained bottled horseradish
1/8 teaspoon white pepper
Ingredients for tenderloin
1 (3 lb) center cut beef tenderloin roast, tied
1/4 cup cracked black pepper
2 teaspoons granulated beef bouillon
2 teaspoons salt
3/4 teaspoon cornstarch
3/4 teaspoon dried oregano, crumbled
3/4 teaspoon garlic powder
3/4 teaspoon paprika (not hot)
1 tablespoon olive oil
Instructions for sauce
Put oven rack in middle position and preheat oven tp 400 degrees.
Cut off and discard top fourth of garlic head. Drizzle exposed garlic with oil and sprinkle with 1/4 teaspoon salt, then wrap head tightly in foil. Roast garlic until tender, about 1 1/4 hours, then open foil and cool.
While garlic roasts, simmer cream in a 1 1/2 to 2 quart heavy saucepan, stirring occasionally, until reduced to about 3/4 cup, 20 to 25 minutes, then transfer to bowl.
Squeeze garlic into a small bowl, discarding skins, and mash together with horseradish, pepper, and remaining 1/2 teaspoon salt using a fork.
Stir garlic mixture into cream, then chill until ready to use.
Instructions for tenderloin
Increase oven temp to 475 degrees.
Pat tenderloin dry. Stir together pepper, bouillon, salt, cornstarch, oregano, garlic powder, and paprika in a small bowl.
Rub oil all over tenderloin, then sprinkle with spice mixture, rubbing it into meat.
Put tenderloin on rack in roasting pan and roast 10 minutes, then reduce oven temperature to 425 degrees and cook until thermometer inserted diagonally into center of meat, registers 130 degrees, 20 to 25 minutes for medium rare.
Let beef stand on rack in pan 10 minutes before serving.
Cut beef into 1/4 inch slices and serve with garlic horseradish sauce.
Notes
Special equipment: a roasting pan with a rack; an instant-read thermometer
Adapted from Bill Hannah
Adapted from Bill Hannah
My Mother's Daughter http://mymothersdaughter.net/
Comments