Bacon Wrapped Pork Tenderloin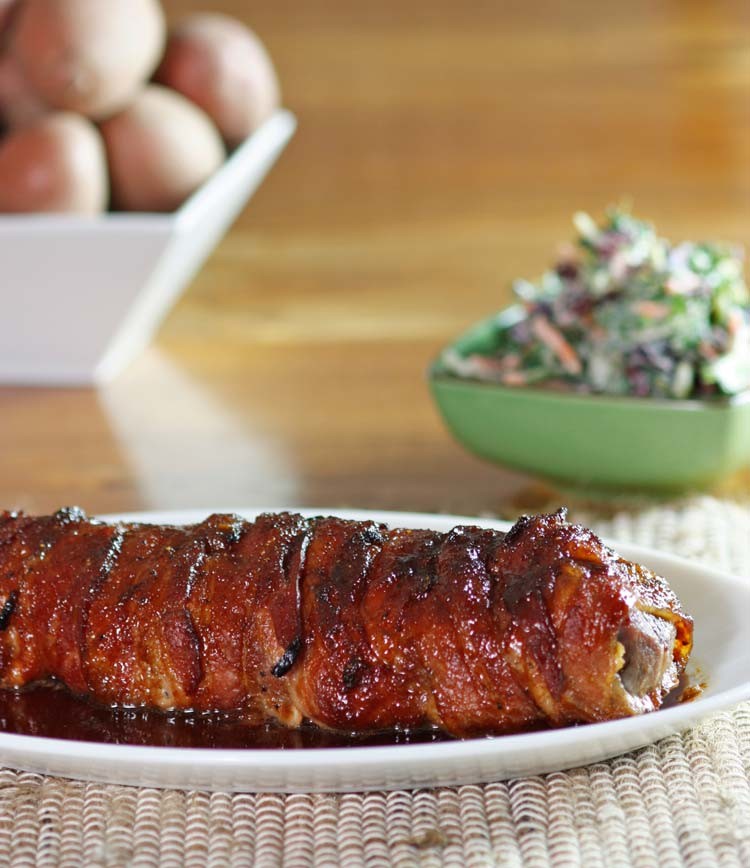 Just saying the words "bacon wrapped pork tenderloin" kinda makes you a little crazy, right? Pork on pork. What's not to love? Yes, it looks a bit naughty and decadent but pork tenderloin is a really lean cut of meat and each serving is probably no more than a slice or two of bacon so it's not that bad at all on the calorie counter. The marinade makes a thick, almost syrup like sauce that is salty and sweet all at the same time, perfect as a glaze and not too shabby over some creamy mashed potatoes either. This is so incredibly delicious, full of rich amazing flavor!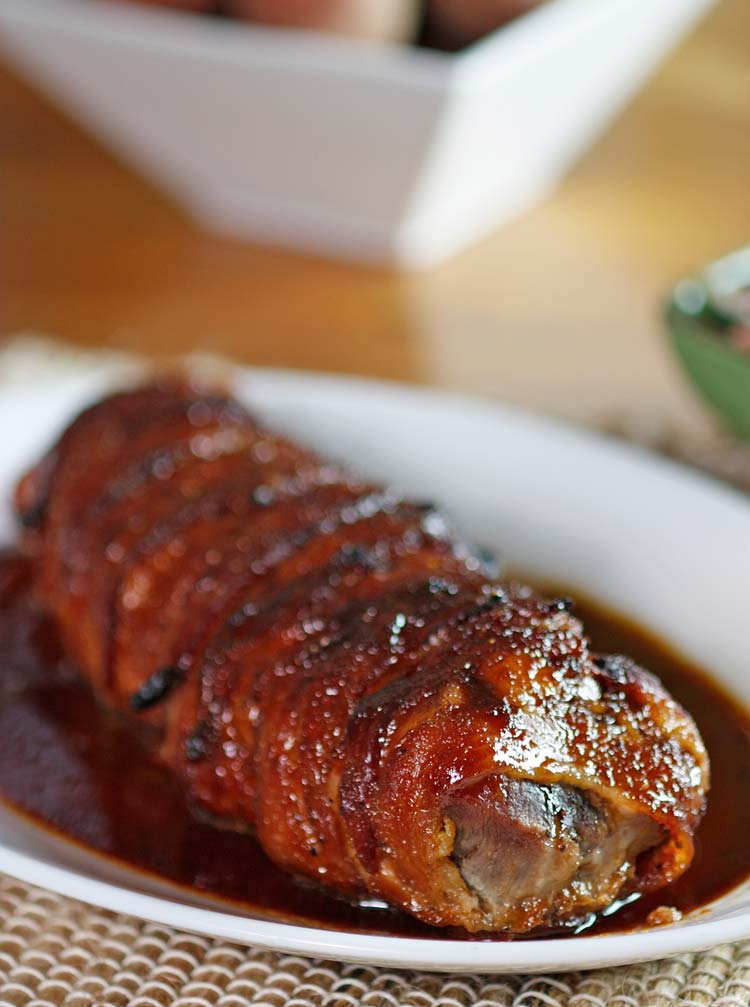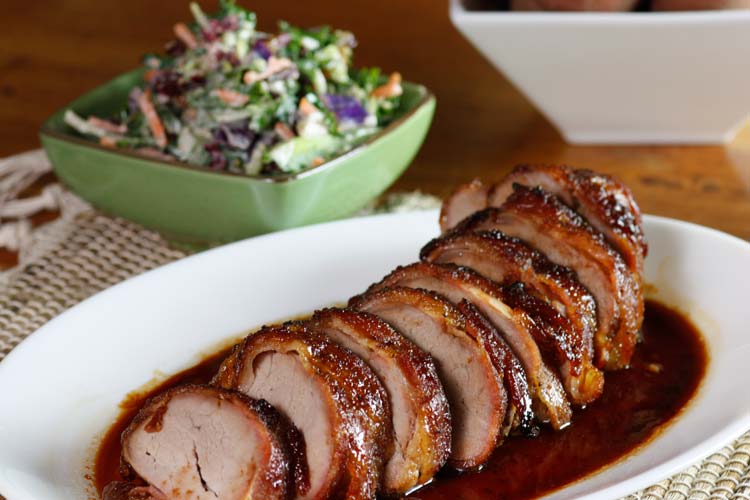 You'll want to be sure to let this sit in the fridge for several hours to soak in the flavors. The recipe for the marinade is enough for 2 pork tenderloins – I just made one since it was just the two of us for dinner and threw the other one in the freezer. But feel free to cook both if you're feeding a family since there was plenty to season two pieces of meat and most packages always include two tenderloins.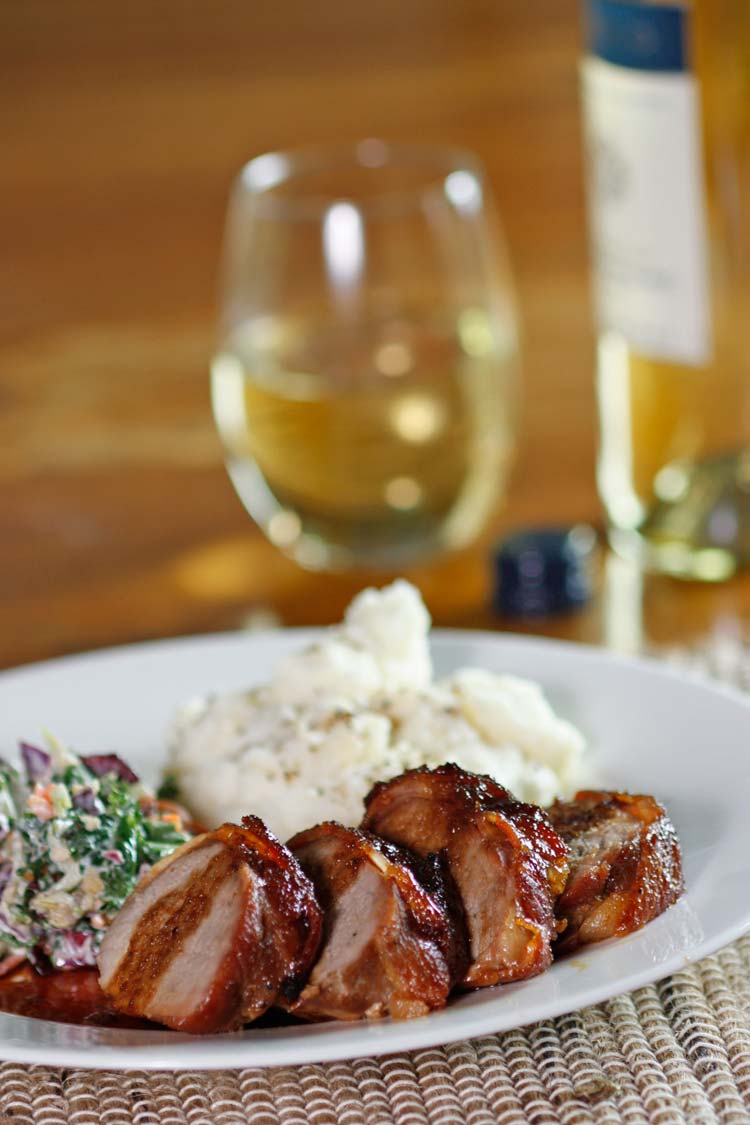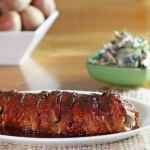 Bacon Wrapped Pork Tenderloin
2015-04-22 06:50:43
Ingredients
1 pork tenderloin (or 2 tenderloins depending on how many you're serving)
1/2 lb bacon
3/4 cup soy sauce
1 tablespoon onion powder
1/2 teaspoon garlic powder
1 tablespoon wine vinegar or regular vinegar
1/4 teaspoon salt
Dash of pepper
3/4 cup brown sugar
Instructions
Wrap the tenderloin pieces in bacon. Place in 8 1/2″ x 11″ pan. Using something with a large diameter (I used a shishkabob skewer) poke holes in the tenderloin.
Combine rest of ingredients in a small bowl; stir well. Pour marinade over meat. Refrigerate covered 2 to 3 hours or overnight. Turn the tenderloin halfway through to make sure it is nicely coated.
Bake in a 400 degree oven for 45 minutes. Let rest 15 minutes.
My Mother's Daughter http://mymothersdaughter.net/
Comments