Apple Fritters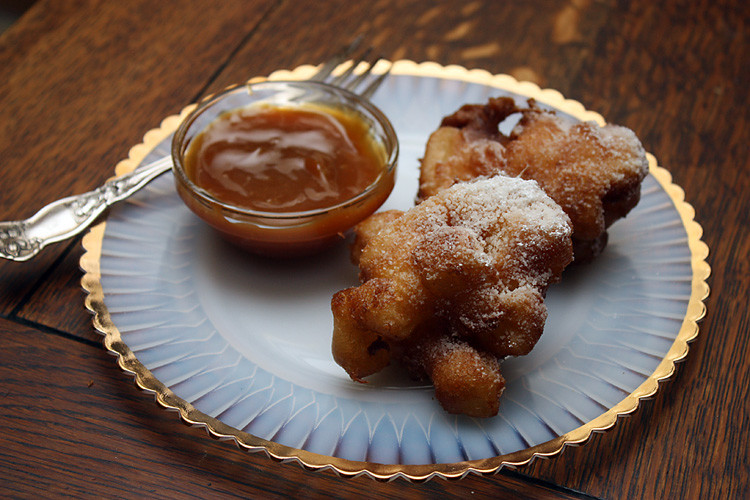 My husband rarely requests anything from the kitchen, so when he asked for apple fritters, I started doing my research immediately. I came up with 2 or 3 recipes that sounded good using Bisquick. I love Bisquick because I really like the way it tastes and it makes cooking with dough super easy. I added lemon zest because that was always the secret to my Mother's apple pie.
When I made these for dessert I served them with a light dusting of powdered sugar and caramel sauce on the side. Yum! The next morning I put them on a baking sheet in a 400 degree oven to get them nice and crispy and then gave them a nice, simple glaze of powdered sugar and milk. OMG…these were off the charts.
Don't worry if your dough seems a little runny, just make sure your grease is HOT and the fritters will immediately puff up into nice little clouds when they hit the oil. My first try dissolved into little balls that floated all over the top of the oil because I didn't have the temperature hot enough – I gave it a few more minutes, then gave it another shot and it was perfect!
I also used a heavy dutch oven because I like to have height on the sides when I'm frying, it makes me feel more secure about the risk of splattering hot grease. About 1.5″ of vegetable oil was the perfect amount for these apple fritters.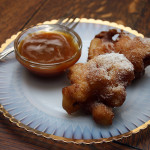 Apple Fritters
2015-03-08 10:43:39
Ingredients
3 apples peeled and diced (any kind is fine)
2 cups Bisquick (I stick to this brand, the others just aren't the same)
2/3 cups milk
2 TBSP sugar
zest of one lemon
1/4 cup brown sugar
1 egg
vegetable oil
Caramel Dip (found in the produce section this time of year)
powdered sugar
milk (just a splash for the glaze the next day)
Instructions
Peel, core and dice the apples. Toss in a small bowl with the brown sugar. In a medium bowl make your batter by whisking together the Bisquick, milk, sugar and egg. Add the lemon zest and juice. Blend with the apples and let sit for 10-15 minutes.
Heat the oil in a dutch oven to 350 degrees. Carefully fry no more than 3 fritters at a time so the oil temperature does not cool. Turn after a minute, keeping a close eye on the fritters to make sure that they don't over brown. Total cooking time is only about 3-4 minutes.
Remove to plate lined with paper towels. Sprinkle with powdered sugar. Serve warm with heated caramel dip on the side.
My Mother's Daughter http://mymothersdaughter.net/
Comments