My Inspiration
---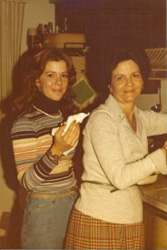 This blog was inspired by my mother, Fannie Marie Clark Rogers Love. My mom grew up in Ponca City, Oklahoma and was of American Indian and Irish heritage. Her cooking style was Midwestern comfort food all the way and she could turn dust into something delectable. There was nothing put to waste, we grew up on very few processed foods, lots of fresh fruits and vegetables, plenty of beef, chicken, fish and game and almost always a big bowl of gravy in the middle of the table to pour over your potatoes, or better yet, soak up with a thick slice of homemade bread.
She could kill you with her gravy and her desserts were off the charts. I still can't replicate my mother's pie crust and I've given up trying – some things just need to be left alone. In short, my mom nurtured us with lots of love, an unshakeable faith and plenty of delicious food. A few years ago I was inspired to pass her recipes and my love of cooking good food along to others and here we are!
I was raised in Kansas but moved to Texas in 1984 after my first marriage and this is where I raised my two girls. As my daughters were growing up I tried my best to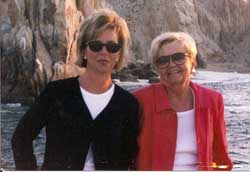 follow my mother's example by preparing them homemade meals and making restaurant dinners out a very special treat. My girls are all grown up now and in 2007 I married my husband David, the father of 3 sons, and so together we have a very large blended family that is growing by the minute as the children marry and have children of their own. On an average day I'm cooking for just the two of us but there are always those times when the troops pull in and I still have the opportunity to cook family style!
Our happiest moments these days, now that the kids are gone, are the weekends that we spend on our small farm in the piney woods of far East Texas with our two dogs and where we hope to eventually retire in the next few years. We will have our first organic garden this spring on the farm and I can hardly wait for the fresh produce and all the recipes I will be able to share here on my blog.
About My Recipes
---
Many of the recipes on my website were handed down to me by my mother who made cooking look effortless and I don't remember her ever following any written instructions whenever she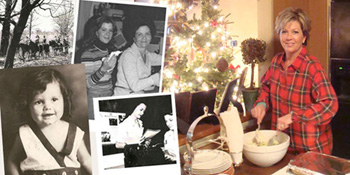 made a delicious meal. When I moved to Texas in the 80's and was starting to cook for my own family we would spend hours talking long distance about how to make all of my favorite childhood dishes.
Looking back now I can appreciate how encouraging and incredibly patient my mother was with my endless phone calls and questions! My success at cooking "mom style" didn't happen overnight, in fact it took several years and many fails to get even close to making my food taste like home. But with time my confidence grew and my children began to have their own favorites. Most of my collection of family recipes are here on my website to share with YOU!
A lot of the other recipes you will find here have been passed along to me by friends because they've been kind enough to share their own family favorites. I always get so excited to try a new recipe that comes highly recommended by a trusted source…it's like receiving a very personal gift. I have never understood the concept of keeping secret a delicious recipe because anyone who has a true passion for cooking knows that good food is all about sharing the love.
This leads me to the origins of my next recipe source which is food television. I'm an addict just like every other amateur cook in America these days. I still watch a lot of Food Network, the Cooking Channel and my very favorite, the original "foodie" network, PBS! I'm just so happy watching, learning and soaking it all in from the many talented people who are willing to share their skills and so many wonderful recipes which I often post on my website.
I also find recipes from other bloggers who are just like me, people who simply love to cook. There are so many amazing and talented people out there whipping up delicious food and taking beautiful photographs that blow me away with their passion. They inspire me to try their recipes and if I think you will like them too then I pass them along by posting them on my website.
It's pretty rare that I follow the directions exactly as another cook writes a recipe unless I'm baking. I just can't resist a "change here and there" to see if I can make it my own! So if I've taken a recipe word for word I will link it to the author's website, if not I will usually note that I've adapted it from another chef, blogger or friend.
All of the credit for food photography goes to my husband, David. I've taken a handful of pictures but David is so much better behind the lens and he usually takes a photo right before we're ready to sit down for a meal. He is truly one of the most creative people I know, and everything that happens on this website, other than the creation of the food, is because of him. My mom inspired me to cook and my husband was the inspiration behind my decision to share my love of cooking with others.
I hope you enjoy these recipes as much as I have, it's truly a pleasure to share them with you!
Chris
Comments