Versatile Blogger Award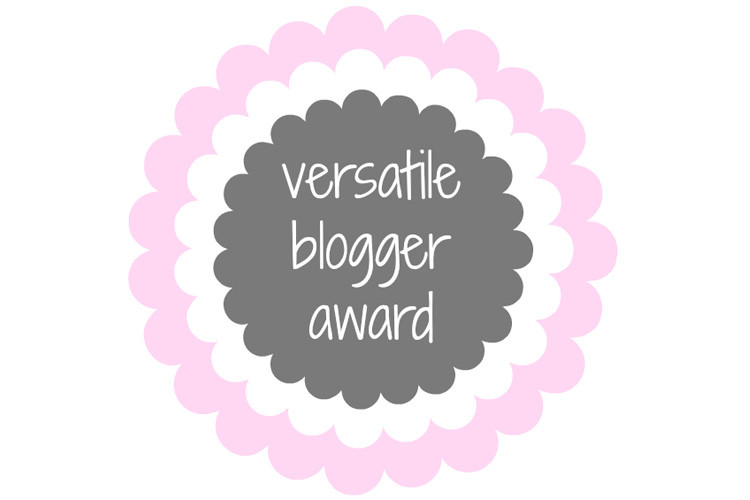 Thank you Beth from Definitelyleopard.com for nominating me for the Versatile Blogger Award. Always nice to know that I'm "versatile" – at this point in my life knowing how to change gears and put on those big girl pants has been a real plus on more occasions than I care to remember. And if you do it all with a smile then you get extra points. I have LOTS of points. 🙂
As a recipient of the award I'm supposed to tell you 7 random facts about myself. I've done this before and I'm running out of B.S. but, here we go:
I was, at one time, a pretty good tennis player during my years as a stay-at-home mom. But then I hurt my back, had a couple (3 actually) back surgeries and put away my tennis racket for good. I still miss it. It was really fun and a great way to stay in shape.
I am a lover of all things dog. Never met a dog I didn't like and really don't trust folks who don't like dogs. It makes me suspicious of their nature.
I talk a good game but, with a few exceptions, I was not the disciplinarian that I like to think I was with my children. My kids could talk me into almost anything by the time they were out of diapers.
I've said this before but I can't say it enough…I was an absolutely rotten teenager. Practically criminal. Not really, but my kids, all five of them, have been absolute angels compared to their mother. They could all subject me to water boarding and I still would not confess to half the things I did as a kid. I'm pretty sure my husband would say the same thing about himself as a teenager. That's just one of the many reasons that we understand each other so well.
I'm legally an American Indian and am on the original Roll of the Osage Tribe in Pawhuska, Oklahoma. I've gone back to the reservation, I've watched the tribal dances and I vote in the elections.
I met my husband on Match.com. Yep.
I pray every day.
You're supposed to pass this award on to 15 other bloggers. Young rebels turn into old rebels and I don't want to repeat myself and give you a list of the same 15 that I read every day. I don't like to make stuff up either and talk about folks that I don't follow regularly and genuinely enjoy. So… I'm only going to pass the award to one blogger and that is someone who I haven't previously mentioned and who I'm really enjoying these days. Her name is Maggie and her website is Abitchinkitchen.blogspot.com. She is funny, her recipes are fantastic and she would love for you to take a peek!
Be sure to check out my blueberry muffin recipe that I posted this morning. They are my mother's and so delicious! I've also made a cheesecake today that I'll post after I've photographed it later this afternoon. This is a super easy cheesecake recipe that I found on the internet and I made for a birthday at work a few weeks ago. Everyone loved it so I made it again and wanted to share it with you since it's so simple and tasty.
Enjoy what's left of your weekend, happy cooking!
MMD
Comments