Tortellini Soup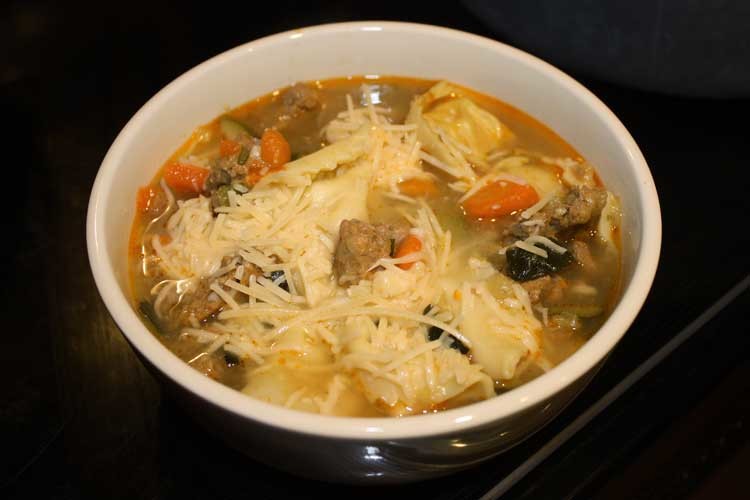 This blue ribbon Tortellini Soup is truly comfort food at it's best. I discovered this soup many years ago when my good friend Sheryl invited me over to her house on a cold Sunday night for dinner. We were single mothers at the time, trudging our way through schedules that were busting at the seams and Monday morning was looming…another week of work demands with kids in high school at that particular time of my life. My head would start spinning on Sunday's evening just trying to compute where everyone needed to be during the week – from school to ballet, cheerleading, projects and various things that the kids were involved in.
I walked in to Sheryl's beautiful little house, there was a fire blazing and this incredible aroma that simply sucked me in like a warm blanket. I remember plopping down on her soft, comfy sofa as she handed me a glass of red wine and then we sat in front of the fire and devoured her Tortellini Soup. It was just the perfect evening in every way. We ate, we drank, we laughed about life and I knew that this soup would be in my life forever. We throw the term Comfort Food around a lot these days but, some meals can be almost magical in the way that they always taste delicious and at the same time, bring back some really great memories.
After I remarried a few years later, I submitted the recipe to The Fort Worth Star Telegram when they were doing a piece on "Comfort Foods". And yes, it won the Blue Ribbon. And I have to tell you that there was a lot of competition. They even sent a photographer to my house and did a shoot of me preparing the soup in my kitchen…I felt like a real Food Network Star, ha!
The ingredient list is fairly short and simple and I really prefer turkey sausage in this recipe. I've been using a hot and spicy Italian turkey sausage lately, but if you don't like your food to have a "kick" then just stick with the traditional flavor.
Know someone who needs a little comfort? Want something to warm you up on cold night? Looking for a delicious and filling one pot meal? Serve this with some freshly grated parmesan cheese on top, a crusty loaf of french bread and a glass of wine. And if possible, wear cozy jammies and fuzzy slippers while dining. 🙂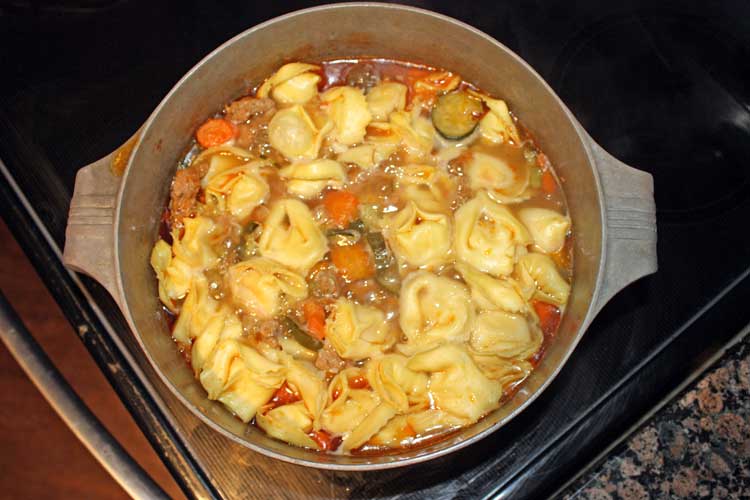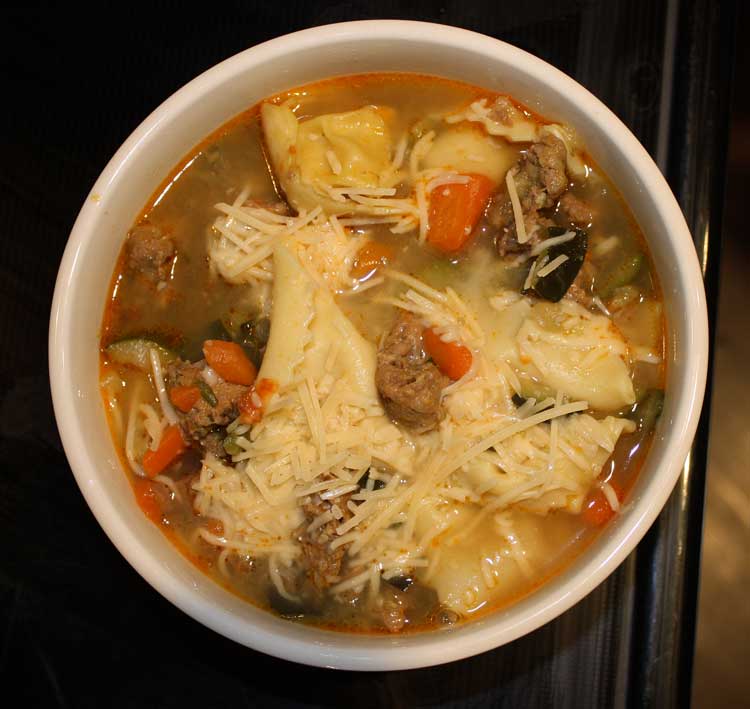 Tortellini Soup
2016-01-11 06:49:57
Ingredients
1 lb Italian Turkey Sausage (or regular Italian sausage)
1 tbsp. olive oil
1 small onion diced
4 garlic cloves smashed and diced
2 cups baby carrots or 3 carrots peeled and thinly sliced
2 zucchini sliced
1/2 cup white wine (totally optional)
1 48. oz box beef broth (sizes vary, don't obsess - a little more or less won't matter)
3 cups water
1 12 oz. package cheese tortellini
fresh pepper to taste
freshly grated parmesan cheese
Instructions
If you are using link sausages then split the casings and remove the meat. In a heavy dutch oven brown the sausage in a tbsp. of olive oil over medium heat breaking it apart with a wooden spoon. If you're using regular Italian sausage you will need to drain the fat and then return to the pan. If using turkey sausage no need to do this step, there's little or no fat. Just another reason that I love to use turkey sausage in my soup recipes!
When the sausage is just beginning to brown add the onion and garlic, cook for 3 to 5 minutes until soft. Add the carrots, cook for an addition 3 minutes.
Turn the heat up to medium high, add the wine if using and deglaze the pan. Add the broth, water and zucchini. Bring to a boil, reduce heat to a nice simmer and cook for 45 minutes until reduced and the vegetables are tender. Add the tortellini and more water as necessary, the tortellini will absorb a lot of the liquid, I probably end up adding another cup or so of water after I add the tortellini but just eye ball it. Simmer for an additional 20 minutes after you add the tortellini. Add fresh pepper to taste but I rarely do - it has so much flavor that I usually don't think it needs it.
Top with fresh parmesan cheese and serve with hot french bread.
My Mother's Daughter http://mymothersdaughter.net/
Comments