Stuffed Burgers with Heirloom Tomato Ketchup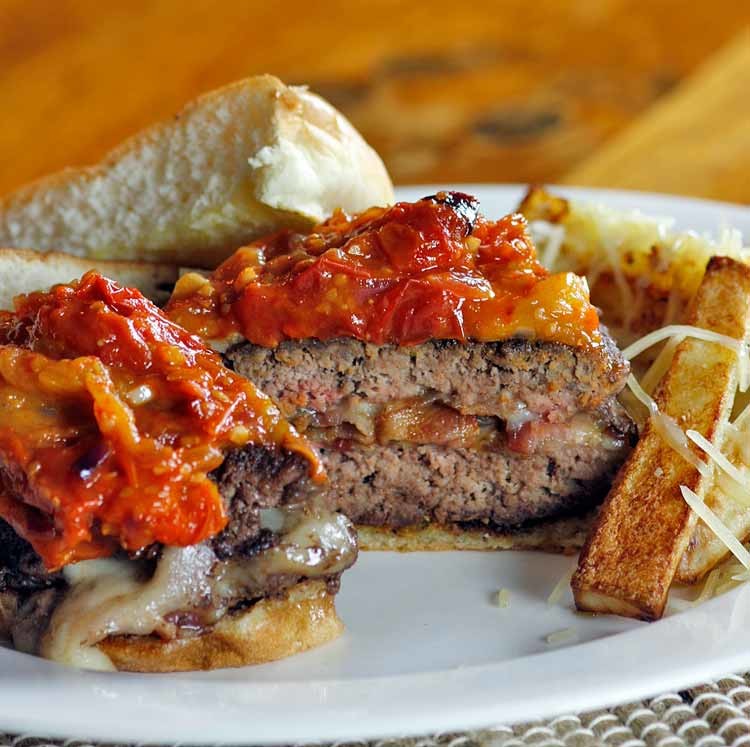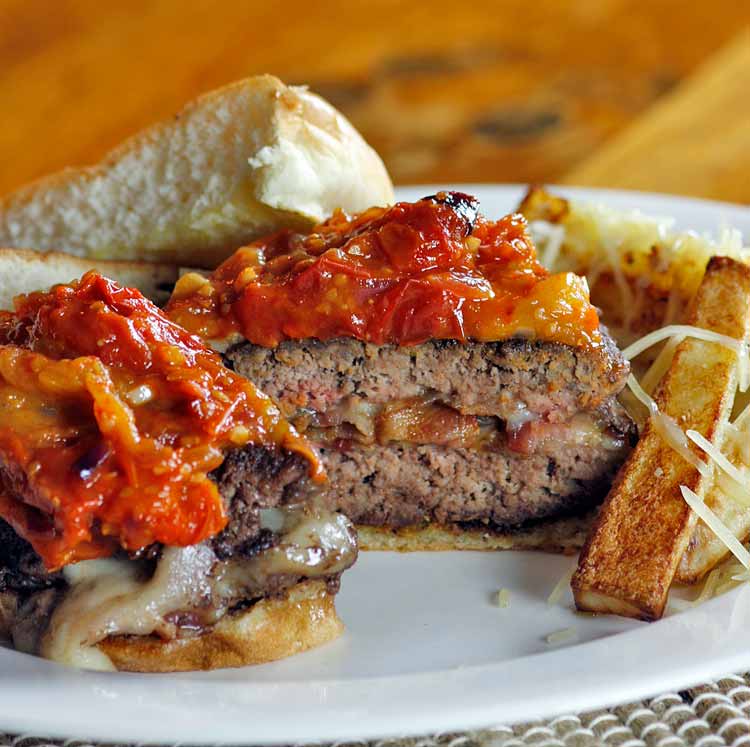 It's pretty hard to decide who is the star of show when you're looking at a swiss and bacon stuffed burger with heirloom tomato ketchup. I've been making variations of stuffed burgers for years and I have to say that swiss and bacon is my favorite because the firm texture of swiss cheese holds up really well through the cooking process and doesn't completely melt and disappear into the burger.
I found a recipe for homemade ketchup years ago and tucked it away for a rainy day. We've had a lot of those lately so this weekend seemed like the perfect opportunity to play with some beautiful little heirloom cherry tomatoes that I found at the farmers market. The original recipe called for roma tomatoes and you could certainly use those but the colorful, sweet heirlooms made the sauce much more interesting and I took it one step further by roasting them first with a little olive oil and a touch of kosher salt. Yum!
This ketchup isn't a full bright red because of the blend of red, yellow and orange tomatoes. To get a bright red ketchup just stick with a more traditional tomato and you will still have a delicious homemade ketchup. You will never want to top your burger with a bottled sauce ever again. Promise.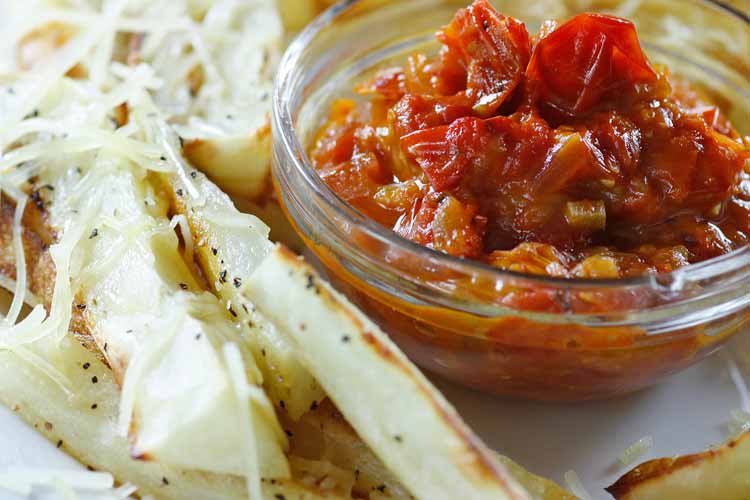 The burgers are simple, I use an 80/20 blend of ground chuck for lots of flavor. The stuffing is a quick blend of chopped bacon and red onion cooked until just done and then scooped on top of one thin patty that has a nice thick slice of Swiss cheese as a base. One more slice of Swiss to enclose the filling, then another thin patty of beef to seal the deal. A little salt and pepper, grill and serve on a toasted bun with the heirloom tomato ketchup.
I served with my Parmesan fries…so delicious!!!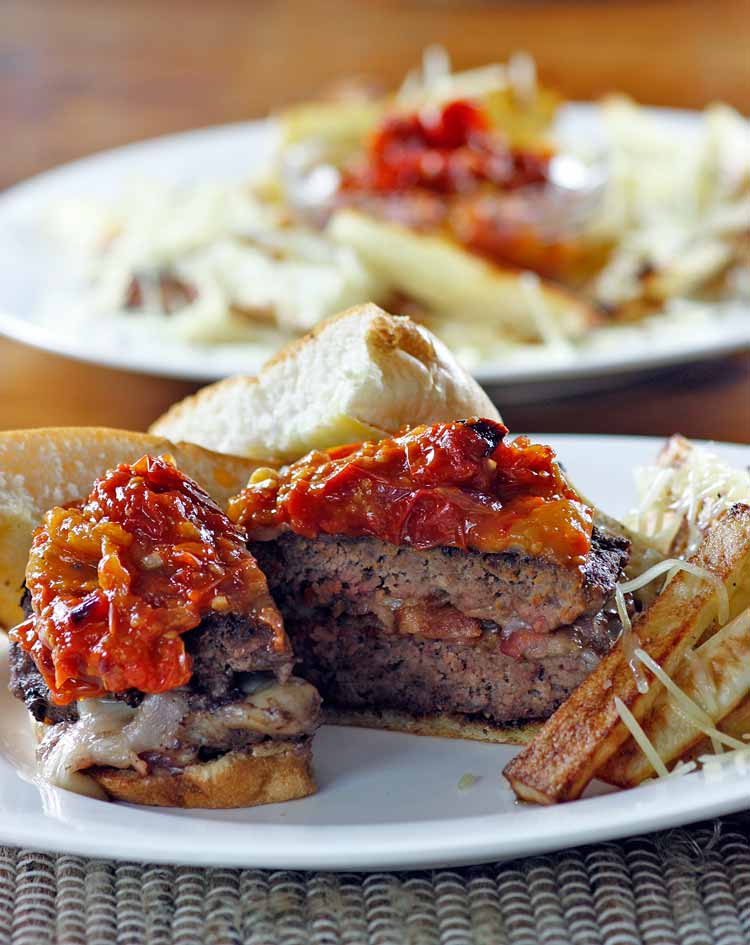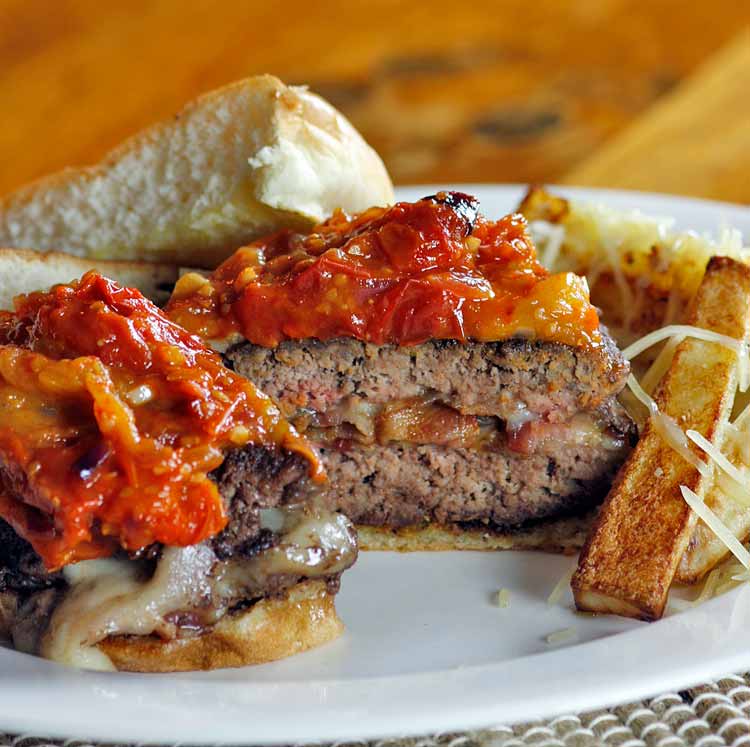 Stuffed Burgers with Heirloom Tomato Ketchup
2015-05-24 13:51:49
Heirloom Tomato Ketchup
4 cups heirloom cherry tomatoes (2 pints)
olive oil
kosher salt
3 garlic cloves minced
1/4 red onion finely diced
1 TBSP apple cider vinegar
2 TBSP sugar
2 TBSP worcestershire sauce
Stuffed Burgers
2 1/2 lbs. ground chuck (80/20 for the best flavor)
1/4 cup red onion diced
4 slices of bacon chopped in 1/2" pieces
8 slices swiss cheese
kosher salt & pepper
Instructions
For the ketchup spread the tomatoes on a baking sheet lined with parchment paper, drizzle with a little olive oil, sprinkle with kosher salt and bake at 425 degrees for 15-20 minutes or until they are soft and have "popped". Remove and set aside.
In a sauce pan saute the onion until soft in one TBSP olive oil, add the garlic and stir until fragrant - about 1 to 2 minutes. Add the tomatoes breaking them down with the back of a wooden spoon. Add the vinegar, sugar and the worcestershire sauce sauce. Salt and pepper to taste. Simmer on low until the tomatoes have blended well, about 10 minutes. Cover and set aside.
To make the burgers start by cooking the bacon and red onion in a little olive oil until just done - do not let the bacon get crisp. Let drain.
Make 8 thin patties. Top 4 of the patties with a slice of swiss cheese and a spoonful of the bacon and onion mixture. Place another slice of cheese on top of each patty to cover the bacon and onions. I trim the edges of the cheese to make sure there are no edges peeking out before I place the 2nd patty on top and seal the edges as tightly as possible to create 4 burgers. Salt and pepper on both sides.
Grill outside or in, serve on toasted buns with the heirloom ketchup on top!
My Mother's Daughter http://mymothersdaughter.net/
Comments