Strawberry Tart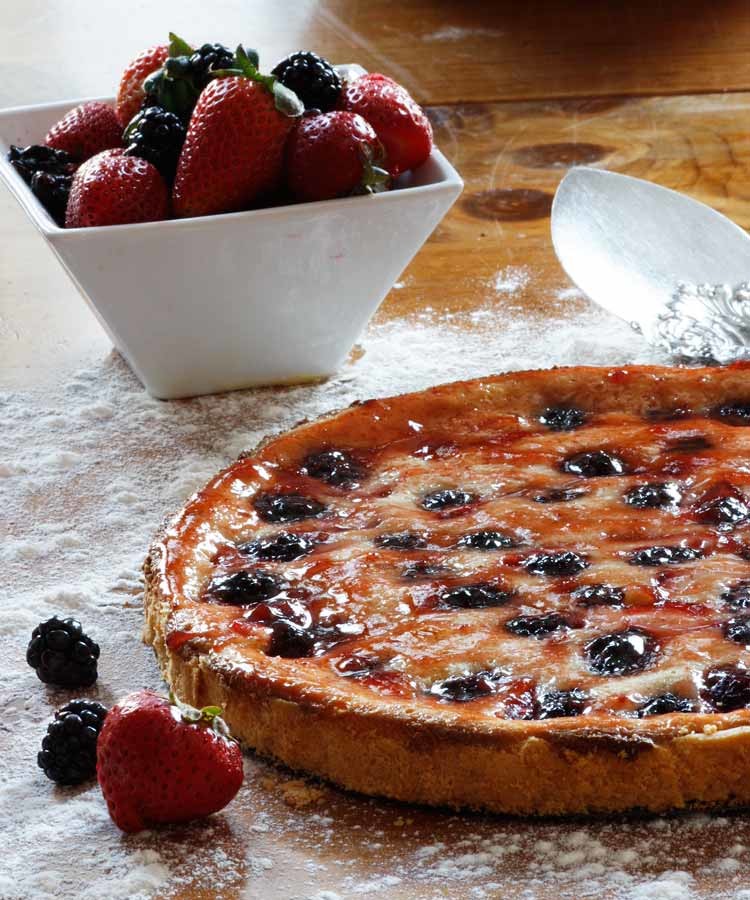 My strawberry tart is as delicious as it is beautiful and it is SUPER easy to make…you would never know it by looking at it but it really is a simple recipe. And you can add anything to it that sounds good at the moment – I threw on some blackberries this time. I also use blueberries, kiwi and peaches, it just depends on what's in season. It's always tempting to pick up a fruit tart at the bakery, they look so gorgeous. But they are seldom as fresh and delicious as they appear. Next time make your own!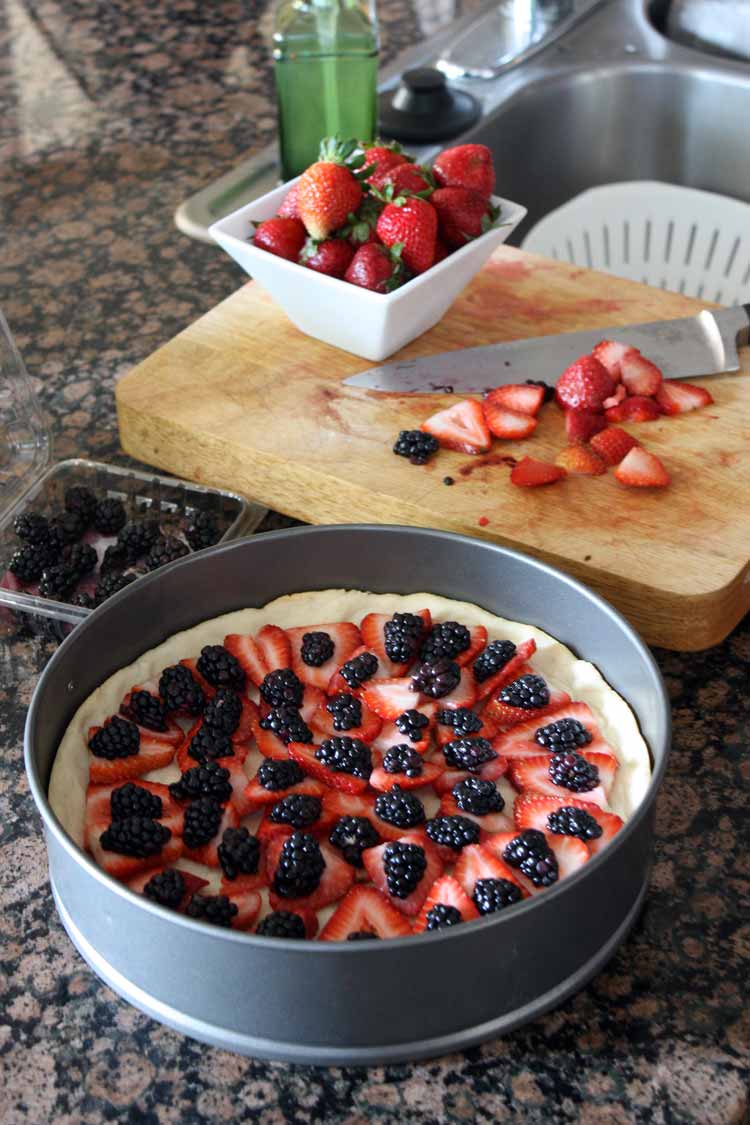 The bottom is basically a shortbread crust, you won't even need to roll it out since it's a "pat down" method along the bottom and sides of a springform pan. Simple.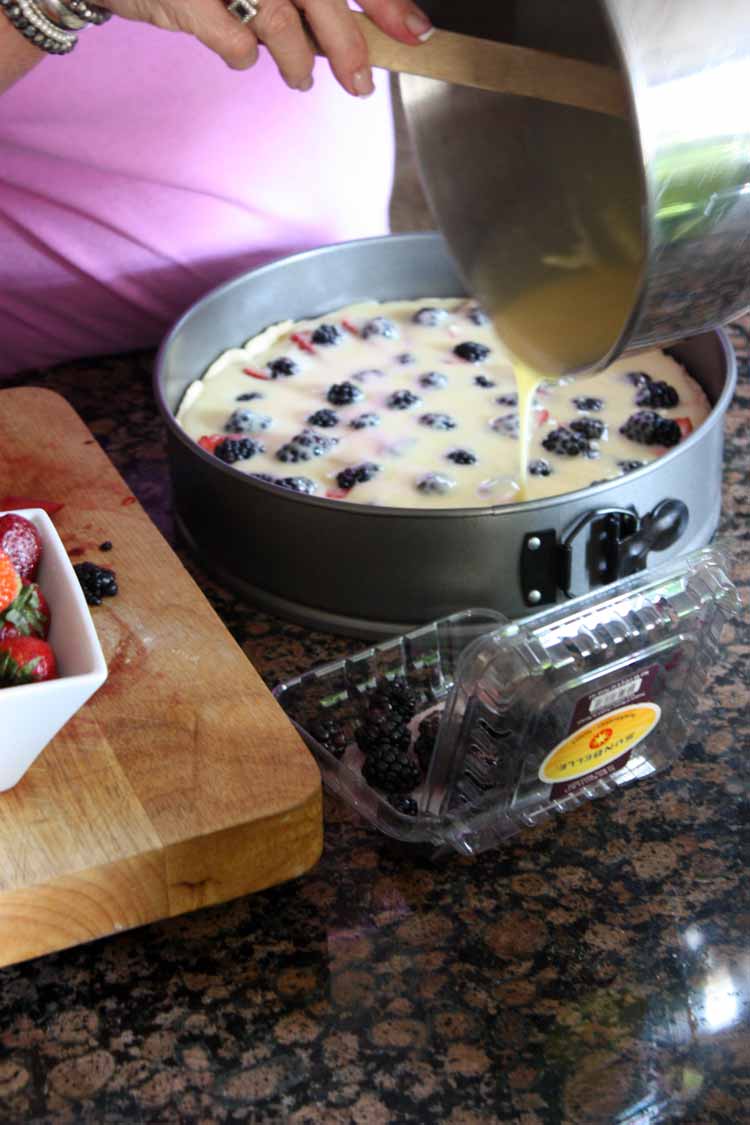 The glaze for my strawberry tart comes from a jar of strawberry jam. If you're going to make a peach tart just switch to a jar of peach jelly for the glaze. I've used orange marmalade over a solid blueberry tart – you can really get creative with these tarts, it's a lot of fun to see where they go as the summer progresses and the fruits come into season.
This strawberry tart will be perfect with just a dollop of whipped cream on top!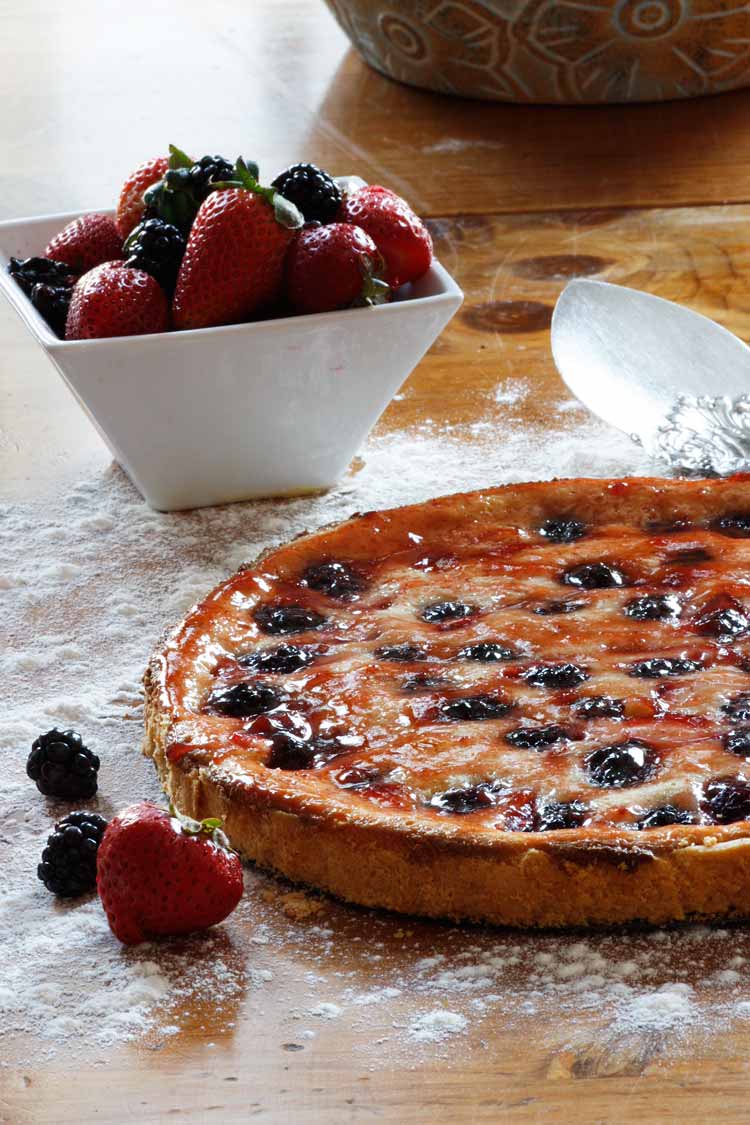 Strawberry Tart
2015-05-02 07:11:41
Crust
1 1/4 cup flour
1 stick butter, softened
2 TBSP. sour cream
Topping
2 cups strawberries sliced
1 cup blackberries sliced in half
Filling
3/4 cup sugar
3/4 sour cream
3 egg yolks
1 tsp. vanilla
Glaze
1/2 cup strawberry jam
1 TBSP. water
Instructions
Preheat oven to 375. In a mixer, combine crust ingredients until smooth. Pat down into a 10" springform pan leaving a 1 inch border up the sides. Bake for 15 minutes.
Arrange your fruit on top of the crust. Add filling ingredients to the mixer, beat until smooth and carefully pour over the fruit. Bake one hour. Let cool for 15 minutes.
In a small bowl microwave the jam and the water a minute or so until warm then whisk until you have a nice glaze to brush over the fruit.
Serving with freshly whipped cream.
My Mother's Daughter http://mymothersdaughter.net/
Comments