Strawberry Scones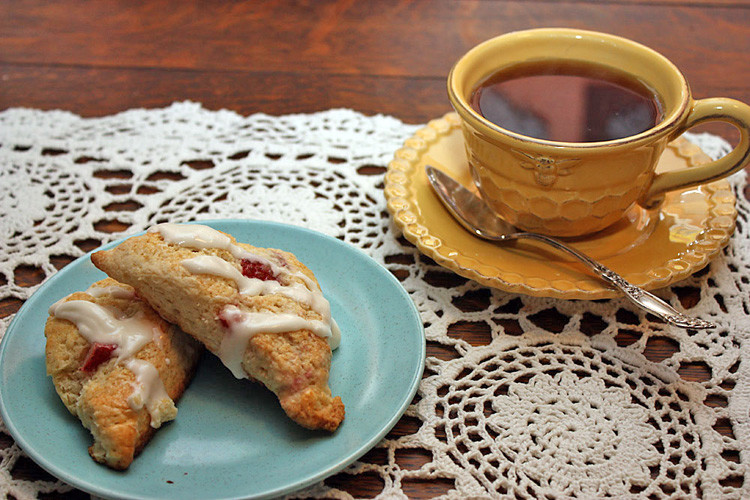 I love strawberry scones but, I like them a little sweeter than the traditional or "proper" scone that you purchase in a restaurant or bakery. There is something very proper about a scone and it always makes me want to take out a cup and saucer rather than a coffee cup. I'm not a hot tea drinker or it would definitely call for tea and scones…but I still try to do the nice cup and saucer with my scones. It just seems like the right thing to do!
The only thing that I can't quite get behind on the average scone is the lack of sweetness so I've adjusted the recipe on this to make them sweet, but not too sweet. I also top with a little icing.
They make a wonderful addition to a brunch or to serve at a shower with an egg casserole and mimosa's too! If you're serving a dessert after brunch or party it can be over kill to have a heavy pastry with the main course so these Strawberry Scones are just the right touch.
Yum!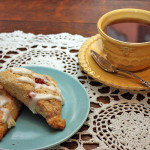 Strawberry Scones
2015-03-08 23:23:05
Ingredients
2 cups flour
3 tbsp. sugar
1 1/2 sticks cold butter cut into 1 inch cubes
1 tsp. salt
1 tbsp. baking powder
2 large eggs
1/2 cup heavy cream
1 cup diced strawberries coated in 1 tbsp. flour
egg wash (one egg plus 2 tbsp. cream whisked together)
icing (1 cup powdered sugar with just enough cream to create a consistency that you can drizzle)
Instructions
Put the dry ingredients into your mixer bowl, use the paddle attachment if you have a Kitchenaid. Blend the dry ingredients and then add the cold butter until it resembles pea size crumbles. Add the eggs and cream and blend well. At the last minute add 3/4 cup of the strawberries, stir to blend.
Coat your work surface with flour, this dough is sticky! Rub flour on your hands and put the dough on the work surface, pat into a square making it about 3/4" thick. Cut into smaller 4 inch squares and then slice diagonally to create a scone shape. Brush with the egg wash and sprinkle a little more sugar on top.
Place on a baking sheet lined with parchment paper. If you use foil or you spray the baking sheet with Pam you will end up with the bottoms too brown so use parchment paper if you can. If you don't have any on hand (like me this morning) just line with foil and then make sure you use an extra baking sheet underneath to create a thicker cooking surface which will prevent over browning. After the scones are on the baking sheet take the remaining 1/4 cup diced strawberries and just poke them into the top of the dough here and there so the scones will look pretty and strawberry-ee. That's not a word but you know what I'm trying to say here, right?
Bake at 400 degrees for 15-20 minutes until the scones are lightly browned. Remove from oven, let them cool for 10 minutes and then drizzle with the icing.
My Mother's Daughter http://mymothersdaughter.net/
Comments