Strawberry Rhubarb Pie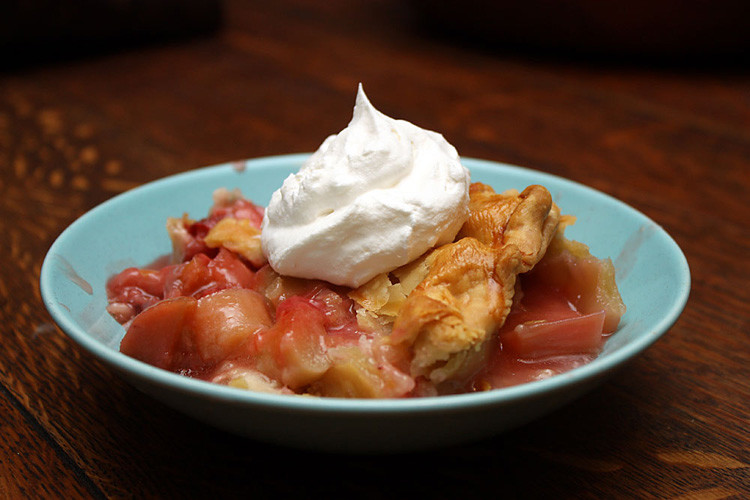 Here is one of my all time favorites! Nothing says summer to me like strawberry rhubarb pie.
I grew up on rhubarb because I spent my grade school years in Minnesota and the stuff grows like a weed up there. When we moved back to Kansas it was still readily available in the grocery stores and farmers markets. My mom no longer grew it in our garden like she did in Minnesota but it was still inexpensive and she continued to make pies and would can her rhubarb jelly each and every summer. I grew up eating a bowl of vanilla ice cream with warm rhubarb jelly poured over the top for dessert in the winter. Talk about heaven! I was a very lucky kid.
After I moved to Texas as an adult it took me awhile to figure out that I wasn't going to find rhubarb without serious effort and a deep pocket. It's simply too hot in Texas for a plant that thrives in cooler temperatures and shrivels in the heat. They import it but you pay the price, around $4 to $5 per pound and it takes several pounds to make a strawberry rhubarb pie since rhubarb is full of water. Hence, my tendency to mix it with strawberries to stretch that rhubarb out – otherwise it would cost me a small fortune to make a pie!
Look for it in your specialty grocery stores like Whole Foods and Central Market. I found mine this weekend at a local shop in Arlington – Green's Market.
Serve with ice cream or a dollop of whipped cream on the side is perfection!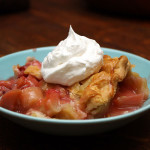 Strawberry Rhubarb Pie
2015-03-08 15:43:23
Ingredients
2 lbs. rhubarb diced into 1 inch cubes
1 quart sliced strawberries
1 1/2 cup sugar
1/4 cup flour
zest of one lemon
2 tbsp. butter diced
2 pie crusts
Instructions
Spray a pie pan with Pam. Place one pie crust on the bottom. Mix all of your ingredients in a bowl and place in your pie pan. Top with diced butter and place 2nd pie crust on top.
Brush an egg wash (1 egg with 1 tsp. water) over the top crust and sprinkle with sugar.
Put pie on a foil lined baking sheet. This is important! This pie is guaranteed to bubble over and be a sticky mess so don't skip this step!
Place in a 450 degree oven for 10 minutes. Pull the pie out and cover with foil. Reduce temperature to 350 degrees and return to oven for another 45 minutes. Time varies, pie should be lightly brown and bubbly when it's done.
My Mother's Daughter http://mymothersdaughter.net/
Comments