Spicy Cumin Rub BBQ Ribs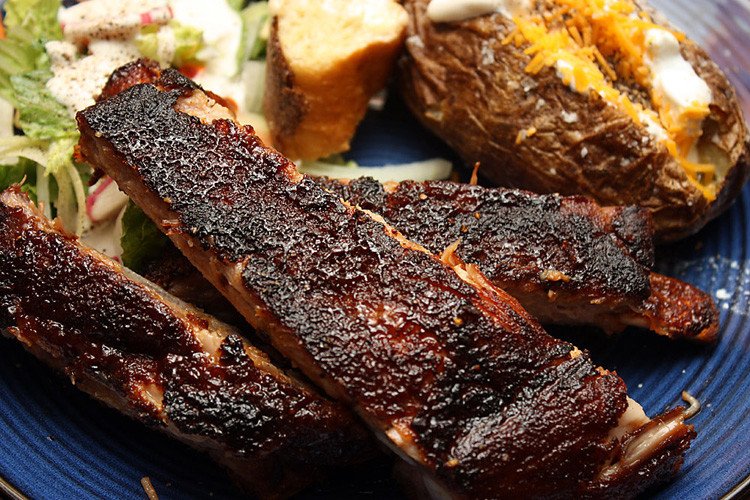 These Spicy Cumin BBQ Ribs are the bomb! I saw them on Kelsey's Essential's and decided to try them because it was the middle of the winter and I didn't feel like dealing with outdoor grilling. Kelsey lives in NYC and does all of her grill recipes indoors – and she does an awesome job. I don't think I've ever tried one of her recipes that wasn't a success. She started out on one of those Food Network cooking contests and she has come a long way baby, indeed!
She uses a dry rub on a rack of baby back ribs. I don't think anything but a slab of pork baby back ribs is worth cooking when it comes to BBQ ribs. They are leaner, they have far more meat than a country style pork rib and a pork rib will be far more tender than a beef rib. Her recipe calls for cinnamon in the rub and I tried it that way the first time. It was fine but I have to say that I wasn't a huge fan so I left it out the next time and preferred it without so that's the way I'm posting it. Sorry, Kelsey.
Kelsey also includes a recipe for a homemade BBQ sauce but I'm not that ambitious. Sorry again Kels. I just opened a bottle of my favorite KC Masterpiece (or Sweet Baby Ray's) and called it a day. I did, however, pour the rendered juices from my ribs into a saucepan with my bottled BBQ sauce and that worked out really well.
You bake these ribs tightly covered in foil and then, after they've fully cooked you uncover them and give them a nice char under the broiler. When summer rolled around I took them outside and put them on my Weber charcoal grill over to the side of the coals until they were brown and slightly crispy. They were to die for, fall apart goodness!
Yum!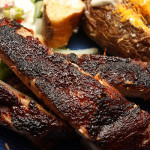 Spicy Cumin Rub BBQ Ribs
2015-03-08 14:24:11
Ingredients
1 5 lb. slab of short ribs
2 TBSP. paprika
2 TBSP. kosher salt
1 TBSP. chili powder
2 tsp. cumin
2 tsp. garlic powder
1 cups K.C. Masterpiece Original BBQ sauce
Instructions
Mix the dry ingredients. Massage into the ribs thoroughly, front and back. Let the rub soak in and then apply a second coat.
Line a baking sheet with heavy duty foil. Wrap the ribs in a second sheet of foil and wrap tightly. Place on the baking sheet and bake at 300 degrees for 2 1/2 hours or until ribs are falling apart.
Remove ribs and carefully open the foil, drain the rendered juice into a heavy saucepan. Add your favorite BBQ sauce and whisk, bring to a simmer and cook until slightly thickened.
Brush the ribs with the BBQ sauce front and back, char on either the baking sheet under a hot broiler or on your outside grill.
Adapted from Kelsey's Essentials
My Mother's Daughter http://mymothersdaughter.net/
Comments