Spice Rubbed Chicken Thighs with Grilled Peaches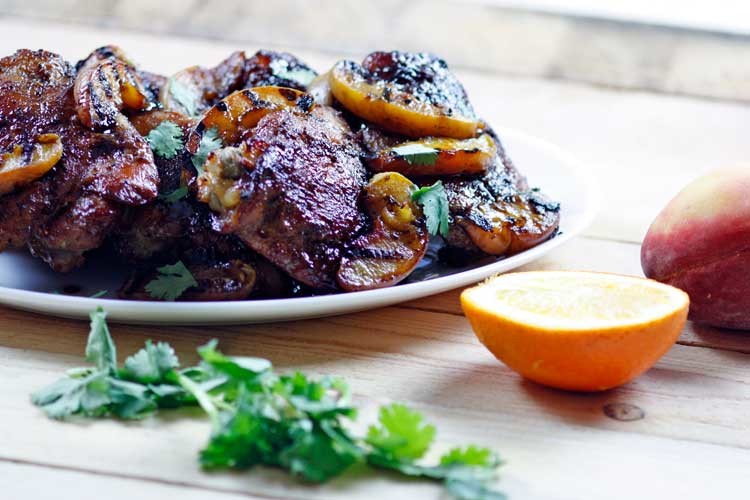 I'm really excited to share this recipe because these Spice Rubbed Chicken Thighs with Grilled Peaches are absolutely, positively, without a doubt…DELICIOUS! I found the original recipe on a food blog called "A Sweet And Savory Life" by Marge Perry. Thank you Marge!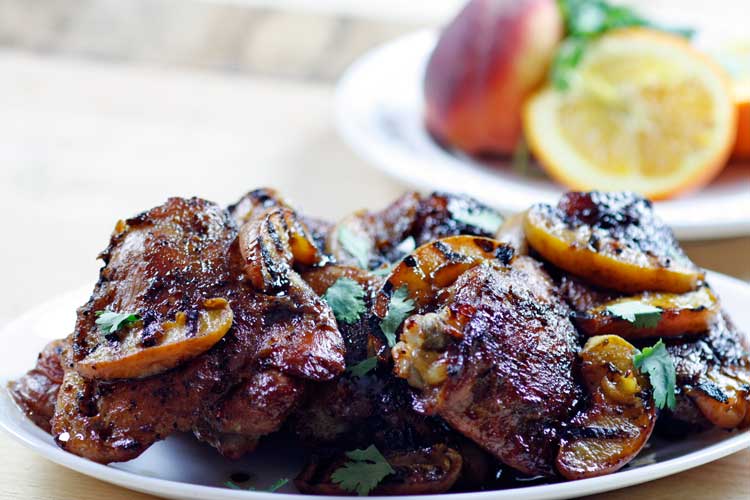 The rub is a unique blend of flavors, a definite step back from the BBQ blend that I love but that I have had just about enough of by mid summer. Cardamom, coriander, cumin, ginger, a pinch of cayenne and brown sugar all come together to flavor the chicken with the perfect punch. I removed the skin from the thighs, rubbed the chicken and then let them sit in the refrigerator for about 8 hours to soak it all in.
I grilled my peaches first using my indoor pan which is super easy and fast.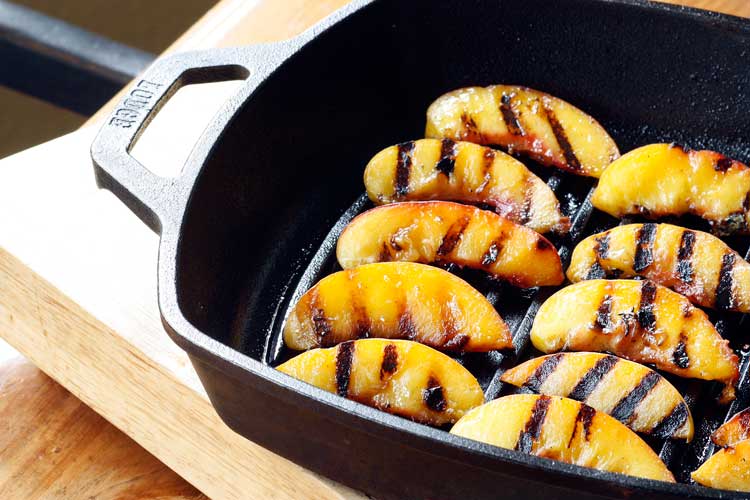 The basting sauce is a blend of peach preserves, orange juice, balsamic vinegar and chicken broth…yum! This sauce adds a slightly sweet and sticky finish to the chicken. I threw the peaches back on the baking sheet with the chicken the last 10 minutes and brushed a little of this wonderful sauce over them to blend them with the chicken.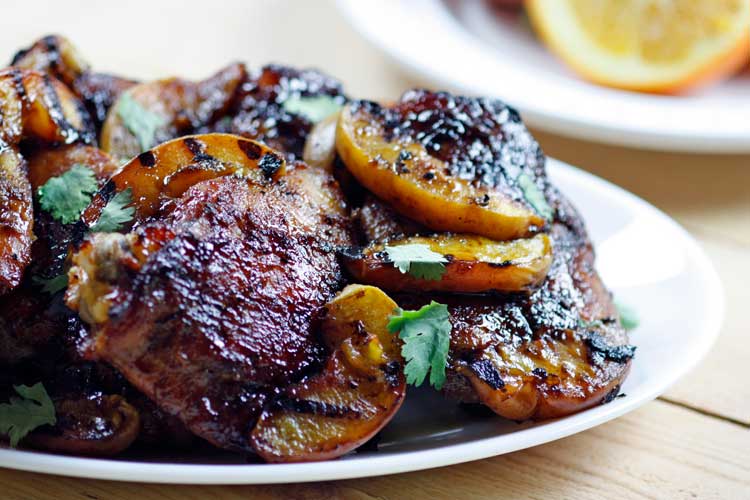 I finished it off with a little chopped cilantro over the top but you could use parsley if cilantro isn't your thing. I think the touch of green over the top looks really pretty and I happen to be crazy about cilantro.
My only advice is to please bake this on a sheet of parchment paper to make your clean up a pleasant experience…the balsamic vinegar reduction and peach preserves make quite a sticky mess by the time the chicken is done. You will be so happy to just fold up that piece of parchment paper and throw it in the trash when you're cleaning up the kitchen. And use firm peaches, not hard but firm – soft peaches do not hold together well when grilling. And if thighs aren't up your alley, feel free to go with chicken breasts, remove the skin but please use "bone in" for full flavor.
Enjoy this wonderful summer dish, it's going to be a favorite at my house!
Spice Rubbed Chicken Thighs With Grilled Peaches
2015-07-26 09:13:02
Ingredients
1/4 cup brown sugar
1 tablespoon ground cumin
1/2 teaspoon ground cardamom
1/2 teaspoon ground coriander
1 teaspoon ground ginger
1 teaspoon salt
1/4 teaspoon ground cayenne pepper
8 chicken thighs skin removed bone in
1/2 cup balsamic
1/4 cup peach preserves
1/2 cup chicken broth
1/2 cup orange juice
2 peaches sliced
1/2 cup cilantro
Salt & Pepper
Olive Oil
Instructions
Remove the skin from the chicken thighs. Combine the brown sugar, cumin, cardamom, coriander, ginger, salt and cayenne in a bowl. Pat the spice blend on the thighs and place in a large ziploc bag. Put in the refrigerator and let sit for 4 to 8 hours.
When ready to prepare, preheat the oven to 450 degrees and line a baking sheet with parchment paper. Salt and pepper the chicken on both sides. Lightly coat the parchment paper with olive oil. Place the thighs with the meaty side down on the sheet and cook for 20 minutes.
Meanwhile, combine the balsamic, peach preserves, chicken broth, and orange juice in a small saucepan and bring to a boil. Continue boiling for 10 to 15 minutes, or until the liquid is reduced to 1 cup.
Flip the chicken over and spoon on some of the sauce, cook for another 20 minutes. Then turn again, spoon more of the sauce and cook for another 20 minutes. Turn again, brush on more sauce and cook another 15 minutes.
The last 10 minutes turn the chicken over for the last time, arrange the peach slices on the baking sheet. Brush some sauce over the peaches and cook for a final 10 minutes.
Place on a serving platter with cilantro on top.
Adapted from A Sweet And Savory Life
My Mother's Daughter http://mymothersdaughter.net/
Comments