Sonoma Steak Salad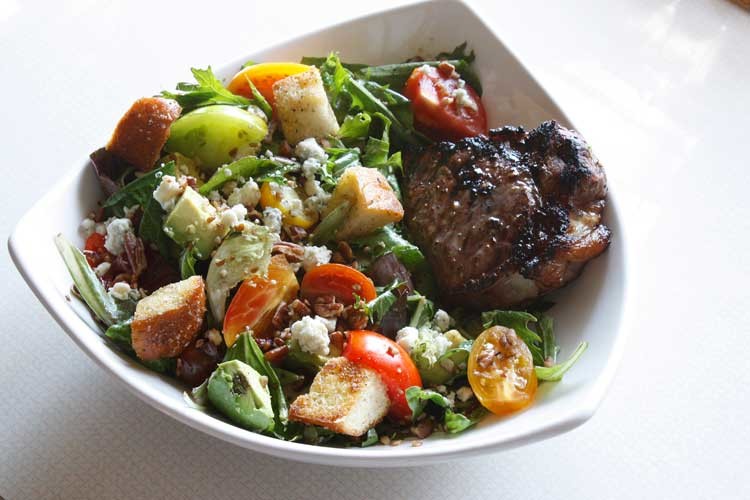 The Tavern restaurant in Fort Worth, Texas is one of my my favorite places to eat and the Sonoma Steak Salad is what I order almost every time I'm there – it is everything I love in one dish! I decided that had I to try to replicate this delicious salad to satisfy my constant craving and I think I've pretty much nailed it at last.
The salad is served with mixed greens, juicy tomatoes, chunky bites of avocado, crumbles of blue cheese and crunchy chopped pecans. I threw in some toasted garlic croutons on top. The dressing is a balsamic bacon vinaigrette. I used a recipe that I found on Epicurious and it was perfect.
I used a New York strip and seasoned with a little fresh garlic, salt and pepper, nothing special, just a great piece of beef grilled to perfection. We were at the farm when I made this salad so I used my charcoal Weber grill but a cast iron skillet would work well too. The Tavern serves their Sonoma Salad with the steak unsliced so that's how I've shown it in my featured image but you can certainly slice it up and place it to the side of your greens like this: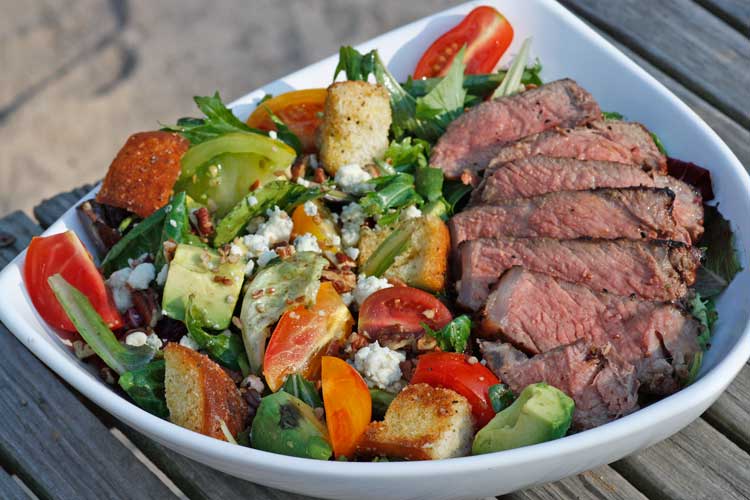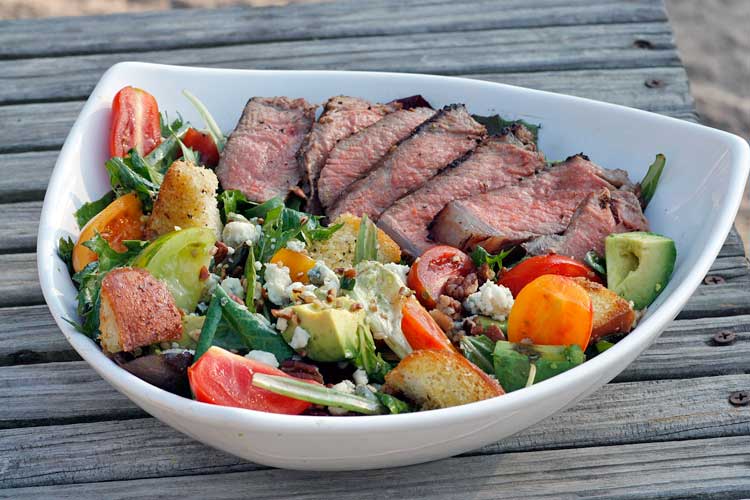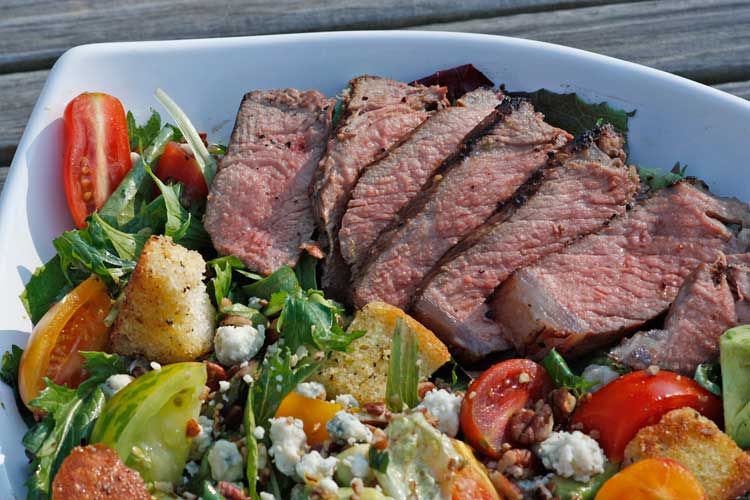 I was lucky enough to find some beautiful heirloom tomatoes in East Texas this weekend to make my salad extra pretty but off season I think I will use cherry tomatoes. I had a loaf of garlic herb French bread and cut about 6″ off the end to make my croutons. Just cut into cubes, coat with olive oil in a bowl, throw in a toss of kosher salt and cook on low in a cast iron skillet for 15 to 20 minutes giving the skillet a toss every few minutes. Fresh croutons are always so good and I love them for the little bit of extra effort they require.
Enjoy this gorgeous, flavorful salad that's light but still hearty enough to serve for dinner!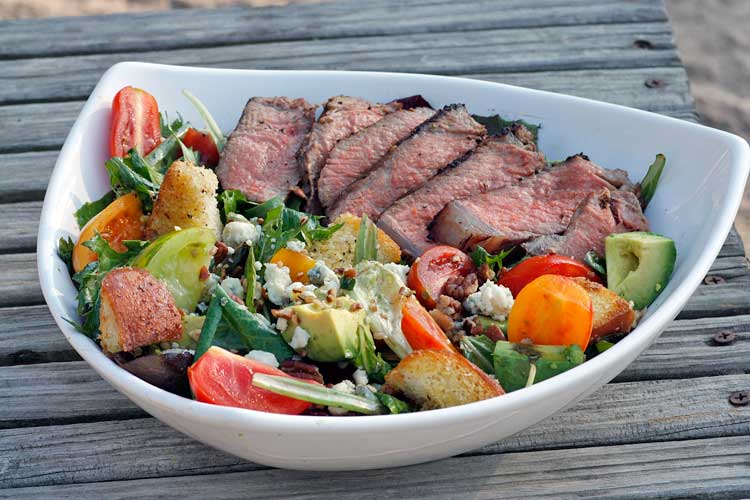 Sonoma Steak Salad
2015-08-16 08:01:47
Salad
2 New York Strip Steaks (each cut in half)
Spring Mix Lettuce (or any mixed greens)
4 heirloom tomatoes or one pint cherry tomatoes
2 avocados ripe but still firm
8 oz. blue cheese crumbled
1/2 cup pecans chopped
Kosher salt & cracked pepper
Olive oil
Dressing
5 slices bacon chopped into 1" pieces
3 Tbsp bacon drippings
5 Tbsp olive oil
1 Tbsp. brown sugar
1/4 balsamic vinegar
3 Tbsp red onion diced
3 garlic cloves chopped
Croutons
1 loaf French bread garlic and herb flavored
Olive oil
Kosher salt
Instructions
Start by seasoning your steaks any way you like and preparing as you normally would. I rubbed mine with a fresh garlic clove, seasoned liberally with kosher salt and fresh cracked pepper and then brushed with olive oil. I let the steak come to room temperature before grilling and then cooked to a medium rare, letting the steaks rest under foil for 10 minutes before serving
For the croutons I slice about a 6" chunk off of a loaf of garlic and herb crusted french bread. Then chop into smaller pieces, drop the croutons into a bowl and coat with a couple of tbsp. of olive oil and a dash of kosher salt. Cook over low in cast iron skillet. Give the skillet a toss every 5 minutes or so until the bread begins to look toasty - it usually takes about 20 minutes to cook croutons this way. Just don't turn the heat up too high or they will burn.
The dressing starts by dicing the bacon and cooking in a medium size skillet. When the bacon is cooked remove and save for later use (like in an omelette the next morning!). Pour off the drippings, measure 3 Tbsp. and return that back to the skillet.
In a small bowl whisk the vinegar, brown sugar, red onion and garlic together. Pour into the skillet with the bacon drippings and heat through until well blended. Let come to room temperature. When cool salt and pepper to taste.
In a large bowl add enough greens for 4 and the diced avocado's, toss with the dressing. Serve the lettuce and avocado on a plate and then top with the tomatoes, pecans and blue cheese. Serve the steak on the side, sliced or unsliced depending on your personal preference. Will serve 4.
My Mother's Daughter http://mymothersdaughter.net/
Comments