Savory Beef Stew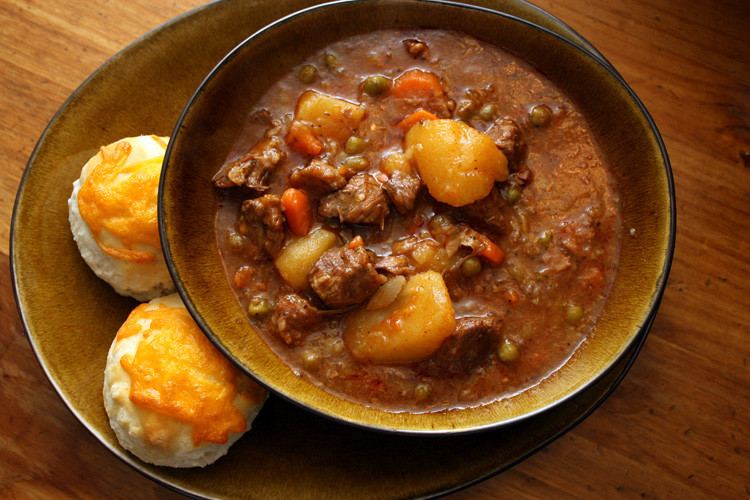 This beef stew is big on flavor because of the garlic, paprika and cayenne and also from the subtle seasonings that it picks up from the beer as it tenderizes the beef. The meat will literally fall apart as you scoop it out of your bowl…so delicious!
One thing I always do is pick up a chuck or rump roast and cut it into pieces rather than purchasing stew meat. It will cost you less per pound when you buy an entire roast and you will actually know for sure what you're putting in your beef stew. I always like to know what I'm eating. I'm just funny that way. 🙂
Other than the onion and garlic, the vegetables don't go in until the last 30-45 minutes and I tend to use whatever I have around so anything goes! I used red potatoes, carrots and peas in this pot of beef stew but you could use green beans, snap peas, butternut squash, corn, kale…it's really no fail.
It's so delicious, so satisfying. I served with cheddar cheese biscuits and it was a perfect combination.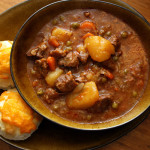 Savory Beef Stew
2015-03-07 23:13:27
Ingredients
2-3 lb chuck or rump roast
3 tbsp olive oil
1 tbsp butter
1 medium onion
4 garlic cloves minced
1 12 oz bottle of beer
4 cups beef broth + more as needed
3 tbsp tomato paste
1/2 tsp. paprika
1/4 tsp. cayenne pepper
1 tsp. seasoned salt
2 tsp. sugar
1 tbsp. worcestershire
6 red potatoes peeled and chopped
4 large carrots peeled and sliced
1 1/2 cups frozen peas
kosher salt
1/4 cup flour
Instructions
Trim and cut your roast into nice chunks of stew beef, leaving a little bit of fat here and there for flavor.
Coat the bottom of your dutch oven with olive oil and butter, sear the beef with generous salt and pepper over medium high heat until brown on all sides, remove.
Add onion and garlic, cook until soft - about 3 minutes. Add beer to deglaze, then the beef broth. Return the beef to the pot, add tomato paste, worcestershire and all seasonings cover and simmer on low for 2 to 2 1/2 hours or until beef is very tender.
Add vegetables, cover and simmer another 45 minutes or until everything is tender. Add salt and pepper to taste,
In a small bowl whisk together 1/4 cup flour and enough beef broth to make a smooth, liquid paste. Add the paste gradually to the stew while on a low boil until it's the right consistency.
Adapted from The Pioneer Woman
My Mother's Daughter http://mymothersdaughter.net/
Comments