Roasted Chicken With Havarti Cheese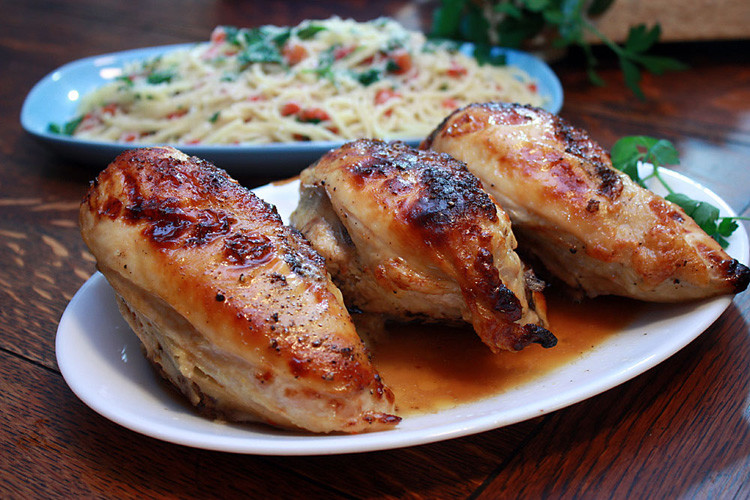 This Roasted Chicken With Havarti Cheese recipe is all my own, and it's heaven on a plate when you serve it with my Garlic Pasta, like we did tonight.
I developed this roasted chicken recipe over time with all of the ingredients that I love to jazz up a chicken breast…lemon, garlic, wine and cheese. How could it not be delicious? Just remember that the key is to use a bone-in breast with the skin on, it keeps the meat juicy and so flavorful!
I'm always looking for different things to do with chicken and like everyone else I love the boneless, skinless breasts but there are times that you really benefit from a bone-in breast with the skin left on to render extra flavor and leave the chicken moist and tender. It's also much easier to stuff a chicken breast with the skin on because it acts as a binder to hold the contents nice and tight and this Lemon Chicken with Havarti Cheese calls for the cheese to be tucked just beneath the skin.
Be sure to cover the chicken with foil and let it rest for 10 minutes before serving. You will be amazed at the wonderful juice that the breasts render, be sure to spoon some over the chicken!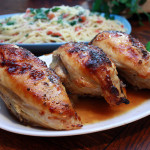 Roasted Chicken With Havarti Cheese
2015-03-08 21:17:47
Ingredients
4 breast halves, bone in and skin on
1 bottle fat free Italian salad dressing
salt & pepper
4 slices of havarti cheese (with jalapeno or herbs)
olive oil
Instructions
Place chicken in a large ziplock bag and coat with salad dressing. Let sit in fridge overnight or all day.
Remove from fridge and pound the breasts a couple of times with a heavy rolling pin to break them down a little bit, then remove from the ziploc bag to a cutting board. Loosen the skin carefully. Place slice of cheese under the skin. Drizzle with olive oil and massage into the breast. Salt & pepper to taste.
Place on parchment lined baking sheet and cook at 375 for one hour until chicken is nicely browned and skin is crisp. Let rest for 10-15 minutes under foil. To serve, drizzle with rendered juices.
My Mother's Daughter http://mymothersdaughter.net/
Comments