Rigatoni con Pepperoni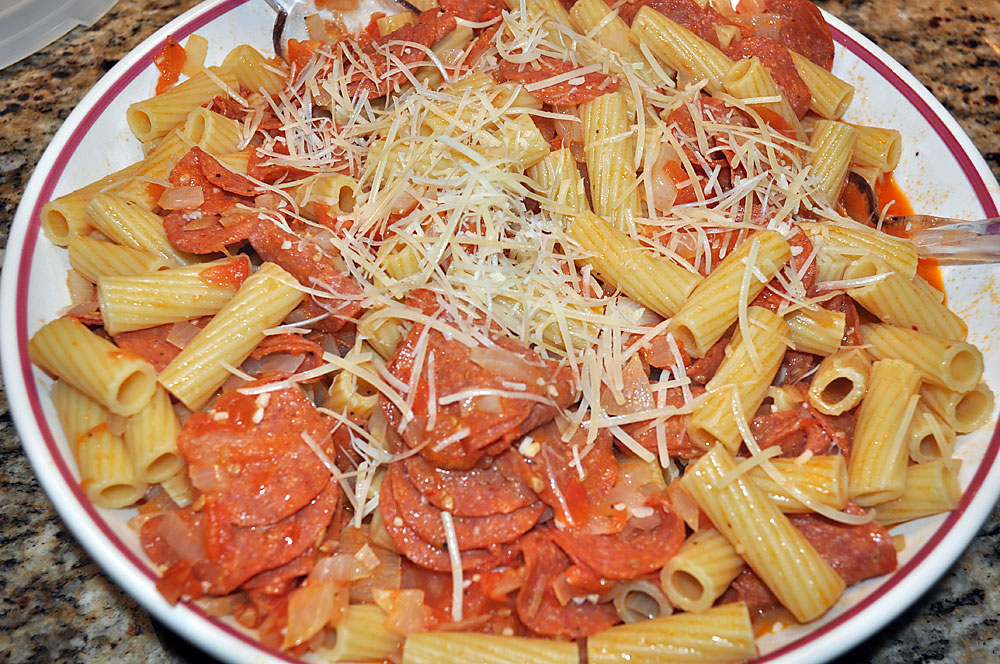 From my brother Rick:

This is true 'common-people' Italian food. Its not fancy, inexpensive to make, quick and is a common lunch/dinner dish in many eateries frequented by local workers in Italy. If you like pepperoni on your pizza….your going to love this pasta dish.

When our mother first came to visit us for Thanksgiving, in Maryland, we had just bought our first house and didn't have two pennies to rub together. This is a dish inspired by Jeff Smith (Frugal Gourmet), in his book '…cooks with wine', and was a perfect dish to serve for a large number of guests without breaking the bank. The funny thing is….this has become a favorite with my family. I would suspect, much like the Italian families, an idea born out of frugality grew up into one of the top requested dinners in our home. It's a dish that gets repeated every 6 weeks or I hear about it. Over the years…I have learned that I always, always, always double this recipe. It is a great lunch and travels well to work on Monday.
Ingredients:
1 garlic clove, crushed
1 small yellow onion, peeled and diced
2 tbs olive oil
2 ripe tomatoes, diced
1/2 lb peperroni, sliced thin
1/4 cup whipping cream
salt & pepper to taste
1/2 lb rigatoni, cooked al dente
parmesan or romano cheese, freshly grated for toppingE


Instructions:
Heat a frying pan and saute the garlic and onion in the olive oil, just until clear
Add the tomatoes and pepperoni. saute until the tomatoes cook down a bit, about 3 minutes.
Add the cream, salt and pepper
Toss with the rigatoni and top with cheese.