Rice Krispie Balls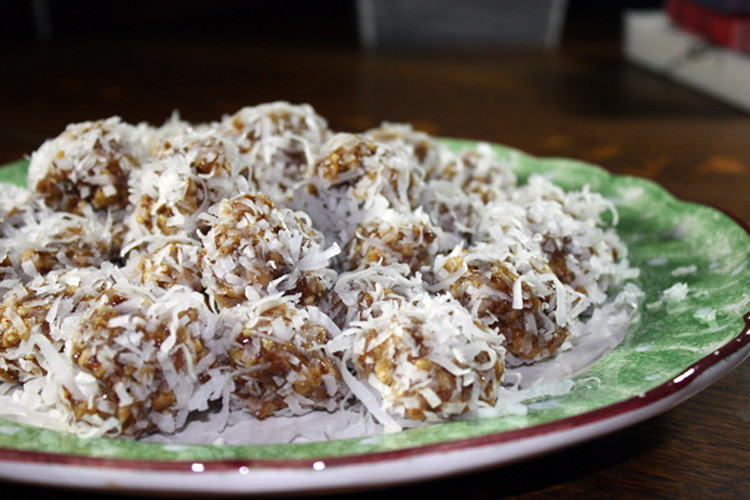 My mom had certain Christmas traditions and her Rice Krispie Balls were one that you could count on each and every year. She always kept a "treat platter" out on various tables throughout the house, it had all of her homemade holiday treats on it and she kept a piece of plastic wrap stretched across the top to keep everything fresh. You could walk into the family room, plop yourself down on the sofa and pull that piece of plastic off the top of her sweet tray and help yourself to her fudge, a piece of peanut brittle or rice krispie ball.
I think the rice krispie balls were her personal favorite, I know they were mine and I can tell you that my husband is addicted to these little chewy date cookies, covered in sweet coconut. They are hard to describe and until you've tasted one you can't imagine how delicious they are.
Try them, they're super easy and start to finish is less than 30 minutes! They're fun to make, just be sure to butter your hands before you roll the date mixture into balls. They are STICKY and the butter on your hands will make the job so much easier!
Rice Krispie Balls
2015-03-09 09:11:49
Ingredients
1 stick of butter melted
1 cup sugar
2 eggs
1 cup chopped dates
2 cups Rice Krispies
1/2 cup nuts
2 cups fresh coconut for rolling
Instructions
Beat the sugar, eggs and dates.
Add to the melted butter and cook 10 minutes stirring constantly. The bottom will scorch easily so be careful.
Add the cereal and nuts. Let it cool.
Rub your hands with butter and roll the mixture into balls and coat with fresh coconut.
My Mother's Daughter http://mymothersdaughter.net/
Comments