Red Beans & Rice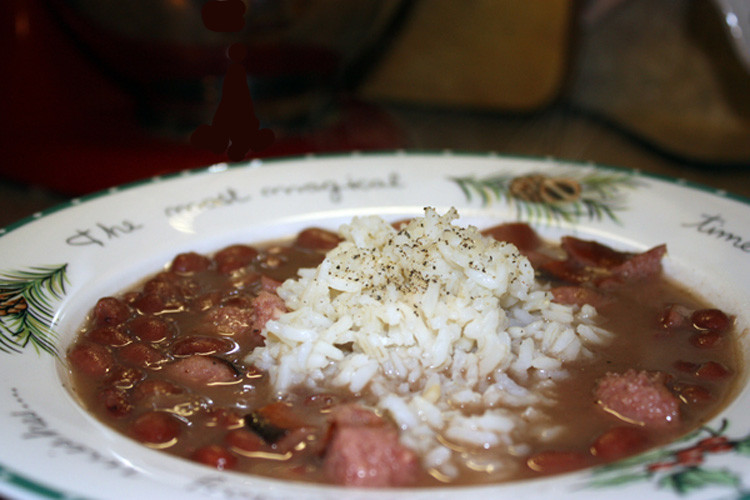 Red Beans & Rice are a southern tradition for sure! When I moved to Texas I had never had a bowl of red beans & rice.
I grew up in the midwest where we made navy beans and ham or "white beans". I quickly realized that red beans & rice was as essential to living in Texas as a well worn pair of cowboy boots. It was simply a necessity.
For my recipe I prefer to use a left over ham bone (and one from a honey baked ham if at all possible) but a couple of nice ham hocks from the grocery store work just fine too. You will get more ham from a leftover ham bone than from a ham hock and more flavor too.
I've started using a pressure cooker for my beans because it cuts the cooking time by more than half and I think the results are delicious. If you haven't ventured into the world of pressure cooking just pull out a heavy dutch oven and go to town, in a couple of hours you'll have a smoking hot bowl of pure joy. But cooking beans in a pressure cooker is a no brainer and a great way to reach that tenderness stage that take a long time to get to in your soup pot or dutch oven. I purchased mine several years ago and it's now an essential piece of equipment in my kitchen.
Either way you decide to go, I'm so glad I discovered the bliss of red beans & rice…just another reason that I love the south!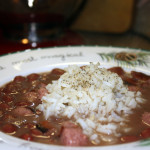 Red Beans & Rice
2015-03-09 08:21:20
Ingredients
1-1 lb. pkg. Red Beans (don't use kidney beans, "small red beans" are what you want)
1 onion chopped
1 nice leftover ham bone or 2 ham hocks from the grocery store
fresh cracked pepper
kosher salt
Minute Rice - white
Instructions
Cover the beans with water, bring to a boil and let sit for one hour (you can do this in the morning and let them sit all day), then drain.
In a pressure cooker OR dutch oven, add the rest of your ingredients except the rice. (Follow the directions that come with your pressure cooker, mine calls for 35-40 minutes for beans. If you're using a dutch oven simmer uncovered for 2 hours).
When the beans are ready pull the ham bone out and let it cool in the fridge until you can handle it easily. Let the soup continue to simmer while the ham cools and then pull all the meat off the bone, cut or shred into bite size pieces and drop back into the soup.
Bring to a boil and simmer for another 30 minutes with the ham.
Prepare the white rice, serve the beans and sausage in a bowl with a 1/4 cup of rice on top.
My Mother's Daughter http://mymothersdaughter.net/
Comments