Romano's Macaroni Grill Rosemary Bread
2012-03-04
Cuisine: American
Course: Bread
Skill Level: Intermediate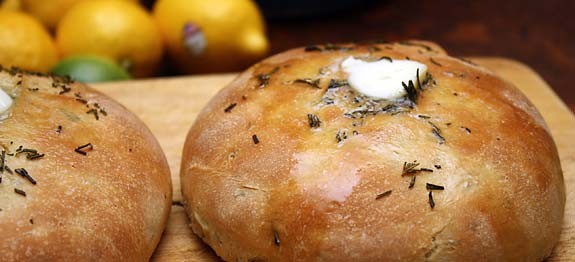 Yield :

2 loaves

Prep Time :

2:20 h

Cook Time :

20m

Ready In :

2:40 h
I found this recipe on Food.com and I'm assuming it's the original because it certainly tastes just like the bread that I used to savor back in the day when I was a frequent flyer at Macaroni Grill. This is a no brainer bread recipe. Easy breezy. You  can do it without a bread maker but a kitchen aid mixer sure does make the job a lot easier.
Ingredients
1 tbsp. yeast
1 tbsp. sugar
1 cup warm water (as close to 130 degrees as possible)
2 1/2 cup flour
1 tsp. salt
2 tbsp. fresh rosemary chopped (separated)
2 tbsp. butter (separated)
Method
Step 1
Put the yeast, water and sugar into a large mixing bowl and let it sit until it begins to look frothy. This usually takes about 10 minutes. If the water is 130 degrees it will take even less than 10 minutes.
Step 2
Add the flour, 1 tbsp. melted butter and 1 tbsp. rosemary. Using your paddle attachment, blend for a minute until the ingredients are incorporated then switch to the dough hook and let it do it's magic for 3-5 minutes. If you don't have a kitchen aid mixer just do it all the old fashioned way. This means you use your hands and knead! Throw some flour on the counter, make sure your hands are covered too and work that dough girl!
Step 3
When the dough is nice and sticky, transfer to a large glass bowl that has been sprayed with Pam or coated with olive oil. Cover with plastic wrap and let sit in a warm spot for 2 hours.It will double in size. Punch it once and then split in half. Put the two pieces on a baking sheet that has been lined with parchment paper. Form into ovals and let rise for another 45 minutes.
Step 4
Put the remaining 1 tbsp. of rosemary on top of the bread before baking in a 375 oven for 15-20 minutes.
Step 5
Top with remaining 1 tbsp. of butter after removing from the oven.