Red Beans & Rice
2011-12-21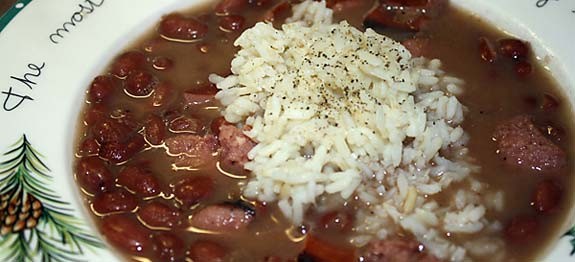 Servings :

6

Prep Time :

1:20 h

Cook Time :

2:30 h

Ready In :

0m
I love this dish and so does my husband. In a perfect world you can use a left over ham bone but a couple of nice ham hocks work just fine. If you're using a ham just omit the sausage – you'll have plenty of meat from the ham bone to satisfy the meat component of the soup. I've started using a pressure cooker for my beans because it cuts the cooking time by more than half and I think the results are delicious. If you haven't ventured into the world of cooking with pressure just pull out a heavy dutch oven and go to town, in a couple of hours you'll have a smoking hot bowl of pure joy.
Ingredients
1-1 lb. pkg. Red Beans (don't use kidney beans, "small red beans" are what you want)
1 onion chopped
1 pkg. ham hocks (usually 2 large hocks per package)
1 link of Hillshire Farms smoked sausage
fresh crack pepper
kosher salt
Minute Rice - white
Method
Step 1
Cover the beans with water, bring to a boil and let sit for one hour (you can do this in the morning and let them sit all day), then drain.
Step 2
In a pressure cooker OR dutch oven, add the rest of your ingredients except the rice. (Follow the directions that come with your pressure cooker, mine calls for 35-40 minutes for beans. If you're using a dutch oven simmer uncovered for 2 hours).
Step 3
When the beans are ready pull the ham hocks out and discard. Brown the smoked sausage and dice into bite size pieces, add to soup.
Step 4
Bring to a boil and simmer for another 30 minutes with the sausage.
Step 5
Prepare the white rice, serve the beans and sausage in a bowl with a 1/4 cup of rice on top