Pumpkin Cranberry Bread
2012-11-19
Cuisine: American
Course: Bread
Skill Level: Intermediate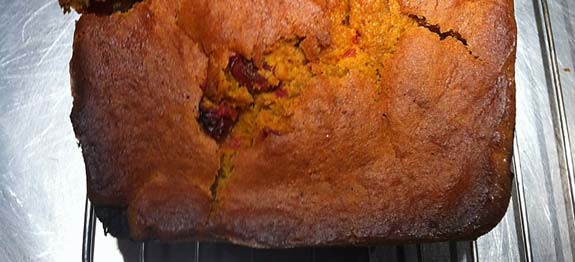 Servings :

6

Prep Time :

20m

Cook Time :

1:25 h

Ready In :

1:45 h
Another bread recipe from my brother Rick – so pretty and perfect for Thanksgiving morning. Put some yogurt with some fruit or granola on the table, a plate of sliced pumpkin cranberry bread with a dish of cream cheese spread and you've got a light meal to get everyone started while you're getting things going in the kitchen.
Ingredients
1 cup pumpkin
1 cup sugar
1/4 cup water
2 large eggs
1/4 cup vegetable oil
2 cups all-purpose flour
2 tsp. baking powder
1/2 tsp. salt
1/4 baking soda
3/4 tsp. cinnamon
3/4 tsp. ginger
1/8 tsp. cloves
1 cup cranberries
Method
Step 1
Preheat oven to 350 and butter a loaf pan. I like to line the bottom with piece of parchment paper that I cut to fit - just trace the pan and trim to insert. This makes it so easy to pop your bread out after baking!
Step 2
In a large bowl beat together pumpkin, sugar, water, eggs and oil. Sift flour, baking powder, salt, baking soda and spices, stir until batter is smooth.
Step 3
Stir in cranberries and spoon batter into loaf pan spreading evenly.
Step 4
Bake break in middle of oven for 1 hour and 15 minutes or until tester comes out clean. Cool on rack 10 minutes before turning bread out.
Bread can be made 4 days ahead and chilled covered. Also can be made ahead and frozen.