Perfect Pumpkin Roll
2012-11-21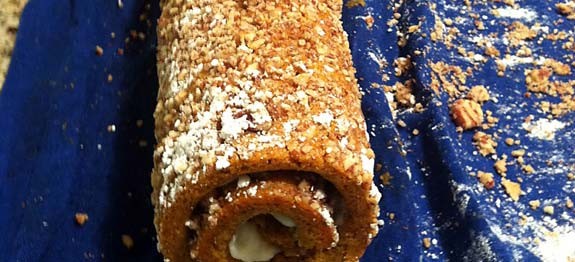 Prep Time :

20m

Cook Time :

15m

Ready In :

1:45 h
Don't you just love these creamy, cheesy pumpkin rolls? You don't have to buy them from a bakery.  It's as easy as opening a can of pumpkin and sifting some dry ingredients together, spreading the batter onto a jelly roll pan and then rolling it up, letting it cool and then unfolding it to spread the cream cheese filling over the inside. Put it in the fridge for an hour and you've got this beautiful pumpkin roll to serve for Thanksgiving dessert.
Ingredients
3 eggs
1 cup sugar
2/3 can pumpkin
1 tsp. lemon juice
3/4 cup flour
1 tsp. baking powder
1 tsp. ginger
2 tsp. cinnamon
1/2 tsp. nutmeg
1 tsp. salt
1 cup finely chopped pecans
Ingredients for filling:
1 cup powdered sugar
4 tbsp. butter room temperature
6 oz. cream cheese room temperature
1/2 tsp. vanilla
Method
Step 1
Preheat oven to 375. Spray a heavy 15x2x10 jelly roll pan with Pam. Line the pan with wax paper.
Step 2
.Beat eggs at high speed for 5 minutes. Gradually add sugar, stir in pumpkin and lemon juice
Step 3
Fold in dry ingredients. Spread batter on to the pan and sprinkle with pecans. Bake 15 minutes, remove from oven. Let cake sit for 10 minutes then flip it over on to a clean towel that's been sprinkled with powdered sugar.
Step 4
Peel off the wax paper. While cake is still warm, roll up the towel lengthwise.
Step 5
Beat the filling ingredients until smooth. When the cake is cool, unroll and spread the filling. Roll the cake up again (without using the towel), cover it with plastic wrap and chill for at least one hour.