Kelsey's Charred Corn Salad
2012-04-29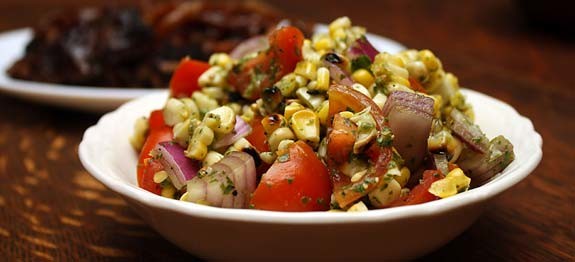 Servings :

4

Prep Time :

10m

Cook Time :

20m

Ready In :

30m
I saw this on Kelsey's Essentials last weekend (The Cooking Channel) and thought I'd give it a try with my next BBQ ensemble. I did and it was a perfect salad dish – just the right blend of flavors. I charred my corn like she did in my kitchen (on a cast iron griddle) but an outdoor grill would give it an even better flavor.
Ingredients
4 ears of freshly shucked corn
2 tbsp. olive oil to coat the corn
1/4 cup olive oil for dressing
1 pint grape tomatoes halved
1/2 red onion diced
1 1/2 cups fresh basil
1 clove garlic
1/4 cup apple cider vinegar
salt & pepper to taste
Method
Step 1
Coat the corn with olive oil and place on a very hot cast iron griddle (or outside grill). Rotate the corn until it is charred on all sides. Remove and cover with plastic wrap until cool.
Step 2
Slice the corn off the cob into a glass bowl. Add the onion and tomato.
Step 3
In a food processor add the basil and pulse until it begins to break down. Add the garlic and vinegar and then drizzle in the olive oil until the dressing is smooth.
Step 4
Blend the dressing with the corn salad and add salt and pepper to taste.