Creamy Chicken Tortilla Soup
2012-11-05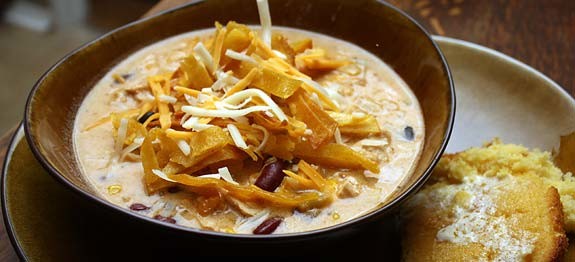 Servings :

6

Prep Time :

30m

Cook Time :

50m

Ready In :

1:20 h
I swiped this from Tricia Yearwood's Food Network Show a couple of weeks ago because it looked so good. When I read the reviews online a couple of days later every single person who had tried it after they watched the show gave it a thumbs up and a 5 star rating so I knew it had to be a winner.
This is super easy, it's really just a matter of roasting your chicken breasts and then opening a bunch of cans, lining up your seasonings and other ingredients and then dumping everything in a BIG pot – this makes a lot of soup so use a large dutch oven or stock pot.  You could easily serve 8 people with this recipe and you might even have a little left over for lunch the next day depending on the size of your servings.
Yes, you could use a rotisserie chicken but I can't imagine that one bird would render enough meat so either stick with 4 large chicken breasts or pick up two birds from the rotisserie stand.
I love this soup, it's true comfort food in a bowl and perfect this time of year.
Ingredients
3 tbsp. butter
1 tsp. minced garlic
1 medium onion finely chopped
2 tbsp. flour
3 cans chicken broth
1 quart half-and-half (or 4 cups)
1 can cream of chicken soup
1 cup hot salsa
4 large boneless chicken breasts cooked
1 can black beans
1 can kidney beans
1 can corn
2 tsp. cumin
1 pkg. fajita seasoning
1 pkg. shredded cheese (I used a blend of cheddar and monterey jack)
4 corn tortilla's and a little vegetable oil for frying
Method
Step 1
Start by roasting the chicken breasts on a heavy baking sheet sprayed with Pam or coated with parchment paper. Season the breasts generously with salt and pepper and coat with olive oil. Roast at 400 degrees for 20-30 minutes. Remove and cool. Cut into bite size pieces.
Step 2
Open the canned beans and corn and put them into a colander. Give them a rinse to get rid of the canning juices, then let them drain while you go the next step.
Step 3
Melt butter in large dutch oven, saute onion until soft, then add garlic for just a minute until fragrant. Add flour and stir for 1 minute. Add the broth and half-and-half. Stir in the rest of ingredients, bring to a boil and then reduce heat and let simmer for 15 minutes.
Step 4
Slice the tortilla chip into 1/2" strips and fry in a non-stick skillet that's been coated with vegetable oil over medium high heat. Watch it carefully, it only takes a few minutes for these to go from yellow and soft to brown and crunchy!
Step 5
Serve the soup in deep bowls topped with tortilla strips and shredded cheese!