Cheese Steak Sandwiches
2012-03-19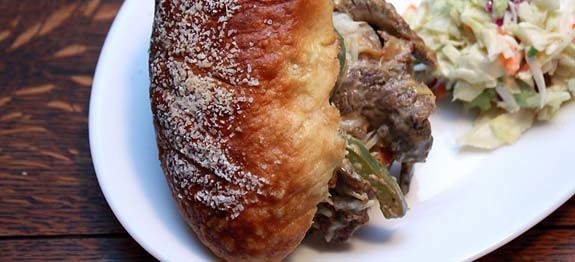 Prep Time :

0m

Cook Time :

0m

Ready In :

0m
I saw this recipe on the Food Network over the weekend and knew that I had to make it immediately. They were even better than I imagined. This is the first time I've made a recipe from Melissa D'Arabian and this one has made me a fan, it's truly amazing and extremely inexpensive. I think I paid less than $6.00 for the sirloin steak that I used for this dish and it could have easily served 4 people. The steak was tender and lean.  There is nothing worse than a chewy, grisly steak sandwich!  I tweaked it just a bit by omitting the mushrooms and cutting back on the quantity of onion. I also made pretzel buns which I highly recommend.

Ingredients
1 lb. sirloin steak, slightly frozen and sliced super thin
1 tsp. chili powder
1 tsp. oregano
2/4 tsp. garlic powder
1/2 tsp. salt
1/2 tsp. pepper
2 tbsp. vegetable oil
1/2 onion thinly sliced
1 green onion thinly sliced
4 oz. cream cheese
3 slices american cheese
2 tsps. worcestershire sauce
1 cup mozarella cheese
Method
Step 1
In a large bowl add the spices and blend. Add the thinly sliced steak and gently toss. Set aside and let sit at room temperature for 30 minutes or so to soak in the flavors of the spices and to completely thaw. Slicing the beef while slightly frozen makes it much easier to get a thin cut.
Step 2
Heat a cast iron skillet, add vegetable oil and cook onions and green pepper over medium low heat until carmelized. Remove to a plate.
Step 3
Turn the heat up to medium high, sear the beef just until done. Turn the heat down and add the cream cheese and american cheese. Toss until melted, add the vegetables back to the skillet and blend.
Step 4
Place the pretzel buns (or hoagie buns) on a baking sheet, top with steak mixture and mozzarella cheese. Broil until cheese is bubbly. Watch carefully, this will only take a minute or so. Remove from oven and top with the other half of your pretzel bun.
This is BLISS!