Brittany's Sopapilla Cheesecake
2012-07-14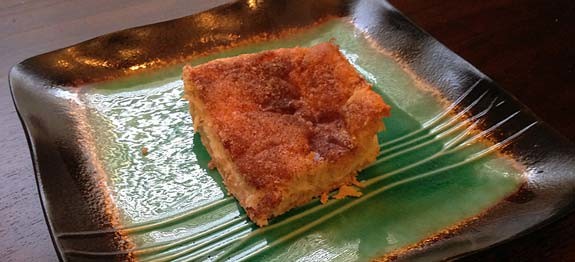 Prep Time :

20m

Cook Time :

30m

Ready In :

1:10 h
My daughter-in-law Brittany tasted this cheesecake at a wedding and said it was the best thing ever and my stepson Jason who is a world class lover of all things "cheesecake" agreed. It's a Pillsbury recipe but Brittany found the step by step directions on another blog called Cookies & Cups. It couldn't be easier, she's already made it for Jason and he raved over the results. I'm attaching a photo that he took of his slice but if you click on http://cookiesandcups.com, you can look at Shelly's beautiful blog.
Ingredients
2 cans crescent rolls
2 packages cream cheese room temperature
1 1/2 cup sugar
1 tsp. vanilla
1/2 cup butter melted
1 tbsp. cinnamon
Method
Step 1
Unroll one package of crescent rolls and pat them down in the bottom of a 9x13 glass dish, pinching the seams together to seal.
Step 2
Blend the cream cheese and 1 cup sugar together with the vanilla. Spread over the 1st layer of crescent rolls.
Step 3
Unroll the 2nd package of crescent rolls and pat them down over the top.
Step 4
Pour the melted butter over the top and then mix the remained 1/2 cup sugar with a tablespoon of cinnamon and sprinkle over the top.
Step 5
Bake for 30 minutes. Let cool for 20 minutes before slicing.
That's it!