Boneless Deep-Fried Buffalo Wings
2012-01-15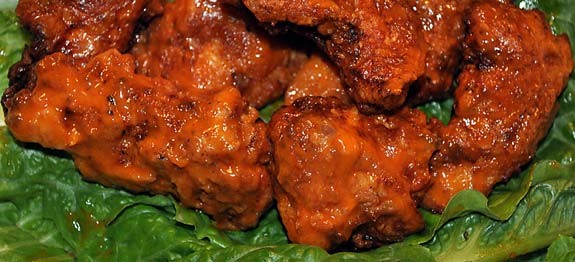 Servings :

3

Prep Time :

20m

Cook Time :

20m

Ready In :

50m
Its time for the NFL football playoffs……the kickoff to the best tailgate food on the planet. One of them to be strongly considered is Boneless Deep-Fried Buffalo Style Chicken Wings.  When you see these delicious treats on a restaurant menu; did you ever wonder how they got the bone out of the wing? Well…my son did as he asked one night when we were out at a favorite pub-food establishment. The answer…they don't. They just cut up chicken breasts in strips to match the size of a chicken wing. Oops…the secret is out now.
This recipe calls for using chicken breasts but I sometimes cheat and use 'Chicken Tenderloins'. They are just the breast trimmed of all the fat and tendons. You will pay more but might be worth it if in a pinch for time.
This also shows how to make your own Buffalo Style sauce to toss over the cooked wings. Another short cut, if looking for a time saver or different flavors, is to buy some of the high quality Buffalo Style wing-sauces on the market today.  Texas Pete has one of our favorites and has a regular, mild and 'scorcher' so try some of the brands in your local market to change it up a bit.
Last 'cheater' idea, to save time and change the flavor, is to buy some of the pre-packaged flour seasonings being sold for fried chicken. Lots of different brands and again….a way to change it up.
Happy cooking from "Rick's Place"!
Ingredients
Peanut oil for deep frying
1 cup unbleached all-purpose flour
2 teaspoons salt
1/2 teaspoon ground black pepper
1/2 teaspoon cayenne pepper
1/4 teaspoon garlic powder
1/2 teaspoon paprika
1 egg
1 cup milk
3 skinless, boneless chicken breasts, cut into 1/2 inch strips
1/4 cup hot pepper sauce
1 tablespoon butter
Method
Step 1
Heat oil in a deep-fryer or large saucepan to 375 degrees F (190 degrees C).
Step 2
Combine flour, salt, black pepper, cayenne pepper, garlic powder, and paprika in a large bowl. Whisk together the egg and milk in a small bowl. ( EASY TO USE PRE-MADE FRIED CHICKEN FLOUR MIXTURES HERE). Dip each piece of chicken in the egg mixture, and then roll in the flour blend. Refrigerate breaded chicken for 20 minutes.
Step 3
Fry chicken in the hot oil, in batches. Cook until the exterior is nicely browned, and the juices run clear, 5 to 6 minutes a batch.
Step 4
Combine hot sauce and butter in a small bowl. Microwave sauce on High until melted, 20 to 30 seconds. Pour sauce over the cooked chicken; mix to coat ( EASY TO USE PRE-MADE BOTTLED BUFFALO WING SAUCE HERE !!)