Ranch House Layered Salad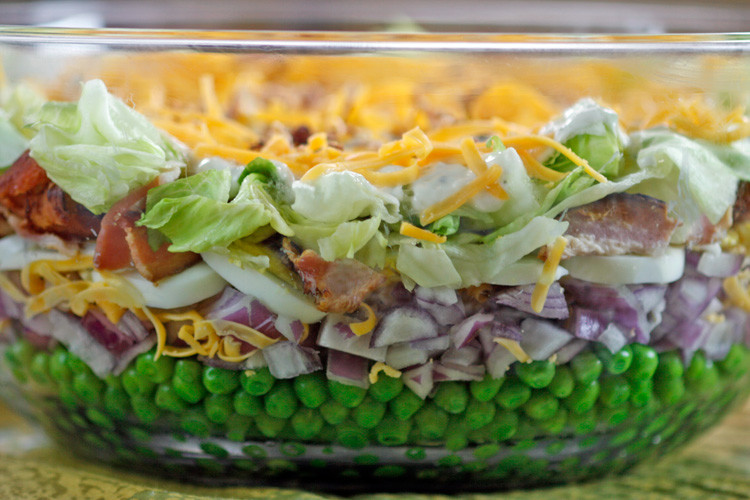 My "Ranch House Layered Salad" has been a family favorite for years. I first made it back in the early 80's and it was a recipe that was given to me by someone from Wichita, Kansas but the details have totally escaped my memory. Sorry to whomever you are!
As the years went on it became a tradition on Christmas Eve at my house and my kids grew to expect it with a honey baked ham and my potato casserole. I think I originally put it on the Christmas menu because it was something I could put together, stick in the fridge and forget about until we came home from church with hungry kids and company on the way. It was also a great way to get something reasonably healthy in a couple of kids who were wound tight with excitement. My children loved anything with ranch dressing on it! And with the peas and eggs I knew they were at least getting a green vegetable and some protein in their little bodies before they went to bed on Christmas Eve.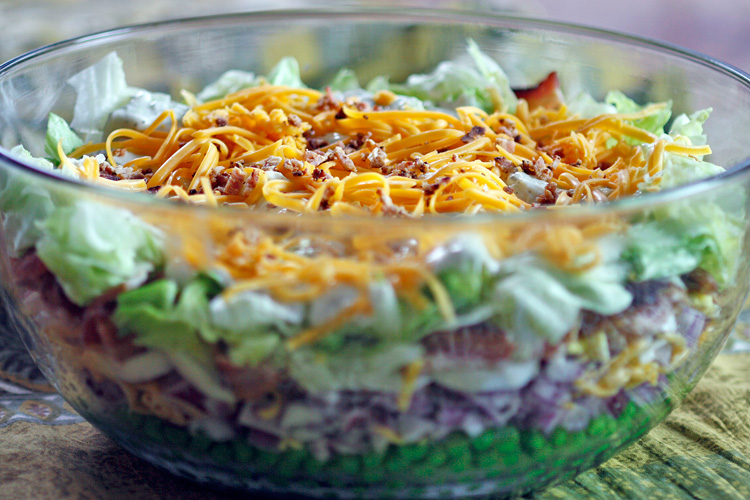 Years later when I started making it for my stepsons, they too declared it a favorite of theirs and so it seems that my layered salad pops up at almost every family get together that we have. I have such a large blended family these days and my layered salad definitely feeds a big crowd so it's a great choice for our crew. And ranch dressing is a safe choice in almost any gathering these days.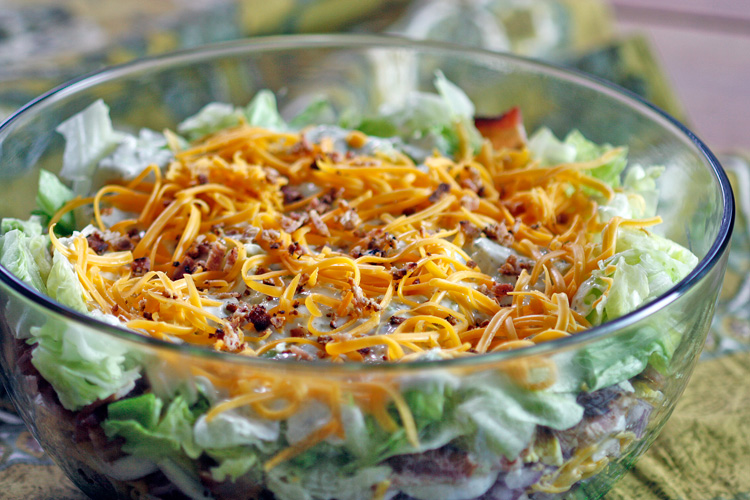 This is a "24 hour salad" recipe so you need to do your best to make it the night before serving because the flavors intensify overnight and the peas need to thaw slowly and provide the liquid to thin out the mayo and dressing mix. However, 4 to 6 hours will do the trick in a pinch…I've done it and it will work.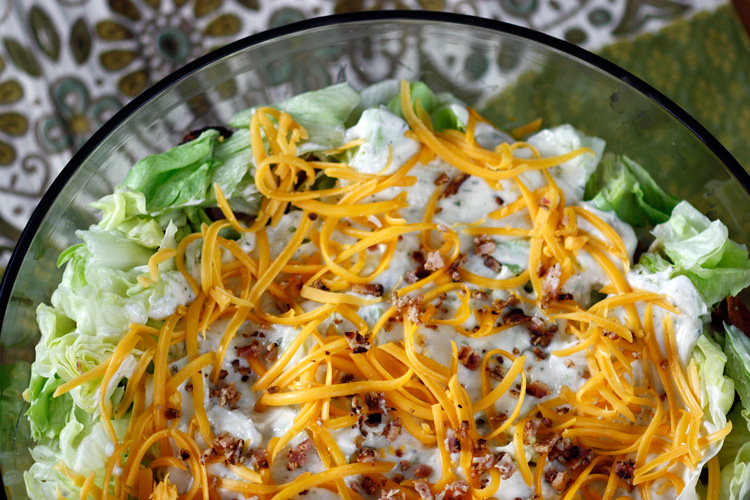 Iceberg lettuce holds up better in a 24 hour salad because the greens are firmer so even if you're not a fan please give it a try in this salad – a leaf or butter lettuce will simply fall apart.






Ranch House Layered Salad
2015-03-22 11:58:11
Ingredients
1 head iceberg lettuce chopped
1 10 oz. package frozen peas (must be frozen)
1 red onion diced
8 slices of bacon diced
2 cups shredded cheddar cheese (do not use finely shredded)
4 hard boiled eggs
1 envelope Ranch Dressing mix
1 cup mayonnaise
Instructions
Cook the bacon, remove to a plate lined with paper towels and drain. Dice the bacon into 1/2" pieces reserving one strip of bacon for the top of the salad.
In a large bowl put the frozen peas on the bottom, top with red onion, all but 1/2 cup of the cheddar cheese, sliced eggs, bacon and finally the chopped lettuce.
In a small bowl whisk together the dressing mix and 1 cup of mayo. Spread on top of the salad. Spread the remaining 1/2 cup cheddar cheese on the lettuce. Finely chop the remaining piece of bacon and sprinkle that over the top of the salad.
Cover with Saran Wrap and put into the refrigerator overnight. Toss and serve the following day.
My Mother's Daughter http://mymothersdaughter.net/
Comments