Pretzel Buns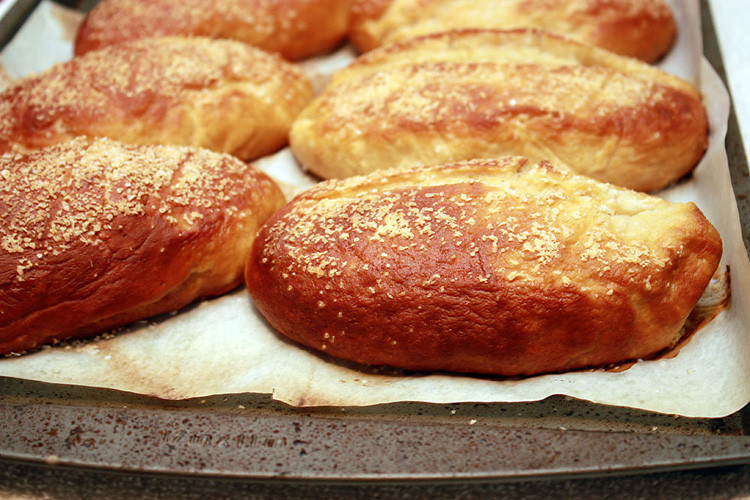 This pretzel bun recipe is from Jeff Mauro (The Sandwich King) but I tip my hat to Guy Fieri who I suspect inspired Jeff with this easy and delicious pretzel bun creation.
I don't even know where to begin. If you make anything from this website… make these pretzel buns, please! They are OMG, melt in your mouth awesomeness! And although there are quite a few steps to the recipe, it's practically fool proof. Just make sure you all of your ingredients lined up and use a candy thermometer to hit the right temperature before you add your yeast to the warm liquid. If you don't have a candy thermometer you can pick one up in any grocery store these days on the utility aisle. They're really nice to have around and I never use yeast without one – it makes such a difference .
I love these buns with steak sandwiches, french dips and chicken salad. Double the recipe and freeze a batch, I've kept them for up to 3 months without a problem.
You really need a KitchenAid Stand Mixer
for this recipe. The dough hook attachment will make it super simple. I suppose it can be done by hand but who would want to do that??? And how could you live a happy life without a KitchenAid Mixer anyway? You couldn't possibly.
So get that dough hook out and if you don't have one start dropping those "helpful hints" to your family members for your next birthday! It's the right thing to do.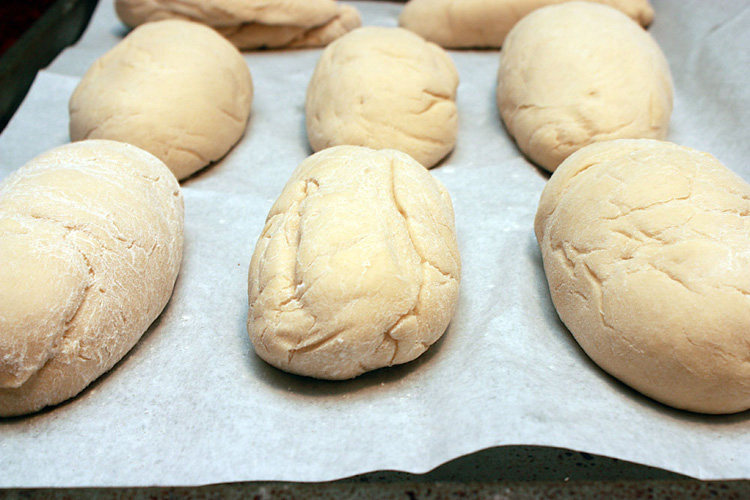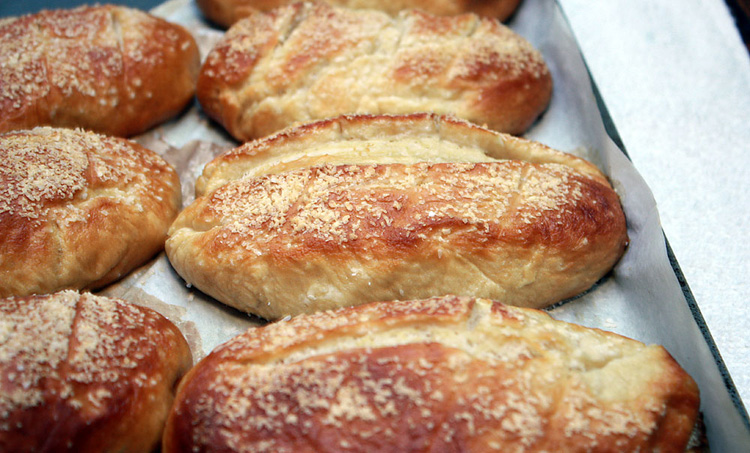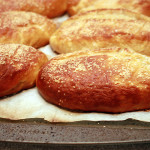 Pretzel Buns
2015-03-07 13:49:07
Ingredients
1 cup milk
2 tbsp. honey
1 packet or 2 1/4 tsp. active dry yeast
2 tbsp. butter
2 cloves garlic minced
3 cups all purpose flour, plus additional for dusting the counter top
1 cup bread flour
1/2 cup baking soda
kosher salt
Instructions
In a small pan heat the milk, water, brown sugar and honey to 110 degrees. Use a candy thermometer on this to make sure that you don't overheat - if it gets too hot it will kill the yeast so it's important to keep it between 110 and 115 degrees. It won't take more than 3-5 minutes to achieve 110 degrees.
Remove from heat and pour into your mixer bowl. Add the yeast and gently stir. Let sit for at least 15 minutes, preferably 20 or until mixture is frothy.
Start to add the flour into the bowl with the dough hook blending on low speed. Meanwhile, melt the butter in a pan and add the minced garlic stirring just until garlic is fragrant. Add the butter and garlic to the mixer and continue to blend with the dough hook, increasing the speed until the dough has come together to form a smooth texture that can easily be pulled away and formed into a ball.
Dust the counter top with flour, pat the dough into a large disc and cut into 4 equal pieces and then cut those pieces in half to form 8 pieces total. Roll these into balls and place on a large baking sheet that has been lined with parchment paper. Cover with a towel and put in a warm place for 15 minutes to rise.
After rising roll the balls into 7 inch logs and place them back onto the baking sheet, cover and let rise again for another 30 minutes.
When finished rising bring 8 cups of water to a boil in a large pan, add 1/2 cup of baking soda and reduce heat to a low boil. Using a slotted spatula place the dough logs in the water for 30 seconds on each side.
Line a 2nd baking sheet with a fresh sheet of parchment paper and spray lightly with Pam. As you remove the dough from the water, carefully transfer them to the baking sheet and sprinkle with kosher salt. Continue this process until all 8 rolls are complete and then make 3 diagonal slices across the top of each.
Set the oven to 425 degrees, adjust the racks so one is 2nd from the bottom and one is 2nd from the top. Put the buns on the top rack first, set the timer for 6 minutes. After the first 6 minutes move the baking sheet to the bottom rack and finish baking for the final 6 minutes but watch carefully to make sure they don't over brown. You may need to rotate them one more time to the top if they look like they are getting too brown on the bottom rack.
Let cool completely before removing from the baking sheet.
Adapted from Jeff Mauro (Sandwich King)
My Mother's Daughter http://mymothersdaughter.net/
Comments