Pear & Cranberry Tart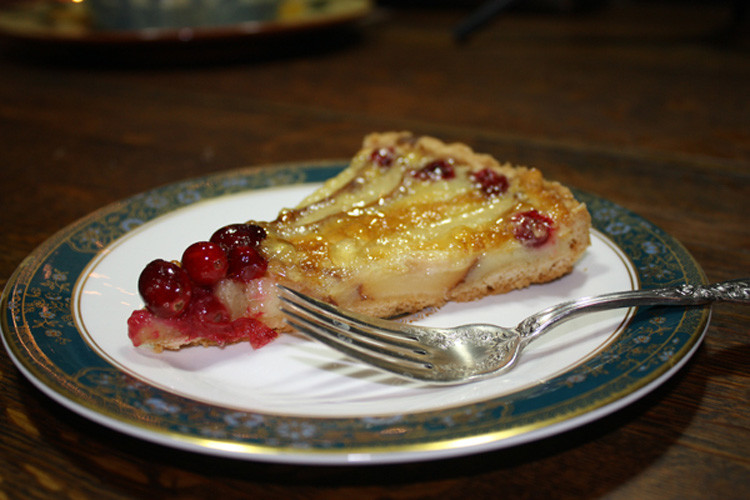 This Pear & Cranberry Tart recipe can be adapted in a million different ways. The base recipe was a "peach tart" by Paula Deen and I've used it as a template for a million and one different tarts over the years. I use it in the summer with peaches, strawberries and blackberries and it's perfect in the fall with granny smith apples. The jelly that you spread on top is what gives it that sheen that looks bakery professional. Just use whatever flavor you like and thin it out just a bit with water or a little fruit juice to make it easier to spread with your pastry brush. I like to use peach or orange jelly because it's lighter in color and shows off the fruit better.
When I use granny smith apples in the fall I use a salted caramel sauce…yum!
The crust couldn't be more simple, you have all of the ingredients in your pantry, just grab a little sour cream and you're good to go. No need to roll out any dough either, this isn't one of those tedious pastry recipes. Mix your dough, scoop it out into your tart pan and just mold it along the edges and pat it firmly on to the bottom and you're set.
This is not a super sweet dessert, it leaves room for natural sweetening from the fruit and the glaze on top which is nice too.
It is simple and it is beautiful every time.
Enjoy!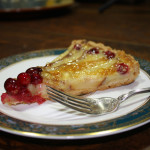 Pear & Cranberry Tart
2015-03-09 08:46:57
Ingredients for the crust
1 1/4 cup flour
1 stick butter room temperature
2 tbsp. sour cream
Ingredients for filling
2 red pears
1 cup cranberries
3 egg yolks
3/4 cup sour cream
3/4 cup sugar
1/4 cup flour
1/8 cup sugar
Ingredients for glaze
1/2 cup preserves or jelly (I usually use peach)
1 tbsp. orange juice
Instructions for crust
Pulse the flour, butter and sour cream in a food processor until it forms a ball.
Flour your hands and press into a 10" tart pan that has been sprayed with Pam.
Bake at 375 degrees for 15 minutes.
Instructions for filling
Slice the fruit and fan it around the tart pan.
Fill the center with cranberries and dot the edges with berries.
Blend the egg yolks, sour cream, sugar and flour.
Sprinkle sugar over the top of the fruit and pour the blended filling over the top. Reduce oven temp to 350 degrees and bake for one hour.
After tart has cooled, brush the glaze over the top and let sit at room temperature for 30 minutes.
My Mother's Daughter http://mymothersdaughter.net/
Comments