Oven Fried Chicken In Panko & Parm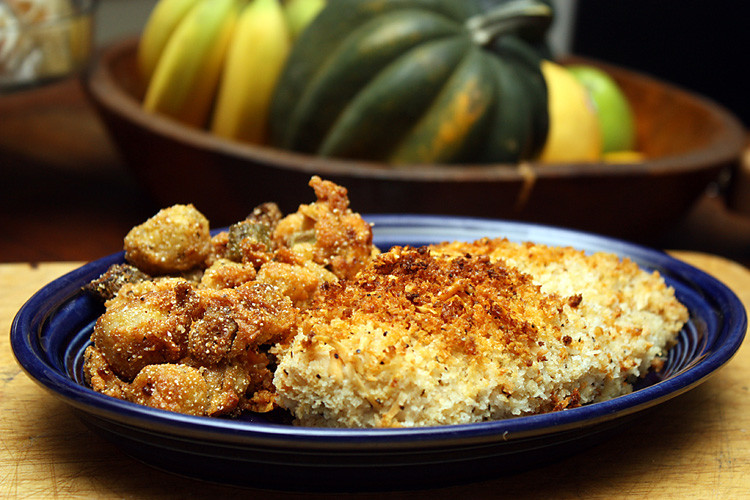 This oven fried chicken in panko & parm is the perfect alternative to fried chicken and has become a favorite recipe in our house! I've made it so many times I've lost count and it goes with every side dish you can imagine.
I found this recipe online (Paula Deen) and I guess it's the Panko and mustard together that makes the difference. I always keep boneless chicken breasts in my freezer and it seems like I'm like everyone else…I get online and start googling mid afternoon when I don't have anything planned for dinner in an effort to find something new to do with chicken! It's a challenge sometimes isn't it? Especially boneless breasts because they can be very dry and tasteless if you're not careful. No worries with this recipe, the mustard is key to the sharp flavor and the crisp coating makes you almost think you're indulging in fried chicken.
You can keep it simple with chopped kale salad and a baked potato. If you're feeling like a little more effort, make some braised collard greens and my mom's potato casserole…always the perfect combination. The photo here is shown with some fried okra because it was summer and I had some fresh okra right out of the garden that was just asking for a cast iron skillet and a little hot oil. It was the right thing to do.
Whatever it is, oh my, it is crispy and juicy and wonderful!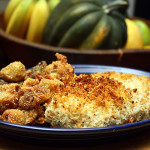 Oven Fried Chicken In Panko & Parm
2015-03-08 11:20:45
Ingredients
2 cups Panko bread crumbs
1 cup parmesan cheese (I used shredded)
4 tbsp. olive oil, divided
Kosher salt and cracked pepper
1/4 cup Dijon mustard
2 tbsp. water
4 boneless, skinless chicken breasts pounded to 1/4" thickness
Instructions
I put my chicken in a zip lock and used my wooden rolling pin to give them a good WHACK and get them flattened - just make sure they aren't thick in the middle.
Prepare your dredging station. I used a 9x10 dish for my dry ingredients, mixing the Panko, parm, 1 tbsp. salt and 1/2 tbsp. pepper and then mixing with my fingers until incorporated. Then I drizzled in 2 tbsp. olive oil and tossed again with my fingers until it was blended.
Mix the mustard, water and remaining 2 tbsp. water in a pie plate, whisk together. Using your tongs, scoop a breast into the pie plate and then lightly salt and pepper the sides of the breast before turning to coat in the mustard bath. Transfer to the bread crumb mixture and toss several times until it is thoroughly coated.
Coat a large baking sheet with heavy aluminum foil. Place wire cooling racks on the baking sheet and spray with Pam. Place the chicken breasts on to the racks to bake after they are completely covered in the bread crumbs. Any remaining bread crumb mixture can be sprinkled on top.
Bake at 400 degrees for 25 to 30 minutes.
Adapted from Paula Dean
My Mother's Daughter http://mymothersdaughter.net/
Comments