Orange Chess Pie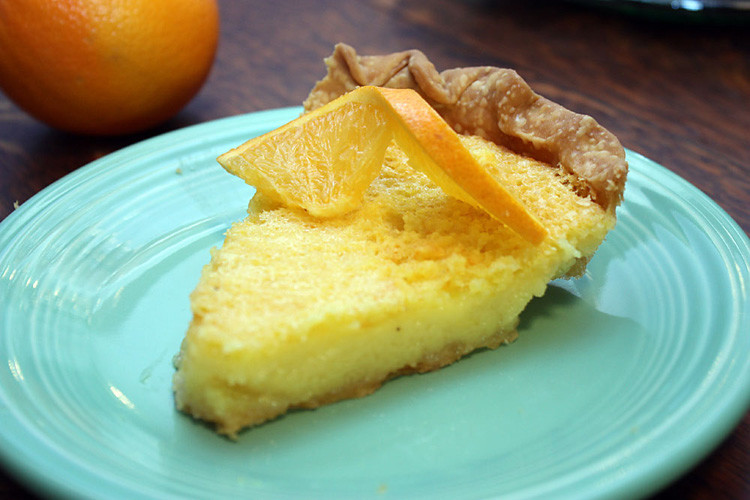 I saw a recipe in Southern Living for "Tangerine Chess Pie" and turned into Orange Chess Pie simply because I didn't have any tangerine's in the house that afternoon and was too lazy to go the store. And I'm not ashamed to admit that this is how my recipe for Orange Chess Pie came to evolve…faith in Southern Living Magazine and sheer laziness!
In all seriousness, I love everything about these old fashioned deserts and chess pie is seriously vintage! I don't know why it fell out of style, you rarely see it on a menu or in a bakery. But I know I'm not the only one who loves it and I hope you'll give this recipe a try.
I have always had a passion for chess pie, buttermilk pie and all of the simple desserts from my childhood that my mom made when she was short on time and making something "not too fancy". I always loved tapioca, rice pudding…the comfort desserts. Chess pie is right there with in the same ball park, not to sweet, not heavy, just a little bit of an indulgence and slightly creamy.
I've yet to try it with tangerines but I can assure you that the oranges were fantastic. I really liked this recipe, it's full of fresh citrus flavor!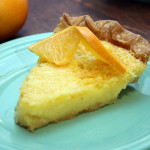 Orange Chess Pie
2015-03-08 21:41:51
Ingredients
1 pie crust
1/3 cup fresh orange juice
2 tsp. orange zest
1 tbsp. fresh lemon juice
1/2 stick butter melted
1 1/2 cup sugar
1 tbsp. flour
1 tbsp. yellow corn meal
1/4 tsp. salt
4 eggs
Instructions
Bake pie crust in a 450 degree oven for 8 minutes. Be sure to poke holes in the bottom of the pie crust so that it doesn't puff up with air pockets. Remove and cool. Lower oven temp to 350 degrees.
Whisk the remaining ingredients and pour into pie shell. Bake at 350 degrees for 45 minutes. Cover loosely with foil after the first 20 minutes to prevent pie crust from over browning.
Garnish with whipped cream and a slice of orange.
Adapted from www.southernliving.com
My Mother's Daughter http://mymothersdaughter.net/
Comments