Orange Bread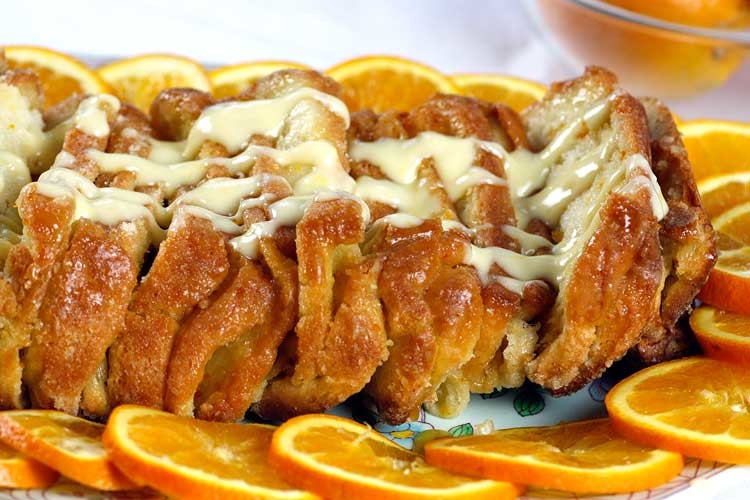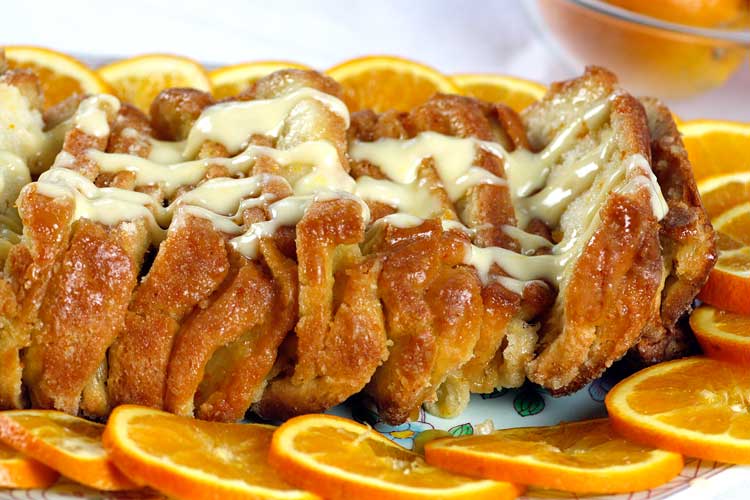 You really don't need an excuse to make this super delicious Orange Bread but Father's Day is in fact next weekend and I can tell you that my husband absolutely loves this! It started off as a recipe for Grapefruit Bread by Krysten Schwartz but I just thought orange sounded more to our taste. I made it yesterday, on a Friday afternoon, and it will be long gone by Father's Day because the "Dad" in my house can't keep his hands out of it but that's okay – I may even make a second batch.
This isn't a difficult recipe so don't let the "yeast" step intimidate you, it's really just a matter of putting all of the ingredients in your stand mixer with the dough hook, letting it go for a few minutes and then giving the dough a little time to rise before you roll it out.
I like to use parchment paper under and on top of my dough when I roll it out with a light dusting of flour. It simply eliminates any chance of sticking and makes for super easy cleanup. Here is a photo of the steps from making the orange sugar topping to just as I'm putting the bread pan in the oven: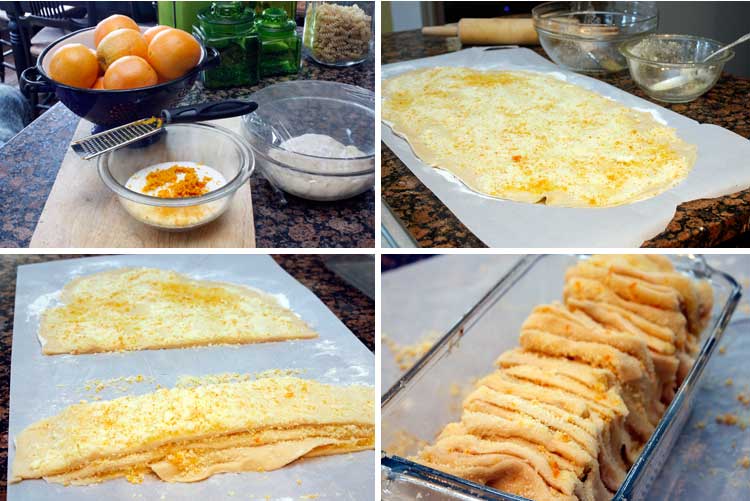 Once you stack and slice your dough squares don't worry about them being uniform and they don't have to fit perfectly in the bread pan either. The dough will fill the pan as it bakes so just pack those squares in, they look a little messy but the end result will look something like this: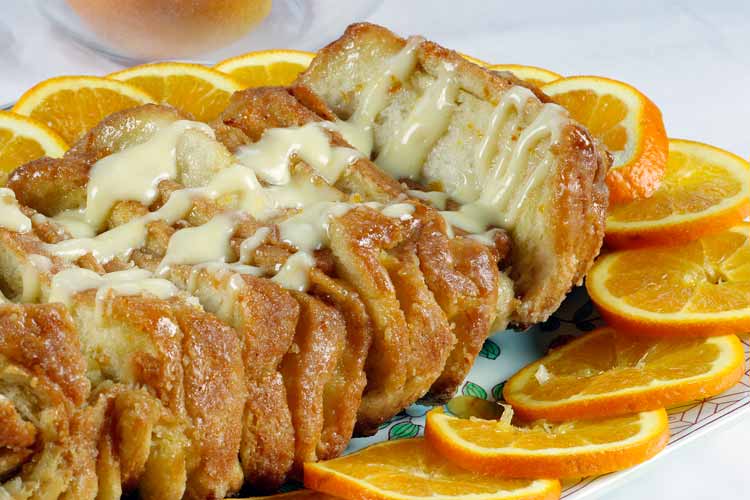 The topping is powdered sugar with 4 ounces of softened creamed cheese whipped to a glaze with fresh squeezed orange juice. You can make the glaze as thick or as thin as you like it, just keep adding the juice until you get to the consistency that you prefer.
What do you think? Does this look delicious, or what?!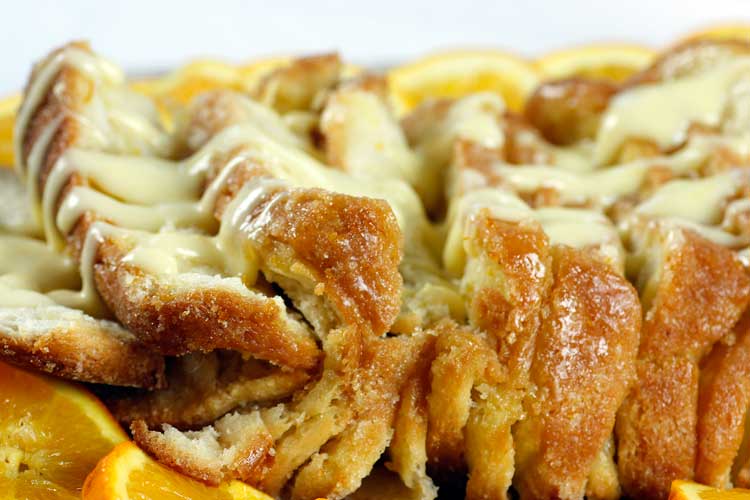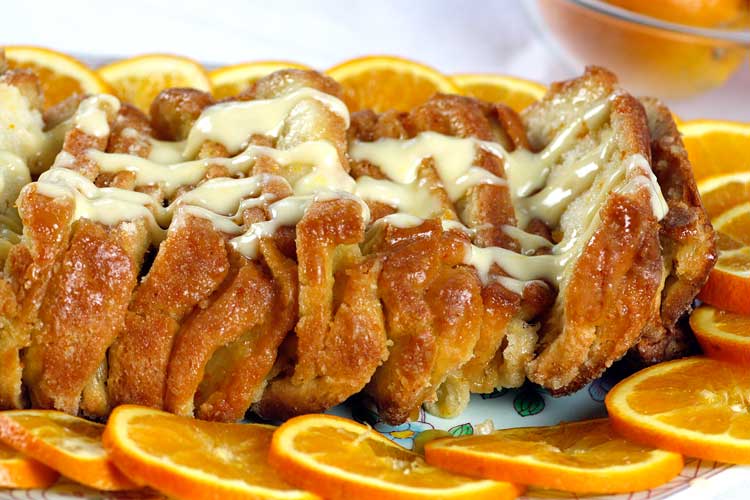 Orange Bread
2015-06-13 08:12:30
Bread
2 3/4 cups flour
1/3 cup sugar
2 1/4 tsp active dry yeast
1/2 tsp salt
1/3 cup whole milk
1/4 butter cut into small pieces
1/4 cup cold water
2 whole eggs
Orange Sugar Topping
1 cup sugar
zest from 2 oranges
1/4 cup melted butter
Glaze
2 oranges juiced
1/2 cup powdered sugar
4 oz. cream cheese softened
Instructions
Start by combining the flour, sugar, yeast and salt in the bowl of a stand mixer (I have a Kitchenaid). Stir the dry ingredient. Attach the dough hook to the mixer.
In a microwaveable measuring cup combine the milk and butter, heat for 1 minute or until butter is melted. Add the cold water and stir. Pour over the dry ingredients in the mixer bowl. Add the eggs. Set the mixer on medium speed and let it go for 5 minutes. Remove the dough with lightly floured hands and place in a glass bowl that has been coated with cooking spray. Cover with plastic wrap and set in a warm space for 2 hours. I always put my dough on my stove and then set the oven on 350. The top of the stove gets just slightly warm enough to help my dough rise a little faster.
Mix the orange sugar while the dough is rising and set aside.
When the dough is ready spread a sheet of parchment paper on the counter, dust lightly with flour. Pat a little flour on top of the dough, place another sheet of parchment paper on top and roll the dough out to a rectangle measuring approximately 24 x 20.
Pour the melted butter on top spreading it evenly with a pastry brush. Sprinkle the orange sugar over the butter making sure to cover the entire dough.
Looking at the dough lengthwise, slice the dough every 4 inches until you have 6 strips. Carefully pick up the strips and stack them on top of each other. Then slice the stack into 5 or 6 squares depending on the length.
Spray a loaf pan with cooking spray and start placing the cut squares into the pan. You will have to squeeze them in tightly to get them all to fit. Sprinkle any orange sugar that has fallen on the parchment paper over the top of the bread. Bake at 325 degrees for 50 to 60 minutes.
Let cool for 5 minutes while making the glaze.
In a small bowl whisk together the cream cheese and powdered sugar and slowly add the orange juice until it is the right consistency.
Invert the bread on to a serving platter. Drizzle the glaze over the top.
Adapted from Krysten Schwartz's Grapefruit Bread
My Mother's Daughter http://mymothersdaughter.net/
Comments