Mom's Chocolate Sheet Cake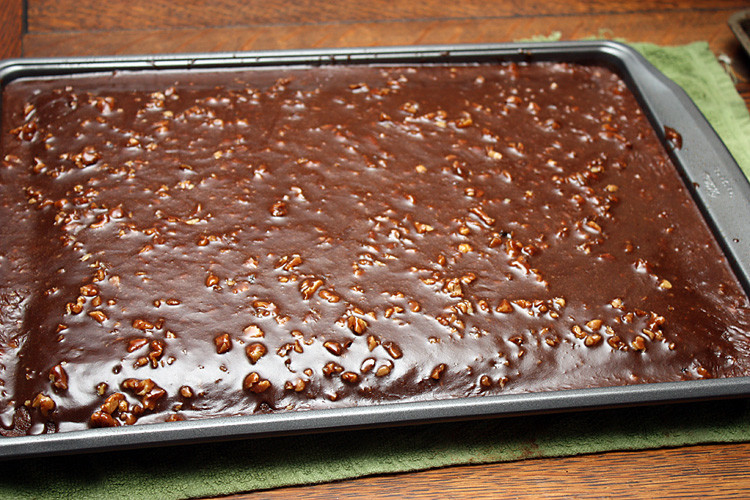 I'm pretty sure that everyone on the planet at this point has had a piece of chocolate sheet cake. And most cooks have pulled out a sheet pan, grabbed their cocoa and whipped up their own version to take to a pot luck dinner or to a family BBQ. It's an all around family friend dessert because it feeds an army and everyone always loves a sheet cake. And no one can ever decide if it's cake or if it's a brownie. It's an on going debate at our house…all I know is that it's delicious!
I love all things by Pioneer Woman so I wasn't surprised when I read her recipe and found that it was an exact match to my mother's. The reason it didn't surprise me is because The Drummond Ranch is right outside Pawhuska, Oklahoma and that's where my mom's family originally comes from back in the day. I've found, over the years, that food recipes tend to be regional by nature. Chocolate sheet cake in Texas has cinnamon in it…I'd never heard of such a thing and thought it strange at first but that's how almost everyone makes it down here so I've grown accustomed to it.
But when I make chocolate sheet cake I make my mama's version and this is it!
Regional cooking is timeless and you just can't stop it – the same recipes travel generation to generation, and I love that.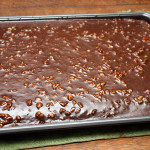 Mom's Chocolate Sheet Cake
2015-03-08 13:23:37
Ingredients for cake
2 cups flour
2 cups sugar
1 tsp. salt
4 tbsp. cocoa powder
1/2 cup vegetable oil
1 stick butter
1 cup boiling water
2 eggs
1/2 cup buttermilk
1 tsp. soda
1 tsp. vanilla
Ingredients for icing
1 1/2 sticks butter
1 1 lb. box powdered sugar
6 tbsp. milk
4 tbsp. cocoa
1 cup chopped nuts (pecans or walnuts)
Instructions
Mix flour, sugar and salt in large mixing bowl.
Melt butter in saucepan, add oil, cocoa powder and boiling water. Mix well and add to dry ingredients, stirring until blended.
In a glass measuring cup add the buttermilk, whisk in eggs, vanilla and soda. Add to the chocolate batter.
Pour onto sheet cake pan - I used a 16 x 12 x 1 HEAVY cookie sheet. You can also use a standard jelly roll pan. Use cooking spray if the pan doesn't have a non-stick finish.
Bake 20 minutes at 350 degrees while you make the icing.
Melt the butter, add cocoa, milk and vanilla. Stir in powdered sugar and nuts. Pour over warm cake when it comes out of the oven.
My Mother's Daughter http://mymothersdaughter.net/
Comments