Mom's Chocolate Fudge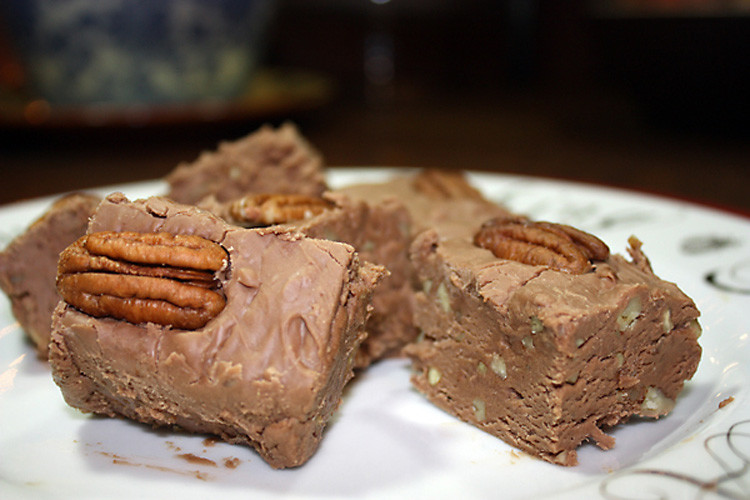 Everyone loves their mom's chocolate fudge, right? There doesn't seem to be a right way or a wrong way to make fudge…just your mother's way! I have tasted boat loads of the stuff over the years and although I seldom turn down a fresh chunk when offered, no other recipe will do but my mom's.
I guess what makes hers taste so good to me is the milk chocolate flavor. I have to admit right here and now that I am not a big fan of dark chocolate – I prefer mine to be of the lighter variety. I can enjoy a dessert that features dark chocolate but an entire piece of it? No way. It's just too much for me. I wish that this were not the case as dark chocolate is much healthier all the way around but I like what I like and I know I'm not alone.
So mom made her fudge with a couple of those BIG Hershey bars that can be kind of hard to find these days but you can usually find them available during the holiday season. She also used some of the regular sized bars, chocolate chips and marshmallow crème. Yum.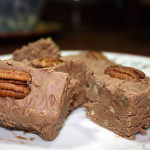 Mom's Chocolate Fudge
2015-03-09 09:45:21
Ingredients
2 large Hershey's bars (these are the super size version and can be hard to find unless it's the holiday's)
2 regular Hershey's bars (these are the size you find at the checkout counter)
1 12oz. package of milk chocolate chips
4 1/2 cups sugar
1 can evaporated milk
1 pint marshmallow cream
2 TBSP. butter
1 tsp. vanilla
1 2/3 cup chopped pecans
Instructions
Break the chocolate bars and combine with the chips in a large bowl.
Cook the sugar and milk in a heavy pot until it reaches the "soft ball" stage - it's noted on the thermometer.
Pour the mixture over the chocolate and mix well, add the marshmallow cream and butter and continue to stir until it's smooth.
Add the vanilla and nuts and transfer to a buttered 9x13 pan, cover with plastic wrap and refrigerate until set.
My Mother's Daughter http://mymothersdaughter.net/
Comments