Mini Chocolate Cherry Cheesecakes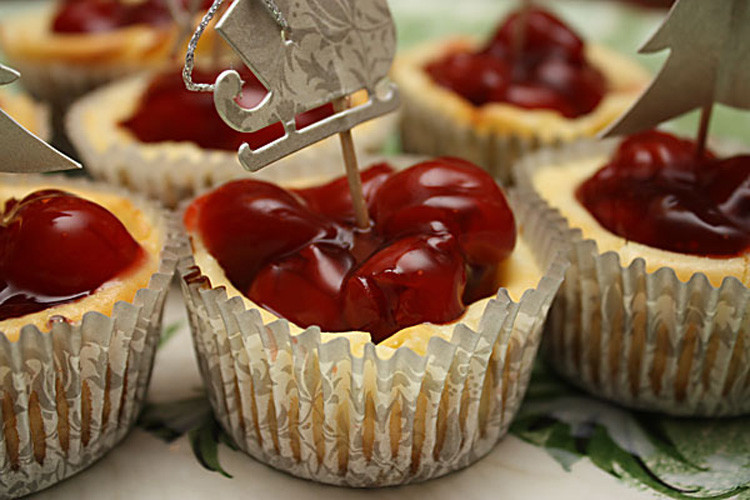 I made these Mini Chocolate Cherry Cheesecakes on Christmas Day because I just didn't feel like the traditional pumpkin or pecan pie this year. This was the easiest dessert ever! They look so pretty, they're super inexpensive to make and the recipe makes enough for a large group. This recipe has been around for ages so it's really nothing new but the chocolate gives it a new edge that I hadn't tried before and with the cherry topping it was perfect.
You can pick up the decorating kits from any gourmet kitchen store. They come with 24 cupcake liners and ornamental picks but you'll only need to use 12 for this recipe. I've seen them in many different themes for various holidays and occasions. The choices are endless! But for Christmas the colors are right on target and so cute with the decorative picks on top! The chocolate cherry cheesecake recipe couldn't be more simple and what could be easier than opening a can of cherry pie filling for the topping? This recipe is no fail…it looks like you worked hard or ordered from a bakery but it's the easiest ever.
Mini Chocolate Cherry Cheesecakes are the way to go for parties…try them, you won't be sorry!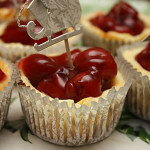 Mini Chocolate Cherry Cheesecakes
2015-03-09 07:27:05
Ingredients
2-8oz. Pkgs. cream cheese
3/4 cup sugar
2 eggs
1 tsp. fresh lemon juice
6 Oreo cookies
1 can cherry pie filling
Instructions
Preheat oven to 375 degrees and put paper liners in a cupcake pan that makes 12. Put one half of an Oreo wafer in the bottom of each liner. Scrape each wafer clean of the filling.
Cream sugar and cream cheeses. Add lemon juice and eggs. Beat until smooth.
Pour into the cupcake liners, fill up to the top. Bake 20 minutes.
While the cheesecakes are still hot, gently press a teaspoon or melon balled into the center, pressing down to form an impression in the center.
Let cool, then fill the top of each cheesecake with the cherry filling.
Add pick decorations.
My Mother's Daughter http://mymothersdaughter.net/
Comments