Minestrone Soup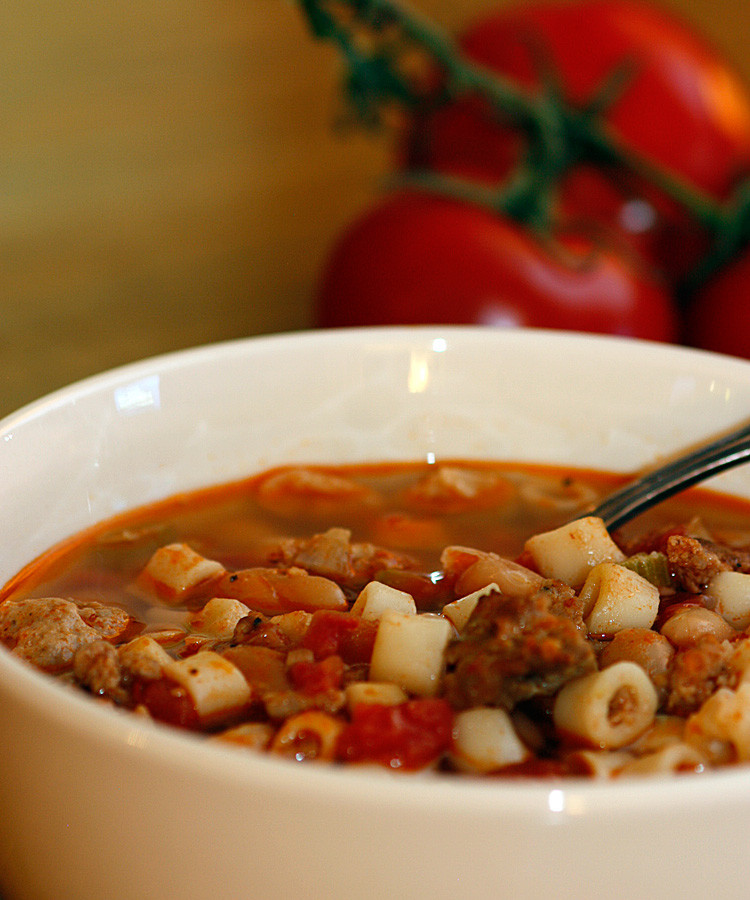 My co-worker and very good friend Melissa had been telling me about this Minestrone soup for the past couple of years and I don't know why but I didn't think that I was a fan of this particular kind of soup for some reason. I don't think that I had ever ordered it out in a restaurant and I certainly had never cooked a pot of minestrone soup at home. She kept telling me how it was her "family favorite" and finally, on one of those bone chilling winter nights in Texas when every one heads for the grocery store to purchase 10 gallons of milk and 20 loaves of bread, I braved the crowds and pushed my cart through the aisles looking for ditalini pasta. I keep a big basket of pasta in my pantry but that particular variety was a new one on me.
That night I threw it all together (easy) and when I served it to my husband he raved about this soup! We both went back for seconds, took it to work the next day for lunch and I've made it over and over again. It is now a family favorite at my house too.
This soup has so much rich, delicious flavor and the pasta makes it a soothing and totally satisfying meal. All you need is a dutch oven or a heavy soup pot, a can opener and a sharp knife to chop up a few vegetables.
Throw everything in the pot, simmer for 45 minutes and dinner is ready!
Minestrone Soup
2015-03-07 08:04:31
Ingredients
1 lb turkey sweet turkey sausage links or ground sausage
2 large carrots chopped
2 celery ribs chopped
1 medium onion chopped
6 garlic cloves minced
3 tbsp olive oil
8 cups chicken broth
2 cans cannellinni beans rinsed and drained
1 28 oz can diced tomatoes
2 bay leaves
1 package Italian dressing mix
1 tbsp. tomato paste
1 cup ditalini (or other very small pasta)
shredded parmesan cheese
1 tsp. kosher salt
1/2 tsp. black pepper
Instructions
If you're using turkey links remove the sausage from the casing, brown in a dutch oven with your carrots, celery, onion, garlic and olive oil. I let everything sweat until the veggies are soft and the kosher salt and black pepper at this stage.
Add the rest of ingredients, bring up to a boil, cover and simmer 30 minutes. Remove cover and add the pasta, simmer for an additional 15 to 20 minutes uncovered.
Serve topped with parmesan cheese.
Adapted from Melissa @ Heart Place
Adapted from Melissa @ Heart Place
My Mother's Daughter http://mymothersdaughter.net/
Comments