Luscious Turkey Breast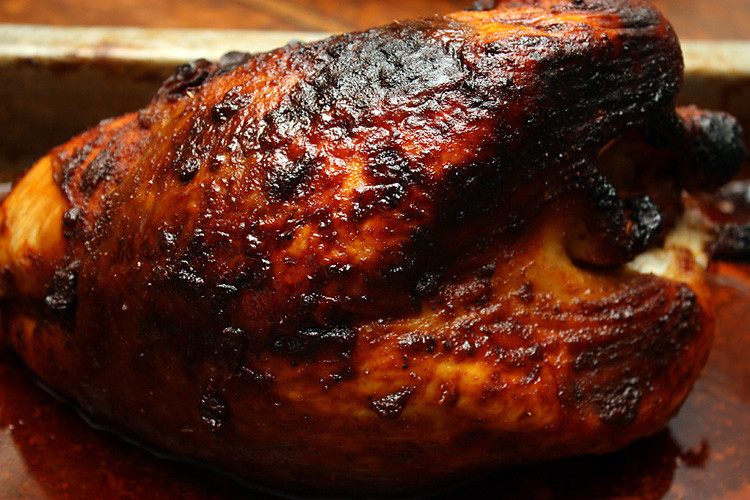 I've posted a BBQ turkey breast before with this same rub but, this time I picked up a bone in breast and the results were entirely different.
I carefully pulled the skin back, put on some latex gloves and spent some time massaging my little bird with this yummy, moist rub.
After the breast meat was thoroughly coated I went to town on the skin and made sure that it too was nicely saturated. This takes some time because the rub wants to just sort of roll off the cold wet skin of a turkey breast fresh from the fridge. So, plan on spending a good 10 minutes and as the bird warms up the rub will penetrate the breast meat and the skin and the results will look like what you see in my photo.
What could possibly be better than that?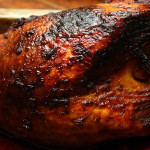 Luscious Turkey Breast
2015-03-07 20:28:08
Ingredients
1 6 lb. turkey breast bone in
1 tbsp. kosher salt
1/2 tbsp. cracked pepper
1/4 cup smoked paprika
1/8 cup cayenne pepper
1/8 cup cider vinegar
3 garlic cloves
3/4 cup brown sugar
2 tbsp. olive oil
Instructions
Blend your rub ingredients in a food processor. Coat the breast, place in a baking dish breast side up and cook uncovered.
Bake at 325 degrees for 1 1/2 hours for 4 lb. breast or when your meat thermometer reaches 165 degrees. I turn the oven up to 400 degrees for a final 10 minutes to crisp the skin.
Remove and let rest for 15-20 minutes before slicing.
My Mother's Daughter http://mymothersdaughter.net/
Comments