Killer Mexican Lasagna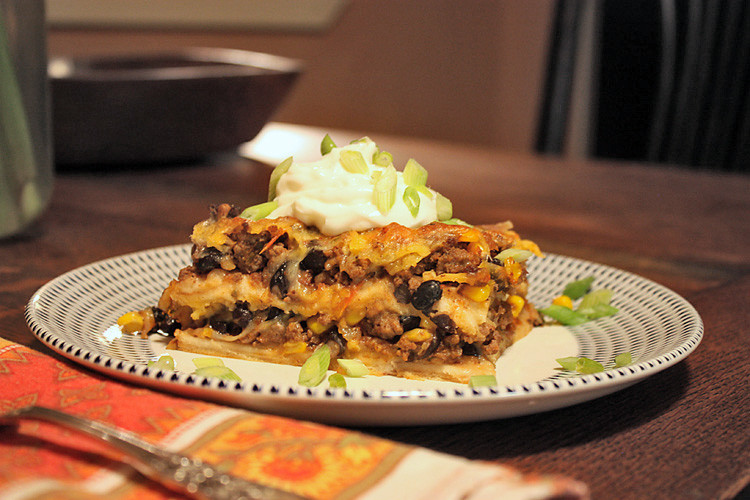 This Killer Mexican Lasagna is amazing, folks! There are simply times when I want a one dish meal and a mexican recipe seems to fit the bill perfectly. It's so easy to blend all the ingredients of a Tex Mex dinner into one dish and have it turn out great and this recipe is no exception. I love pulling out a hot, bubbly casserole and putting it on the table with simple sides for everyone to finish off the meal with. All you need for this dinner is a big bowl of chips, another of guacamole and a dish of salsa and sour cream. Everyone will be happy…I promise.
That's really all I can tell you, it's just extremely delicious and a snap to throw together on a weeknight.
I took the basics from a Rachel Ray mexican lasagna recipe but swapped out ground chicken for beef, used flour tortillas and a mixture of cheeses to make it a little more my style (translation: cheesy, gooey deliciousness).
If I ordered this out in a restaurant, I would go back and order it again and again! And the leftovers are perfect for lunches, just wrap it up and take it with you the next day. It reheats a microwave in just a few minutes and makes a super satisfying lunch!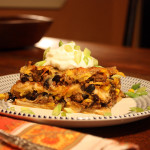 Killer Mexican Lasagna
2015-03-08 12:39:11
Ingredients
1 1/2 lb. lean ground beef
2 tbsp. chili powder
1 1/2 tsp. cumin
1/2 red onion chopped
1 cup salsa
1 cup frozen corn
1 can black beans rinsed
4 oz. pepper jack cheese shredded
2 cups shredded cheddar cheese
salt and pepper to taste
8 tortillas quartered
2 tbsp. olive oil
sour cream and sliced green onions for garnish
Instructions
Cook the beef slightly, then stir in the seasonings and onion and continue to brown until the the beef is no longer pink and the onions are soft.
Add the salsa, beans and corn and simmer for 5 minutes. Salt and pepper to taste. I didn't add much at all, the salsa is really all that you need in my opinion.
Coat the bottom of an 8x12 baking dish with olive oil (about 2 tbsp.) and place 4 of the tortillas on the first layer. Top with the beef mixture, then jack and cheddar cheese, another layer of tortillas, beef and a final layer of the cheeses.
Drizzle with a little more olive oil and bake at 400 for 20 minutes or until the top is brown and bubbly.
Garnish with sour cream and sliced green onions. I served with guacamole on the side and that was it!
Adapted from Rachael Ray
My Mother's Daughter http://mymothersdaughter.net/
Comments